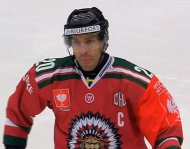 SHL 2018/9 - November Review
The SHL season is nearly half way through as December starts and the table is as tight as its ever been - only 9 points separate the first 10 teams meaning that every single point counts. Below we will have a look at the top six teams as of 30 November.
1. Luleå HF

Lulea's success was not something many predicted. The team is largely unchanged from last year including the same manager, Luleå's own, Thomas Berglund. Since taking Brynäs to an unlikely final place in 2016/7 he returned to his own club where he himself played his professional career. The team has only two players with NHL experience, newcomer and captain, Erik Gustafsson and Johan Harju. Harju played just 2 games for the Tampa Bay Lightning who drafted him in 2007 and defenseman, Gustafsson was never drafted. Instead he came through the NCAA college system and played 91 games for Philadelphia Flyers and 114 in the AHL between 2009-2014.
The skills of Joel Lassinantti in goal are well known- but they can fluctuate. Last year he finished seventh overall, but this year he lies in second with 93.99 SVS%. This is the best stats of his career at Luleå, his local club where he has played since U16 level. It is even better than the 2014/5 season when Luleå won the first Champions Hockey League and the 25 year old was SHL Keeper of the Year.
The final key factor is the rise of American, Jack Connelly into one of the top scoring import players in the league. A player who has a 0.50 PPG in 7 seasons in the SHL is bashing out a 0.90 PPG and has landing himself in fourth in Total Points.
2. Frölunda Indians
Frölunda have had a busy November with 8 matches in the SHL and home and away victories in the Champions Hockey League against Lugano HC. And it is their five victories have kept them at the top of the table. Ryan Lasch lies in first place as the top scorer in the league with 22 points (7G+15A) in contention to repeat his 2015/6 victory as the SHL's Top Points Scorer.
18 year old, Samuel Fagemo has been given the honored role of playing alongside the 31 year old American and 36 year old Swede and team captain, Joel Lundqvist (pictured) in the top line. He will surely play in the Junior World Championships over New Year and see himself drafted next summer if he continues with the form in front of net he has shown so far this season.
3. Växjö Lakers
The Lakers were the deserved winners of last year's SHL, the league that apart from the KHL can rightly call itself the best in Europe. However, one of the costs of success in the league is that good players don't stay around long as the SHL is also a shop window for other clubs. The team lost it's top three scorers, Elias Pettersson, Andrew Calof and Robert Rosén but also two talented stand ins, Andy Miele and Dennis Rasmussen. Whilst Pettersson has thrived in Canada for the Vancouver Canucks, the other four have all gone to Russia. So it is no surprise that the Lakers crashed out if the CHL with lackluster results and have spent most of the season in around 10th place.
Until now.
The club has not lost in regulation since 3 November and has beaten Luleå and Djurgården scoring 28- 20 in the month.
The team's top scoring Finn from last year, 36 year old Janne Personen is now leading the team in goals. He was drafted by Anaheim Ducks in 2004 and has played in the KHL before moving to Sweden where he is in his second season. But it is Czech import player, Roman Horák who leads on Total Points in his first season in the SHL. The 27 year old also comes in from the KHL before moving from and was drafted by New York Rangers in 2009.
4. Malmö Redhawks
Malmö's surprising success at the start of the year seemed to have run into the ground when they were on the receiving end of embarrassing 0-9 defeat at Skellefteå AIK. Since then the Redhawks have won all three matches they've played, - even if they twice needed penalties to do it. Tough tackling Emil Sylvegård has lead the charge with three goals and an assist in those matches and Konstantin Komarek scored two goals to take him to the top of Total Points in the team with 16 (6G+10A). Austrian Komarek was one of the penalty scorers when Malmö beat HV71 whilst Johan Olofsson got the other from a match against bottom of the table Mora IK.
5. Djurgården IF
November has seen the return of two players from North America who had an enormous impact for the Stockholm club last season. 21 year old Jonathan Davidsson only got as far as training with the Columbus Blue Jackets, but 20 year old Axel Jonsson Fjällby got to play 16 games with Washington Capitals' AHL development team, the Hershey Bears.
This is a team that is designed to score goals with the first line of Jacob Josefson, Jakob Lilja and Daniel Brodin already with 56 points between them in just 29 games. Then there's Emil Bemström, the 19 year old who is leading the whole SHL with 11 goals and was drafted ahead of Jonathan Davidsson by Columbus in the same year, 2017.
For Djurgården attack is the best form of defense and that can be seen in that it is the forwards that lead the team in hits - and penalty minutes. November has been a month where they have continued to score goals, but ultimately have lost more matches than they have won- a trend that will need to change if they want to get further than last year's semi final place.
6. Färjestad BK
Until now Färjestad have been in the bottom half of the table, but this November they have won 6 out of 8 games and taken points from those other two matches where they twice lost in Overtime.
The team is very similar to last year's, with no big splash out on import players. Perhaps the most significant pre-season signing was netminder, Markus Svensson but it has been his colleague, Adam Werner who leads the team with a 92.95 SVS% putting him fourth overall in the SHL.
Losing two of their top scorers from 2017/8 meant the team has had to find itself again up front. And it has been new signing, 26 year old Swede, Jesper Olofsson and club stalwart, 32 year old Johan Ryno who have taken up the challenge leading the way in points production from the forwards. This month has also seen the return of one of last year's stars, Michael Lindqvist. The 24 year old had started the 2018/9 season with Hartford Wolf Pack, the New York Rangers' AHL development team after a breakout first season in the SHL last year. On his return to Stockholm he started where he left of with four points in just five games (1G+4A). However, the top scorer in the team is currently not a forward but Finnish defenseman Jesse Virtanen with 15 points, including 13 assists.
If they can continue with this kind of form they may turn out to be the surprise winners of this year's SHL.
Current events
External links

Czech Rep.: Tipsport extraliga | 1.liga | 2.liga

Slovakia: Tipsport Extraliga | 1.liga

Sweden: SHL | HockeyAllsvenskan
Other: EBEL | Belarus | Croatia | Denmark | Estonia | France | Great Britain | Iceland | Italy | Latvia | Lithuania | MOL-liga | Norway | Poland | Romania | Serbia | Slovenia | Spain | NHL | AHL |
League standings
Game fixtures
League leaders
Växjö Lakers won the Swedish SHL playoffs for the third time. Read more»
It is now known which 32 teams will participate in the club tournament Champions Hockey League 2021/22. Read more»