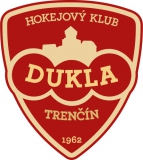 Dukla Trencin
Short name: Trenčín
Year of foundation: 1962
Colours: red, yellow
Club status: active
Address: Považská 34,
911 01 Trenčín
Phone: +421327436866
Fax: +421327433607
Email: , redakcia@ hkdukla.sk (press office)
Did you find any incorrect or incomplete information? Please, let us know.
Season 2023-2024
Current roster
season 2023-2024
* no longer in the club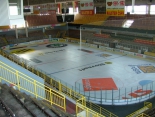 Adress: Považská 34
911 01 Trenčín
Slovakia
Phone: +421 327 436 866
Email: sekretariat@hkdukla.sk
Capacity: 6150
Opened in: 1960
Retired numbers:
#38 Pavel Demitra
#10 Oto Hascak
from 1990 to 2019: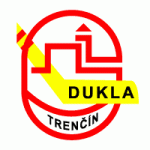 from 2019 to present: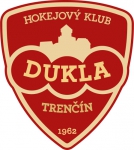 2018 Rona Cup cancelled
Due to work at the Pavol Demitra Arena, the traditional summer hockey tournament Rona Cup will not be held this year. An important part of the reconstruction will be the replacement of the old cooling technology. Since its beginning in 1994, the Rona Cup was not played only in 2016, again for work at the arena
(22 May 2018)
Penzes becomes the new headcoach of Dukla Trencin
After the sudden death of coach and general manager Jan Kobezda, Dukla Trencin announces current assistant coach Julius Pénzeš will work as headcoach until the end of season. Viliam Cacho and goalies coach Peter Kosa will serve as assistants
(31 Jan 2017)
Dukla Trencin fires coach
The job of Josef Turek at Dukla Trencin lasted two months: hired at the end of October to replace resigned Milos Holan, the 45-years-old coach was fired today after the last defeat 8-3 against Liptovsky Mikulas. He will be replace by a coaching triumvirate: current club GM Ján Kobezda will be the new headcoach, assisted by experienced Julius Penzes - fired in November by Nove Zamky - and U18 team coach Viliam Cacho. Turek started season at Zvolen, before being dismissed in October

(04 Jan 2017)
Mitch Versteeg suspended for 3 months
The Disciplinary Committee of the Slovak Ice Hockey Federation suspended HK Nitra Canadian defenseman Mitch Versteeg after the charge on Dukla Trencin forward Petr Ölvecky, for which the season is over, during 5-1 Trencin victory of last 20 November
(02 Dec 2016)
Dukla Trencin changes coach
Dukla Trencin announced head coach Milos Holan and assistant Robert Petrovicky both resigned for personal reasons last Tuesday following the defeat 5-2 against Poprad. "I'm quitting only for personal reasons, not leaving because of poor results, and I think with the team I had a good relationship, we hadn't problems" said Holan
Today the club announces the appointment of Josef Turek as new headcoach. Turek, 44, was fired by Zvolen last week.
"We needed to find a coach as soon as possible to lead the team in the last two games before the break, so he can work with the team during the break " said the General Manager Jan Kobezda.
(27 Oct 2016)
Dukla Trencin retired Oto Hascak's jersey
During a ceremony last sunday, Dukla Trencin retired jersey #10 in honor of Oto Hascak. The 50-years-old native of Martin played 326 games with Dukla, starting and closing career with Trencin. Drafted by Boston Bruins in 1989, he played the entire career in Europe, in Sweden, Germany, Czech Republic and Finland, winning a title with Vsetin and two bronze medal at World Championship with Czechoslovakia. Hascak currently works as European scout for New York Rangers
(30 Sep 2014)
Mass brawl causes premature end of a warmup game in Trenčín
Yesterday's warmup game full of fights between junior teams of Dukla Trenčín and Vsetín ended up prematurely in the 56th minute due to a mass fight. In the moment of the final whistle, the current score was 2-2. Altogether, 336 penalty minutes were registered into the penalty summary of the game.
(02 Sep 2014)
New coaches in Extraliga
Two teams changed coach in Slovak Extraliga: Andrej Výboh replaced Josef Turek, moved to Czech Chomutov, at HK 36 Skalica, while former Sanok and Kosice coach Milan Staš is the new head coach of Dukla Trencin, replacing fired Robert Kaláber. Earlier in mid October also champion Zvolen hired Julius Supler as new coach for dismissed Lubomir Oslizlo
(09 Nov 2013)
Historic rosters:
Historic statistics:
Past results:
League standings:
Fast facts
season 2023-2024
A look back at a season that lived up to its promise. Read more»
The upcoming NHL draft in June 2023 is fast approaching. Find out here which European Ice Hockey players will likely be in the draft. Read more»