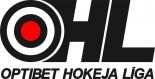 Optibet Hokeja Liga
League status: Active
English name: Latvian League
Administered by: Latvijas Hokeja federācija
Head manager: Edgars Buncis
Year of start: 1991
Did you find any incorrect or incomplete information? Please, let us know.
Last updated: 30 Sep 2023, 19:10
-30 match Regular Championship
-Top two clubs advance Semi-finals, seeds 3-6 play First Round
-First and Semi-finals Best of 5
-Finals are Best of 7
from 1931 to 2006: Latvijas Virslīgas
from 2006 to 2008: Samsung Premjerlīga
from 2008 to 2017: Latvijas Virslīgas
from 2017 to present: Optibet Hokeja Liga
Zemgale confirms title in Latvia
Latvian title stays in Jelgava! HK Zemgale retains the crown of Latvian champion by defeating 4-1 in the final series and 5-1 in the last decisive game regular season winner HK Mogo
Zemgale forward Gatis Gricinskis was named playoffs MVP
(06 Apr 2023)
Zemgale Jelgava win first title in Latvia
For the first time Zemgale Jelgava becomes champion of Latvian League sweeping in 4 games title holder HK Olimp Riga.
And for the first time the title goes to a city other than Riga or Liepaja

All games and stats from Optibet Hokeja Liga : https://bit.ly/3v6jlnM
(12 Apr 2022)
Kriss Grundmanis suspended for doping
Latvian defender Kriss Grundmanis was disqualified for 4 years for being tested positive for a doping test carried out last December after a match of the championship of Latvia. The 31-year-old defense player revealed a forbidden substance in the blood - meldonium.
Grundmanis received a "mandatory temporary ban" on sports as of January 20, 2020 which has now grown into a four-year period, until January 19, 2024.
During his career, Grundmanis has played in North America, Czech Republic, Great Britain and Kazakhstan. He has spent the last three seasons in JLSS Zemgale. He represented Latvia in seven junior world championships
(08 Jun 2020)
HK Kurbads confirms title in Latvia
HK Kurbads confirm the title in Latvijas Virslīga by sweeping underdog JLSS Zemgale 4-0 in the series, winning 1-0 game #4 with decisive goal by Gatis Gricinskis. Zemgale made sensation knocking out regular season winner HK Mogo in the semifinals, while Kurbads eliminated HK Liepaja. It's the second title in the history of the club, based outside of Riga.
HK Liepaja Edgars Homjakovs finished as top scorer with 39 points (10+29)
(17 Mar 2018)
Viking Tallinn not accepted in Latvian League
The request of Viking Tallinn to play in next Latvian League was rejected as reported by newspaper Delfi. Expelled by Estonian Meistriliga after the regular season for debts belonging to ceased club Viking Sport but that the club had promised to pay.
"We have been negotiating with representatives of the Latvian Ice Hockey Federation for performing in the Latvian League - said Viking representative Anatoli Sizov - A few days ago we received a reply from Riga. Unfortunately, we won't play in the championship of Latvia because our request was denied"
Expelled from Estonia League and rejected by Latvia, Sizov admits the club still doesn't know where to play next season: "The preparation for the new season will start probably in late July Where we are going to play? We are looking for options."
(08 Jul 2015)
HS Rīga '98 will play in Latvian Virsiliga
Latvian 1 Liga finalist HS Rīga '98 will play next season in Virsliga, lead by coaches Leonids Beresnevs and Andrejs Ignatovičs. The roster will be composed mostly by 1997 and 1998 born players
(29 Jun 2015)
Aigars Cipruss named new coach of Neman Grodno
Latvian Aigars Cipruss, 42, is the new coach of Belarusian champion Neman Grodno. Last season Cipruss headed Baltica Vilnius in MHL before the team was disbanded and Kurbads in Latvian League, winning the silver medal. He worked also as assistant coach at national team of Lithuania in last IHWC Division Ib
(02 Jun 2014)
Latvian League with 6 or 7 teams
Six teams confirmed their participation at the next Latvian League: HK Kurbads, Dinamo/Juniores (new name of HK Juniores) HK JLSS Zemgale, HS Riga/Prizma, HK Daugavpils and Ozolnieki/Monarch. HK Tukums' participation is still in doubt.

Last champion SMS Credit isn't in the starting grid after having waived the participation at next Continental Cup. Also Riga '97 and Liepaja Metalurgs won't play in next edition beginning September 7.
(14 Aug 2013)
Metalurgs Liepaja won't play in 2013-14
Latvian Federation Sports Director Mārtiņš Pagodkins announces Liepaja Metalurgs will be inactive in next season, not competing in any category.
Last spring team's main sponsor, steel company Metalurgs, decided to cease the support for senior hockey team and to abandon Belarus Open League and MHL-B. However, the club at that time assured they were determined to grant a team in Latvian League. But plans for participation at the league did not materialize due to economic problems of Metalurgs
(13 Aug 2013)
HK Kurbads will play in Latvian Virsliga
HK Kurbads from Riga will enter for the first time in next Latvian Virsliga.
"HK Kurbads is in the Latvian hockey business from more than 16 years. Now is the right time to take this step for the club and become one of the Latvian championship participants. Teams will be composed of several well-known and experienced hockey players, but the place will definitely be given to new players. Our goal in the first season will win the championship" said Manager Edgars Svencis
Team will be coached by former Juniors Riga coach Aigars Razgals
(06 Aug 2013)
Past league results:
League standings:
Historic statistic:
Individuals records:
Fast facts
season 2023-2024
Youngest player: Olivers Murnieks (15 years)
Oldest player: Krišjānis Rēdlihs (42 years)
Shortest player: Arginto Milbergs (160 cm)
Tallest player: Matīss Bīriņš (199 cm)
Nationalities: Canada (2), Czechia (3), Estonia (23), Finland (1), Hungary (1), Japan (2), Kazakhstan (1), Latvia (140), Lithuania (52), Slovakia (2), Ukraine (13)
Highest win: HK Mogo - 7bet-Hockey Punks Vilnius 14-0
Season average attendance: 270
Kaunas City celebrate the qualification to the second round of Continental Cup with a ten-goals victory over Skautafelag Rejkyavik Read more»
Estonian champion wins KHL Zagreb ensuring first place for the home team Read more»