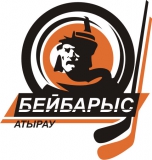 Beybarys Atyrau
Name in original language: Бейбарыс Атырау
Year of foundation: 2009
Colours: green,white
Club status: active
Address: ul.Smagulova, 5A
Atyrau
Phone: +7 (7122) 32-70-30
Fax: +7 (7122) 32-70-30
Email: bcbаrsy@mail.ru
WWW: Beibarys Atyrau
Did you find any incorrect or incomplete information? Please, let us know.
Season 2023-2024
Current roster
season 2023-2024
* no longer in the club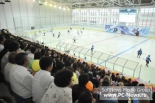 Adress: ul.Smagulova, 5A
Airport area
Atyrau
Phone: +7 (7122) 209355
Capacity: 800
Opened in: 2009
from 2018 to 2019: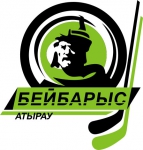 from 2019 to present: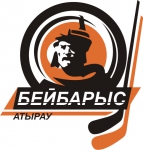 Altai Torpedo retains Kazakhstan Cup
A goal by Maxim Khudyakov at minute 56 gives the second consecutive Kazakhstan Cup to Altai Torpedo Ust-Kamenogorsk, in the final, played in Almaty, against Kulager Petropavlovsk. The Torpedo farm club won the qualifying Group A despite a loss 1-0 SO in a dramatic match agaist national champion Beybarys Atyrau, the bronze winner in the consolation final against home team HK Almaty, unexpectedly lost the qualification, beaten 2-1 in the last game of the group against already eliminated HK Temirtau.
The best players of the competition are:
Best goalkeeper - Andrei Yankov, Kulager
Best defender - Adil Beketaev, Altai Torpedo
Best striker - Ilya Akhmetov, Kulager
Best young player - Demid Eremeev , HK Temirtau
(25 Aug 2019)
Kazakhstan Cup groups unveiled
The cities of Pavlodar and Kokshetau will host the 2016 edition of Kazakhstan Cup, from 20 to 28 August.
As usual the ten partecipating teams were placed in two groups. The winner of each group will play the final at Pavlodar on August 28
Group A (Pavlodar): Beybarys Atyrau, Ertis Pavlodar, Nomad Astana, HK Almaty, SHҚO Ust-Kamenogorsk
Group B (Kokshetau): Arlan Kokshetau, Kulager Petropavlovsk, HK Temirtau, Gornyak Rudny, HK Astana
(13 Jun 2016)
Beybarys wins Kazakhstan League
It took seven games to determine the 2015-2016 champion of Kazakhstan: by beating 3-1 Arlan at Kokshetau, Beybarys Atyrau wins its third title,all under the lead of Aleksandr Istomin, noting a constant presence among the elite of Kazakh hockey, with 3 titles and two silver medal in last seven years. Another season empty-handed for Arlan, winner of the regular season at the third consecutive silver medal.
Season awards:
Best goalkeeper - Alexei Kuznetsov (Beybarys)
Best defender - Vladislav Kolesnikov (Arlan)
Best forward - Mikhail Rakhmanov (Ertis)
(21 Apr 2016)
Gornyak Rudny wins Kazakhstan Cup
Gornyak Rudny surprisingly won 2015 edition of Kazakhstan Cup beating 2-1 Arlan Kokshetau in the final played at Burabai Arena. It's the second trophy for Rudny team after the Cup won in 2009-10. Beybarys Atyrau won the bronze medal defeating 5-1 Nomad Astana.
The individual awards:
Best goalie: Stepan Goryachevskikh (Arlan)
Best defender: Georgi Dulnev (Beybarys)
Best forward: Igor Cherkasov (Gornyak)
Best young player: Ivan Stepanenko (Nomad)
(29 Aug 2015)
Ertis Pavlodar lost decisive game by forfeit
Cup holder and national champion Ertis Pavlodar was awarded a 5-0 forfeit loss in the last match of Kazakhstan Cup against Gornyak Rudny for alligning four young players born after 01 January 1991 instead of five, as determined by rules of competition. After the game, won by Ertis 3-2 after shootouts, Gornayk has filed a protest to the federation, which was examinated and accepted. Individual statistics for the game will be maintained, according to the rule
Thus, Gornyak Rudny won Group B and will play the final against Arlan Kokshetau, winner of Group A
Nomad Astana and Beybarys Atyrau will battle for the bronze. Both games are scheduled for August 29
(28 Aug 2015)
Beybarys will allign a team in MHL-B
Kazakhstan will have another team on Russian Junior Leagues: Beybarys Atyrau announced the club will compete next season in MHL-B as a youth league next year will likely not be created in the country
(16 Apr 2015)
Arystan Temirtau cancel games
Due to financial difficulties of the team, Arystan Temirtau cancelled the games against Beybarys Atyrau, scheduled for 18 and 19 January for Kazakhstan League
(17 Jan 2015)
Ertis won Kazakhstan Cup
By beating cup holder Arlan Kokshetau 4-1 in the final played in Temirtau, national champion Ertis Pavlodar won for the first time the Kazakhstan Cup. Nomad Astana captured bronze medal defeating 2-1 at overtime Beybarys Atyrau. Tournament awards were assigned to Marek Pinc (Ertis) as best goalie, Aleksei Petushkov (Arystan Temirtau) as best defender and Maxim Bogatyrenko (Berkut Karaganda) as best forward
(02 Sep 2014)
Ertis and Arlan will face off in Kazakhstan Cup final
The 2014 edition of Kazakhstan Cup will have the same final of last year: cup holder Arlan Kokshetau and national champion Ertis Pavlodar dueling on Sunday at Termitau Ice Arena. Teams won their respective groups, while Nomad Astana and Beybarys Atyrau will play for bronze medal. Arlan won Kazakhstan Cup in last two editions
(30 Aug 2014)
Continental Cup suspensions against Beibarys
The IIHF Disciplinary Panel decided to hand out suspensions against player Tomas Horna and assistant coach Mikhail Zvyagin of Kazakh club Beibarys Atyrau for incidents in the game against Vaasan Sport from Finland in the last round of the Continental Cup.
Horna was already suspended one game during the tournament and will be suspended for three additional games at the upcoming Continental Cup event in Stavanger, Norway. Zvyagin was already suspended for one game and will be suspended for an additional game.
(19 Nov 2012)
Historic rosters:
Historic statistics:
Past results:
League standings:
Fast facts
season 2023-2024
Kaunas City celebrate the qualification to the second round of Continental Cup with a ten-goals victory over Skautafelag Rejkyavik Read more»
Estonian champion wins KHL Zagreb ensuring first place for the home team Read more»