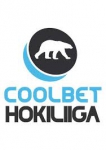 Meistriliiga
League status: Active
English name: Estonian League
Administered by: Estonian Ice Hockey Association
Head manager: Jaan Mölder
Year of start: 1934
Did you find any incorrect or incomplete information? Please, let us know.
Last updated: 23 Sep 2023, 22:29
Valk Tartu extends dominance in Estonia
Valk 494 Tartu is again the owner of Estonian League, after sweeping Kurbads Riga 3-0 in the final series. Fourth consecutive title, the 13th in the history of the club.
All stats: https://www.eurohockey.com/league/154-meistriliiga.html
(23 Apr 2022)
Title is back to capital in Estonia
HC Viking Tallinn won the 2017-2018 Estonian League by beting in four games - 7-4, 3-2, 5-6ot and 3-2 - of final series Kalev-Välk Tartu bringing back the title to the capital Tallinn after two consecutive leagues won by Narva PSK, this season eliminated in the semifinals by Kalev. Other semifinalist Vipers Tallinn won bronze by beating 6-5 Narva. It's the third title for Viking, the first after the reborn of the club in 2015 following the disbanding of previous incarnation due to economic problems. Alexander Bogdanov of Narva PSK finished as the Top Scorerwith 30 points (17+13)
Photo from HC Viking Facebook page
(25 Mar 2018)
Narva PSK win title in Estonia
With three rounds still to play, Narva PSK was already crowned Estonian champion after the 5-1 victory against Viru Sputnik in front of almost 1000 spectators. The title is back to Narva after 15 years, since defunct club Kreenholm/Narva 2000 grabbed the title in 2001
(29 Feb 2016)
Viking Tallinn not accepted in Latvian League
The request of Viking Tallinn to play in next Latvian League was rejected as reported by newspaper Delfi. Expelled by Estonian Meistriliga after the regular season for debts belonging to ceased club Viking Sport but that the club had promised to pay.
"We have been negotiating with representatives of the Latvian Ice Hockey Federation for performing in the Latvian League - said Viking representative Anatoli Sizov - A few days ago we received a reply from Riga. Unfortunately, we won't play in the championship of Latvia because our request was denied"
Expelled from Estonia League and rejected by Latvia, Sizov admits the club still doesn't know where to play next season: "The preparation for the new season will start probably in late July Where we are going to play? We are looking for options."
(08 Jul 2015)
Kalev-Valk is Estonian champion
Kalev-Valk Tartu won Estonian League two years after the last title crushing PSK Narva 12-5 and 10-0 in two games of finals. Kalev began the campaign with two forfeit against Viking and Panter because team didn't show up due to problems with roster but finished the season triumphantly. After the disqualification of champion Viking Tallinn for financial matters, Kalev was considered the favourite and had no problems to take back title. PSK Narva Russian forward Alexander Bogdanov was the top scorer of the league with 31 points (18+13) in 16 games
(29 Mar 2015)
Two technical losses for Kalev-Valk, Viking approved
Estonian League started with some problems: the first two games of Kalev-Välk are considered 5-0 technical losses because the team didn't show up. Viking Tallinn and Panter/Purikad earn three points without playing
Federation also approved the HC Viking membership application. The new team replaced HK Viiking Sport Tallinn, folded after last season in debt, but it does not consider as the legal successor so can not require the payment of the debts of the other club to the new one
(11 Oct 2014)
Rauno Parras new President of Estonian Federation
Rauno Parras, 41, was elected the new President of Estonian Hockey Federation during the general meeting held in Tallinn. For the first time a former player takes this charge. Retired after 2012-13 season, Parras previously worked as commercial director at Estonian Air. Another player, Veiko Süvaoja, entered in the Board. Former President Jaan Melder will continue to work in the Federation Board along with Oleg Litvyakov, Vahur Glaase, Urmas Kuusk and Aivar Riisalu.
(01 Oct 2014)
Tallinn Viking Sport suspended in the Continental Cup
IIHF announced the Estonian champion Vikiing Sport Tallinn received a 20.000 Swiss francs (about 16,000 euros) fee and was banned for a year from Continental Cup. In September last year the club won the first round of the Continental Cup in Belgrade, but wasn't able to partecipate in Second Round because almost all imports haven't British visas.
(21 Jun 2014)
Viiking Sport confirmed title in Estonia
With a spectacular comeback from 0-3 in game #3 of playoffs finals, Viiking Sport Tallinn won 4-3 at overtime and closed the series winning 3-0 over Kalev Valk Tartu, confirming the title won for the first time last season. it was a perfect season in Estonian Meistriliiga for Viiking that won all the games in regular season and playoffs.
"I suppose we were a bit better prepared physically," said forard Ragnar Hindrek Russ. "It is always good to win. Guys are very happy and we have a good feeling."
(30 Mar 2014)
Estonian champion out from league?
Kalev Valk Tartu, current Estonian champion, didn't appeared last Saturday in Tallinn to debut in 2012-13 Skoda League against Viiking Tallinn, citing financial problems. It's still unclear if Kalev will play the rest of the season. They lost the game 5-0 and was fined with 750 euro.
(02 Oct 2012)
Past league results:
League standings:
Historic statistic:
Individuals records:
Fast facts
season 2023-2024
Kaunas City celebrate the qualification to the second round of Continental Cup with a ten-goals victory over Skautafelag Rejkyavik Read more»
Estonian champion wins KHL Zagreb ensuring first place for the home team Read more»