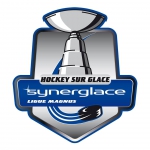 Ligue Magnus
League status: Active
English name: French League
Administered by: Fédération Française de Hockey sur Glace
Head manager: Axel Escalle
Year of start: 1906
Did you find any incorrect or incomplete information? Please, let us know.
Last updated: 25 Sep 2023, 09:49
from 1907 to 1930: Championnat de France
from 1930 to 1973: 1re Série
from 1973 to 1975: Série A (FRA)
from 1975 to 1985: Nationale A
from 1985 to 1990: Nationale 1A
from 1990 to 1991: Ligue nationale
from 1991 to 1992: Élite (FRA)
from 1992 to 1994: Nationale 1
from 1994 to 1996: Élite (FRA)
from 1996 to 1997: Nationale 1A
from 1997 to 2002: Élite (FRA)
from 2002 to 2004: Super 16
from 2004 to present: Ligue Magnus
Awards
Charles Ramsey Trophy (top scorer)
Albert Hassler Trophy (most valuable player of French citizenship)
Marcel Claret Trophy (most sportsmanlike team)
Raymond Dewas Trophy (most sportsmanlike player)
Jean-Pierre Graff Trophy (most valuable rookie)
Jean Ferrand Trophy (most valuable goaltender)
French Coach of the Year Award (top coach)
Cergy promoted to LIgue Magnus
Cergy-Pontoise Jokers, the regular season champion of French Division 1, will play in Magnus Ligue in the next season, as determined by the Head Office of the Federation after reviewing the dossier presented by the club. In the same way HC Epinal is promoted to Division 1 from Division 2 and Reims and Poitiers will play in Division 2, coming from Division 3. Châlons asked to be relegated in Division 3
(26 Apr 2020)
Luciano Basile leaves Gap
After communicating the renewal of the contract for the next season, Gap Rapaces announces that Luciano Basile will no longer be the coach for 2019-20. In a short press release the club cites "numerous disagreements and internal conflicts" and reports that former assistant Eric Blais will be the new headcoach.
Italo-Canadian Basile left the club after 5 seasons, with two titles of Ligue Magnus and a League Cup won. He was named French League Coach of the Year in 2008-09, 2009-10, 2012-13, 2014-15
(13 Apr 2019)
Mulhouse names new coach
HC Mulhouse announces Swedish coach Christer Eriksson will continue to work at club as General Manager, leaving the role of coach to Yorick Treille, 38, one of most representative players of French hockey in the last 2 years. Treille retires immediately as player to start the new career behind the bench. Mulhouse is currently 11th in the standing, with just a victory after 15 rounds of Ligue Magnus
(03 Nov 2018)
Reigning champion Gap eliminated
The current Ligue Magnus champion Gap Rapaces was knocked out in the first round of playoffs by Boxers Bordeaux in just 4 games, losing 4-3 game #4. Gap finished third in the regular season and faced 6th seed Bordeaux, being eliminated at quarterfinals after two titles and a semifinals in the last 3 years.
Rouen leading 3-1 against Angers while it's 2-2 in the series between Mulhouse and Grenoble and Amiens and Lyon.
Follow Ligue Magnus playoffs on eurohockey.com !
(01 Mar 2018)
Premiere for Lyon
Lyon HC won the Coupe de France by beating 2-0 Les Rapaces de Gap in front of 11.500 spectators at the AccorHotels Arena in Paris-Bercy. A deflection by Norbert Abramov at 34:37 and an empty goal by Canadian Dave Labrecque at 58:56 give Lyon the first trophy in its history. Latvian goalie Maris Jucers was named MVP of the final.

Crédit : Xavier Lainé / FFHG
(28 Jan 2018)
Games cancelled in Lyon
The Magnus Ligue game between Lyon and Epinal was stopped after first period due a failure of refrigeration machinery. The club announced also the next game versus Strasbourg, scheduled for Sunday, was cancelled assuring ensuring they are doing everything they can to fix the failure as soon as possible
(30 Sep 2017)
Santino Pellegrino left Chamonix
Announced as new coach of Chamonix Pioniers at the end of July, Italo-Canadian coach Santino Pellegrino left the team citing familiar reasons.
Chamonix is now looking for a new coach
(06 Aug 2017)
Dijon relegated in Division 2, Chamonix back in Magnus
After the validation od Financial Commission of Magnus Ligue, Les Ducs de Dijon lost their licence for playing in Magnus Ligue and the club didn't submit neither guarantees to play in Division 1, so the Federation decided to demote the club in Division 2, the third level of French hockey.
Chamonix, relegated after the last season, is bring back in Magnus even if without the fusion with Morzine-Avoriaze, that will compete in Division 3.
Cergy-Pontoise will replace Chamonix in Division 1
(22 Jul 2017)
Chamonix/Morzine relegated
The merge between Morzine-Avoriaz and Chamonix, occurred last summer, should have created a more competitive team in Magnus Ligue, according to the purpose of management: but things did not go just like that: last after the regular season with just 13 points, Morzine-Chamonix Pionniers were relegated in the Division 1 with a round still to play in the relegation round, played along with Strasbourg, Dijon and Nice
(15 Mar 2017)
Epinal hires Brad Gratton as new coach
After a brilliant 2015-16 season, when team finished 2nd in the standing and lost in playoofs semifinals, Gamyo Epinal, currently 8th in the standing, fired coach Stephane Barin, replacing him with Canadian Brad Gratton, who coached mainly in Denmark during the career. Gratton left Odense Bulldogs after last season, with a Danish Cup won with the club
(26 Dec 2016)
Past league results:
League standings:
Historic statistic:
Individuals records:
Fast facts
season 2023-2024
Youngest player: Maurice Zwikel (15 years)
Oldest player: Andrei Rychagov (41 years)
Shortest player: Clément Masson (167 cm)
Tallest player: Samu Perhonen (196 cm)
Nationalities: Belarus (1), Canada (44), Czechia (10), Denmark (1), Finland (17), France (174), Hungary (2), Italy (1), Latvia (8), Norway (1), Russia (6), Slovenia (2), Slovakia (4), Sweden (4), Ukraine (1), USA (13)
Highest win: Grenoble Brûleurs de Loups - Nice HCA 5-0
Season average attendance: 2112
Kaunas City celebrate the qualification to the second round of Continental Cup with a ten-goals victory over Skautafelag Rejkyavik Read more»
Estonian champion wins KHL Zagreb ensuring first place for the home team Read more»