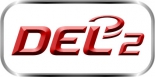 DEL2
League status: Active
Administered by: ESBG Eishockeyspielbetriebsgesellschaft mbH
Head manager: René Rudorisch
Year of start: 1973
Did you find any incorrect or incomplete information? Please, let us know.
Last updated: 28 Nov 2023, 22:36
from 1973 to 2013: 2. Bundesliga
from 2013 to present: DEL2
The DEL2 is the second Division of Ice hockey in Germany (one tier below the DEL). The league was introduced as 2. Bundesliga for the first time in 1973 as the 2nd Division below the Bundesliga. With the introduction of the DEL in 1994, the league was renamed to 1.Liga and split into a southern and a northern conference. Two years later in 1998 the Bundesliga, as 2nd German Division, operating as a single conference, was reintroduced. Before the 2013/2014 season the league changed it's name to DEL2.
Amazing come-back in the DEL2 finals
Ravensburg was down 4-0 after two periods of the third game of the DEL2 finals against Frankfurt.
In the third period Ravensburg scored 6 goals in 13 shots to win the period 6-1 and the game 6-5. The game-winning goal was scored by Thomas Supis one second before the end.
Ravensburg now leads the series 2-1.
(22 Apr 2019)
Fischtown Pinguins change coach
Fischtown Pinguins Bremerhaven fired coach Benoit Doucet, hired at the begin of the season, due to poor results of the team. "The decision was humanly difficult, but necessary - said CEO Hauke ​​Hasselbring. "Benoit was perhaps the wrong time at the wrong place. We thank him for his commitment and wish him all the best for the future"
The new coach is Thomas Popiesch,50, until December on Dresdner Eislöwen bench
(26 Jan 2016)
DEL2 game visited by 31,853 fans
The Sachsen derby Dresdner Eislöwen - Lausitzer Füchse in the German second league, DEL2, was played outdors at the Dresden football stadium in front of 31,853 spectators. The home team won the game 4-3 in overtime.
(09 Jan 2016)
Heilbronner Falken back in DEL2
Relegated after last season, Heilbronner Falken are back in DEL2 replacing EV Landshut, excluded for financial reasons
"Heilbronn staff have worked very committed in the last few days and submitted orderly and complete documentation despite the short lead time. We are glad to start the league with a complete grid" said DEl2 CEO René Rudorisch.
(25 Jul 2015)
Landshut denied last chance to stay in DEL2
As we reported last week, EV Landshut of Germany's DEL2, didn't comply with the license requirements of the league. Last efforts to get the necessary financial guarantees by its main shareholder Rainer Beck gave the club new hope. Now the league made clear that Landshut missed all the important dates and deadlines to get the licence and is out 100% for the 2015-16 season. If Landshut can start in third-tier Oberliga stays uncertain.
(15 Jul 2015)
Heilbronner Falken apply to DEL2 license
Relegated Heilbronner Falken apply to the licensing procedure for participation in next DEL2, replacing EV Landshut, unable to grant license. Date for the final decision isn't still known
(13 Jul 2015)
No license for EV Landshut
EV Landshut won't play in next DEL2. The Supervisory Board of DEL2 confirmed the club didn't complied with the license requirements "despite great efforts" and is out from next season. "That is really bad. Bud we have set out guidelines. This must apply to all" said DEL2 CEO René Rudorisch.
Relegated Heilbronner Falken and the finalists of Oberliga playoffs Füchse Duisburg and EV Regensburg are the candidates to replace Landshut
(10 Jul 2015)
Benoit Doucet is the new coach in Bremerhaven
DEL2 silver medalist Fischtown Bremerhaven announced the hiring of 52-year-old Canadian, with German passport, Benoit Doucet as new headcoach. After a successful career as player in DEL and with Germany national team, this will be the first experence as coach
(04 Jun 2015)
Benoit Doucet is the new coach in Bremerhaven
DEL2 silver medalist Fischtown Bremerhaven announced the hiring of 52-year-old Canadian, with German passport, Benoit Doucet as new headcoach. After a successful career as player in DEL and with Germany national team, this will be the first experence as coach
(04 Jun 2015)
New coaches in DEL2
Resigned a week ago from SC Riessersee, Anton Krinner surprisingly signed as new headcoch of EV Landshut replacing Ewald Steiger who remains as assistant coach.
Some hours after the news from Landshut, Riessersee announces new headcoach: Italo-Canadian Maurizio Mansi, until December assistant coach at Nürnberg Ice Tigers.
"We would like to express my thanks for the fast and efficient help of Nürnberg Ice Tigers"says Riessersee CEO Ralph Bader. Curiously next sunday SC Riessersee will play at home against Landshut
(21 Jan 2015)
Past league results:
League standings:
Historic statistic:
Individuals records:
Fast facts
season 2023-2024
Youngest player: Niclas Hempel (16 years)
Oldest player: Christian Ehrhoff (41 years)
Shortest player: Ville Järveläinen (165 cm)
Tallest player: Rio Kaiser (200 cm)
Nationalities: Canada (58), Czechia (20), Finland (11), Great Britain (2), Germany (262), Hungary (1), Italy (2), Kazakhstan (1), Latvia (1), The Netherlands (1), Poland (3), Russia (3), Switzerland (1), Slovakia (2), Sweden (6), USA (20)
Highest win: Bietigheim Steelers - ESV Kaufbeuren Joker 1-6
Season average attendance: 2858
Cardiff Devils won by one-goal-difference against home side Grenoble and advances to the Continental Cup Superfinals along with Nomad Astana Read more»
Kazakh champion closes the Continental Cup semifinals round with a perfect record, by beating HK Zemgale in the last game Read more»