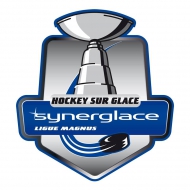 A look back at a season that lived up to its promise. Read more»
08 Jun 2023 | The upcoming NHL draft in June 2023 is fast approaching. Find out here which European Ice Hockey players will likely be in the draft. Read more»

13 May 2023 | The Alliance of European Hockey Clubs (E.H.C.) has announced the nominees for the 2023 Fenix Outdoor & Warrior European Hockey Awards. Read more»

06 May 2023 | Great Britain wins WC division 1A and is promoted to the 2024 World Championship together with Poland. Read more»
Jokerit Helsinki will play in Mestis
Jokerit Helsinki has passed the licensing process and next season will play in Mestis, after one-year hiatus following club's exit from KHL
Jokerit will replace Peliitat Heinola, left without a Mestis license due to financial problems.
In total 13 clubs will play in the Finnish 2nd League
(03 May 2023)
Galym Mambetaliyev appointed head coach of Kazakhstan
Galym Mambetaliyev has been officially appointed head coach of the Kazakhstan national team.
He will lead the Kazakhstan national team to the World Championship in Riga
Previously, the 57-year-old coach has already led the Kazakhstan national team at the 2018 World Championship Division 1A. Also at the last Universiade in Lake Placid, he won bronze medal. This season he won the Kazakhstan League with Nomad Astana
The coaching staff will be the following:
Head Coach - Galym Mambetaliev
Assistant Coach - Alexander Vysotsky
Assistant Coach - Yerlan Sagymbaev
Goalkeeping Coach - Alexander Shimin
Coach - Alexander Berezensky
General Manager - Gleb Karataev
(15 Apr 2023)
Basingstoke Bison take a year off
Whilst work is being carried out at their rink, Basingstoke Bison of the National Ice Hockey league in the UK havr decided to take a year out from playing ice hockey
(12 Apr 2023)
Zemgale confirms title in Latvia
Latvian title stays in Jelgava! HK Zemgale retains the crown of Latvian champion by defeating 4-1 in the final series and 5-1 in the last decisive game regular season winner HK Mogo
Zemgale forward Gatis Gricinskis was named playoffs MVP
(06 Apr 2023)
Irbis-Skate Sofia win Bulgarian League
After relinquishing their crown last season, Irbis-Skate Sofia are Bulgarian League champions again, beating defending champions NSA Sofia in the final series. It's the seventh title for the club.
Awards:
Best forward: Marek Malinski /CSKA Sofia
Best defender: Ivaylo Georgiev /NSA
Best goalkeeper: Dimitar Dimitrov /Irbis-Skate
(13 Mar 2023)
SG Cortina win title in Italy
SG Cortina is the new Italian champion. It's the title number 17 for the traditional club, the first since 2007 when Cortina coach Giorgio De Bettin was on ice as player. In the decisive game, Cortina won 2-1 vs SV Renon
(12 Feb 2023)
Saryarka wins regular season in Kazakhstan
The regular season of Kazakhstan League finished today with reigning champion Saryarka Karaganda at the top of the standing.
Playoff pairs are:
Saryarka (1) - Kulager (8)
Humo (2) - Gornyak (7)
Beybarys (3) - Aktobe (6)
Nomad (4) - Arlan (5)
Legendary Hc Torpedo Ust Kamenogorsk missed the post season
(08 Feb 2023)
JAHC Budapest win Hungarian Cup
Budapest Jégkorong Akadémia Hockey Club is the 2023 champion of the Hungarian Cup by beating Hydro Fehérvár AV19 3-2SO in the final. For Székesfehérvár team is the 4th consecutive final lost
All the game sheets and stats of HUN Cup are here: https://bit.ly/3JqyZTY
(30 Jan 2023)
Do you know that you can support us and show your support for your favourite player or club at the same time. Find the profile of your favourite and click the link to buy a sponsorship of the profile.

Staff wanted
A large group of hockey fans from around world has helped build this site. We are always looking for more people that want to help out. It doesn't matter if you want to write articles, work with player stats or just want to help out with something else. If you're interested in helping us making this site even better, please contact us at
info@eurohockey.com.
Forums are great

Discuss your favourite team or player with other fans on one of our discussion boards!
Current events
External links

Czech Rep.: Tipsport extraliga | 1.liga | 2.liga

Slovakia: Tipsport Extraliga | 1.liga

Sweden: SHL | HockeyAllsvenskan
Other: EBEL | Belarus | Croatia | Denmark | Estonia | France | Great Britain | Iceland | Italy | Latvia | Lithuania | MOL-liga | Norway | Poland | Romania | Serbia | Slovenia | Spain | NHL | AHL |
League standings
Game fixtures
League leaders