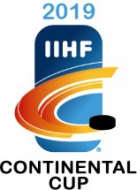 SV Renon flies to Belfast
Finalist in the last two editions, Italian team dominated the Continental Cup group played at home
SV Renon gains access to the semi-finals of Continental Cup by closing Group B, played on home ice, with a perfect record.
For the third time, on four attempts, the Italian team, organizer of 2017 Superfinals, advances in the competition playing at home ice Ritten Arena. Along with Renon, Crvena Zvezda Beograd, Acroni Jesenice and Mac Budapest battled for a spot in the semifinals, played in mid-November in Belfast

The opening game of the tournament it's a replay of Alps Hockey League fixture, where both Renon and Jesenice competing and possibly the clash between the favourite: but three unanswered goals scored by Renon's Henrik Eriksson, Imants Lescovs and Alex Frei in the first 12 minutes sealed a capital success for home team that won 6-1 showed a solid style vanished a week before in the game of Alps Hockey League. Secured the most important victory, against all odds Renon has a hard time against possibly the weakest team, Crvena Zvezda, mistreated in the opening day by Mac Budapest. Instead the underdog of the tournament showed a great character against a stronger team, recovering from a two goal deficit and amazingly closing the central period leading 3-2. The technical difference, however, eventually prevailed and Renon, despite a game played negligent and feeble, earns three more points prevailing 6-4. In the last game against the MAC Budapest, defeated 3-4 by Jesenice, Renon needs just a point to secure the qualification. Facing a decisive game, home team find the right spirit again, opens a double advantage in the first period with Alex Frei, controlling the game until the final 4-1 score.
Jesenice, although closing in second place, was the disappointment of the tournament: besides the defeat with Renon that could have been considered possible, in the remaining games Slovenian team proved to be a different team to the one that plays in the Alps Hockey League: they got the only victory against Budapest taking advantage of the minor tactical maturity of the opponents. And the defeat in the last round against Crvena Zvezda can be considered shameful,

MAC Budapest, migrated this season in the more competitive Slovakian Extraliga, started the tournament with a promising 8-0 victory against the Serbs The result remains the only victory of the weekend, because in the remaining games, despite being the team with more shots on goal, have highlighted the lack of a sniper, that did not allow them to win against Jesenice, although the Slovenians were pardoned by the referees for a goal canceled at sound of the siren, remaining point-less also against Renon.
Crvena Zvezda only made the first game wrong, showing more skills in the rest of tournament, came out of the distance: after the heavy defeat against MAC Budapest and the great performance against Renon, the Serbs have obtained a deserved victory, albeit at overtime, in a game with a special meaning, against a former Yugoslavian team, played with intensity and physicality, as happened for the entire tournament. Special mention for the goalie Arsenije Rankovic, with 126 saves on 141 shots, a percentage of 89.36%, the player who definitely made the difference on ice for the team


Czech Rep.: Tipsport extraliga | 1.liga | 2.liga

Slovakia: Tipsport Extraliga | 1.liga

Sweden: SHL | HockeyAllsvenskan
Other: EBEL | Belarus | Croatia | Denmark | Estonia | France | Great Britain | Iceland | Italy | Latvia | Lithuania | MOL-liga | Norway | Poland | Romania | Serbia | Slovenia | Spain | NHL | AHL |
League standings
Game fixtures
League leaders
Gary Graham parted ways with EIHL side Nottingham Panthers this morning. Read more»
With a 5-2 win for Cardiff and 4-1 win for Angers they will take their place in the Superfinal. Read more»