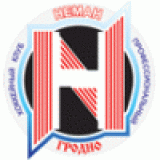 Neman Grodno
Name in original language: Неман Гродно
Year of foundation: 1988
Colours: white, red, black
Club status: active
Address: ul. Kommunalya 3a
Grodno, Belarus, 230 029
Phone: +375 0152 48-25-08
Email: hcneman@tut.by
WWW: Neman Grodno
Did you find any incorrect or incomplete information? Please, let us know.
Season 2023-2024
Current roster
season 2023-2024
* no longer in the club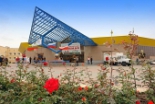 Adress: ul. Kommunalya 3a
Grodno, Belarus, 230 029
Phone: +375 152 75-32-36
Email: info@icepalace.by
Capacity: 3000
Opened in: 1989
from 1980 to 1986: KSM Grodno
from 1986 to 1988: ShVSM Grodno
from 1988 to 1991: Progress Grodno
from 1991 to present: Neman Grodno
from 1900 to present: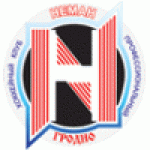 Awards in Belarus assigned
The Belarusian Federation announced the awards for the 19-20 Extraliga, one of few leagues completed in Europe. The winners are determined by the votes of all Extraliga clubs
Best Goalie: Maxim Malyutin (Shakhtar Soligorsk)
Best Defender: Andrei Antonov (Yunost Minsk)
Best Forward: Nikita Remezov (Neman Grodno)
Best Young Player: Nasser Subkhi (HK Gomel)
Playoffs MVP: Maxim Malyutin (Shakhtar Soligorsk)
Coach of the Year: Yuri Faikov (Shakhtar Soligorsk)
(17 May 2020)
Sergei Pushkov named Coach of the Year in Belarus
A jury of 51 journalists voted champion Neman Grodno Sergei Pushkov as Coach of the Year in Belarus, for the second consecutive season. The 54-year-old Russian coach preceded Belarus U18 coach Pavel Perepekhin, who lead the national team at the final 8th place at World Championship and current Barys Astana coach Andrei Skabelka.
(18 Jul 2018)
Neman retains title
Seventh title of Belarus Extraliga for Neman Grodno that defeated arch rival Yunost Minsk after six games in the final series, with a decisive 3-2 at Chizovka Arena in front of 7000 spectators.
"We did a good job. This is the victory of the whole staff, the leadership of the club and the fans." said Russian coach Sergei Pushkov
(07 Apr 2018)
Gomel win Belarus Cup
Kazakh forward German Nesterov was the key player for Gomel winning the 2018 Belarus Cup, named after Ruslan Salei. Nesterov scored a goal, seved one assist and netted the decisive shootout in 3-2 epic victory at Ice Palace Grodno in front of 2800 spectators against Cup holder Neman Grodno. The first leg of final ended 2-2. With this victory Gomel award the fifth National Cup, becoming the major winner of the Trophy along with Yunost Minsk, both with 5 titles
(20 Dec 2017)
Draw in the first leg of Belarus Cup
In front of 2.800 spectator at Gomel ice arena, home team lets the victory escaped in the first leg of Belarus Cup final against Neman Grodno. Leading 2-0 after 22 minutes, Gomel suffered two goals in 15 seconds at minute 24.for the final 2-2
The second decisive leg will be played at Neman Arena on December20
(05 Dec 2017)
Neman and Gomel are the finalists of Belarus Cup
Despite two defeats in 2nd leg of semifinals, Cup holder Neman Grodno and HK Gomel are the finalists of 2017 Belarus Cup, named after Ruslan Salei.
In a replay of last season Cup and league finals, Neman knocked out rival Yunost Minsk, winning 6-4 in Minsk and loosing 1-2 at home.
An opening goal by Edijs Brahmanis was enough for Gomel to secure the pass for the final, despite the 3-1 defeat against Dinamo Maladzyechna, thanks to the 3-0 victory in the first leg.
The date of final is TBD
HK Gomel won the national Cup 4 times, the lasty in 2013; Neman has two titles, in 2015 and 2017
(27 Sep 2017)
Belarus Cup semifinals set
After the last game, won by Dinamo Maladzyechna against Yunost Minsk, the semifinals of Belarus Cup are known with the first two teams from each of two groups qualified: HC Dinamo Maladzyechna, winner of Group A, will play with Gomel, while Neman Grodno will face Yunost Minsk. The dates of two legs of semifinals are to be determined
(27 Aug 2017)
Games of the day: 23 July
@ Minsk: Neman Grodno - Yugra Khanty-Mansiysk 3-2
(24 Jul 2017)
Games of the day: 20 July
@ Minsk (Minsk Cup):Yugra Khanty-Mansiysk - Neman Grodno 4-3 SO
@ Raubichi (BLR): Yunost Minsk - Dinamo Maladzyechna 0-4
HC Dynamo Pardubice - HC Slovan Bratislava 5-2
(20 Jul 2017)
Crvena Zvezda will compete in Belarus Cup
The calendar of 2017 Belarus Cup, named after hockey legend Ruslan Salei, was unveiled with a unexpected news: Serbian team Crvena Zvezda Beograd will compete in the Cup as host team, without the right to eventually advance to final. Serbian team, with Belarusian Igor Krivoshlykov in the coaching staff, will spend pre-season training camp in the city of Kobrin, successfully asking to the Belarus Federation to compete in a tournament as part of preparation for the new season, according to the rumours, in the newly created International Hockey League with Slovenian, Croatian and Serbian teams
As usual the teams are divided in two groups, with the top two teams in each group advancing to semifinals.
Last year Neman Grodno, later also Extraliga champion, won the Cup beating Yunost Minsk in the final
(17 Jun 2017)
Historic rosters:
Historic statistics:
Past results:
League standings:
Fast facts
season 2023-2024
Cardiff Devils won by one-goal-difference against home side Grenoble and advances to the Continental Cup Superfinals along with Nomad Astana Read more»
Kazakh champion closes the Continental Cup semifinals round with a perfect record, by beating HK Zemgale in the last game Read more»