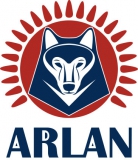 Arlan Kokshetau
Short name: Arlan
Name in original language: Хоккейный клуб Арлан Кокшетау
Year of foundation: 2009
Colours: red,white
Club status: ceased (folded in the summer of 2020 for financial difficulties)
Address: ul.Budenogo 85
020000, Kokshetau
Phone: +7 8 (7162) 72-11-51
Fax: +7 8(7162) 32-82-68
Email: info@arlanclub.kz
WWW: Arlan Kokshetau
Did you find any incorrect or incomplete information? Please, let us know.
Season 2023-2024
Current roster
season 2023-2024
* no longer in the club
Adress: Sport Palace Burabay
Ul. Budennogo - 85
020000, Republic of Kazakhstan, Akmola district, Kokshetau
Phone: +7 8(7162) 32-82-84
Email: info@dsb.kz
Web: http://www.dsb.kz/
Capacity: 1500
Opened in: 2009
from 2009 to present: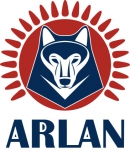 Saryarka Karaganda win Kazakhstan League
After the victory of national cup, Saryarka Karaganda completed the domestic en-plein securing also the Kazakhstan League after a thrilling final series against Arlan Kokshetau, decided in game six, with an away 2-0 victory, after Arlan lead 2-0 in the series.
Due the Covid-19 restrictions, this season the Kazakh teams competing in Russian VHL - Hc Torpedo Ust-Kamenogorsk, Saryarka and Nomad Nur-Sultan, and the Snow Leopards, Barys' junior team playing in MHL, partecipated in the domestic league
After the last game, Kazakh Federation announced seasonal awards:
Best goalkeeper: Ilya Rumyantsev (Arlan).
Best defender: Edgars Siksna (Saryarka).
Best forward: Vadim Berdnikov (Arlan).
Best young player: Ivan Zinchenko (Aktobe/Beybarys).
Season MVP: Dmitri Mikhailov (Saryarka).
(27 Apr 2021)
Arlan was saved and will compete in next Kazakhstan League
A couple of weeks ago, the club announced the dismantle of the team due to financial difficulties, but some days after the Department of Physical Culture and Sports of Akmola region made an official statement on the situation around Arlan.
"On September 4, a competition for the provision of services for the participation of a hockey team in republican and international competitions on behalf of the Akmola region ended. The winner of the competition was the ChU" Sports and Hockey Club "Astana-Baiterek". As a result of the competition, there was a saving of money.
At the same time, we would like to inform you that the hockey team will take part in the championship of the Republic of Kazakhstan under the name "Arlan". This condition is spelled out in the technical documentation of the competition."
(14 Sep 2020)
Kazakhstan Cup groups unveiled
The cities of Pavlodar and Kokshetau will host the 2016 edition of Kazakhstan Cup, from 20 to 28 August.
As usual the ten partecipating teams were placed in two groups. The winner of each group will play the final at Pavlodar on August 28
Group A (Pavlodar): Beybarys Atyrau, Ertis Pavlodar, Nomad Astana, HK Almaty, SHҚO Ust-Kamenogorsk
Group B (Kokshetau): Arlan Kokshetau, Kulager Petropavlovsk, HK Temirtau, Gornyak Rudny, HK Astana
(13 Jun 2016)
Beybarys wins Kazakhstan League
It took seven games to determine the 2015-2016 champion of Kazakhstan: by beating 3-1 Arlan at Kokshetau, Beybarys Atyrau wins its third title,all under the lead of Aleksandr Istomin, noting a constant presence among the elite of Kazakh hockey, with 3 titles and two silver medal in last seven years. Another season empty-handed for Arlan, winner of the regular season at the third consecutive silver medal.
Season awards:
Best goalkeeper - Alexei Kuznetsov (Beybarys)
Best defender - Vladislav Kolesnikov (Arlan)
Best forward - Mikhail Rakhmanov (Ertis)
(21 Apr 2016)
Gornyak Rudny wins Kazakhstan Cup
Gornyak Rudny surprisingly won 2015 edition of Kazakhstan Cup beating 2-1 Arlan Kokshetau in the final played at Burabai Arena. It's the second trophy for Rudny team after the Cup won in 2009-10. Beybarys Atyrau won the bronze medal defeating 5-1 Nomad Astana.
The individual awards:
Best goalie: Stepan Goryachevskikh (Arlan)
Best defender: Georgi Dulnev (Beybarys)
Best forward: Igor Cherkasov (Gornyak)
Best young player: Ivan Stepanenko (Nomad)
(29 Aug 2015)
Kazakhstan League awards determined
Kazakhstan Ice Hockey Federation announces the seasonal awards for 2014-2015

Kazakhstan League Best Goaltender: Anton Todykov (Gornyak Rudny)
Kazakhstan League Best Defender: Aleksei Shorokhov (Arlan Kokshetau)
Kazakhstan League Best Forward: Ivan Kiselyov (HK Astana)
(28 Apr 2015)
Ertis confirms title in Kazakhstan
Ertis Pavlodar won third consecutive title in Kazakhstan beating Arlan Kokshetau 4-1 in the final series. ertis won also Kazakhstan Cup and played in Continental Cup superfinals this season
(21 Apr 2015)
Arlan Kokshetau fined
The Kazakh Federation has fined Arlan Kokshetau 250,000 tenge due to the comments made by head coach Surenkin following their 22.12 match with Gornyak Rudny. Kokshetau won the match 2:1 but Surenkin was still unhappy with the officials.
(25 Dec 2014)
Arystan Temirtau given forfeits
Arystan Temirtau had two matches against Arlan Kokshetau postponed while the club sorted out their financial situation. The club in the end was saved however they refused to show up for the matches against Arlan and now the Federation has ruled 5:0 technical victories to Arlan.
(09 Dec 2014)
Arlan finally announces coach
After firing Vladimir Klinga in mid-September, Arlan finally finds a new coach: Finnish Vesa Surenkin, inactive since 2012, will coach Kazakh team with Russian Dmitri Shalabanov, assistant coach for the last three seasons at Sary Arka Karaganda.
(03 Nov 2014)
Historic rosters:
Historic statistics:
Past results:
League standings:
Fast facts
season 2023-2024
Cardiff Devils won by one-goal-difference against home side Grenoble and advances to the Continental Cup Superfinals along with Nomad Astana Read more»
Kazakh champion closes the Continental Cup semifinals round with a perfect record, by beating HK Zemgale in the last game Read more»