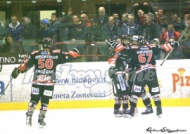 Ritten sweeps Cortina in Serie A quarters, Sterzing continues strong season
Regular season winner Ritten is the only team to have won its quarter finals series in four games. Pustertal, Asiago and Sterzing need one more win to reach the next playoff round.
In Italy, only eight teams participate in this year's Serie A season, meaning that all teams take part in the playoff quarter finals. Aside from the poor attendance (686 spectators in average) also during the playoffs, there have been some interesting surprises from a sportive point of view. So let's see who is on its way to the semi finals.
Ritten - Cortina 4:0 (1:0 OT, 5:0, 9:1, 5:2)

Ritten is the favourite to win the title and were not expected to have any problems against Cortina, who played a very disappointing regular season. Head Coach John Parco, who guided Asiago to two Italian championship titles, has not been able to give the young a team a clear structure, especially in the defensive zone.
In Game 1 Cortina came close to a surprising series' lead, but Brendan Cook's overtime marker was enough for Ritten to defend the home ice advantage. In Game 2 the 'scoiattoli' were no-more able to stop the team captained by Italian national team blueliner Christian Borgatello. The second shutout in a row by Andrew Engelage and a strong performance by Ritten's top line gave the South Tyroleans a 5:0 win on the road. Ritten took the momentum into the next game, embarrassing Cortina with a 9:1-victory led by 4 goals of Mark Van Guilder. Ritten did not waste the first chance to clinch the series with a 5:2-win in Game 4 and eliminate the 16-time Italian champion.
Ritten, who have applied to join Erste Bank Eishockey Liga, possess the deepest roster in the league and a great mix of experience and youth. Forwards Cook and Van Guilder, each with 10 points, can bring offence, but so can Dan Tudin or the local players Markus Spinell (21 points in 37 games) and Alex Frei (15 points in 33 games).
For Cortina on the other side the import players underperfomed, such as former first round pick Angelo Esposito (38 points in 31 games) and Marcello Ranalla (34 points in 42 games). Offencive defenseman Alex Gellert (42 points in 42 games), who possesses both the American and Italian citizenship, led the team in points in the regular season and was sidelined with an injury during the playoff series.
John Parco may also not have been the right coach for this young team and it remains to be seen whether he will stay. The 'blue-and-white' though can build on the experience gained by some of their youngsters such as Tobias Brighenti (13 points in 41 games) and Riccardo Lacedelli (21 points in 33 games).

Pustertal - Gherdeina 3:1 (5:3, 5:4 OT, 1:2 OT, 4:2)
Gherdeina played a pretty good regular season after the coaching change and are continuing so in the playoffs. Pustertal started the series as the clear favourite, but Gherdeina is proving to be a pesky opponent. Young goalkeeper Gianluca Vallini is keeping the 'furie' in the games and they have some weapons like Justin Mercier (43 points in 39 games) and Luke Moffat (53 points in 42 games) up-front. However, so far, Pustertal's experience is making the slight difference and Pustertal could grab a 2-0 series lead thanks to a 5:3 win in Game 1 and an overtime victory in the second meeting in which Ryan Kavanagh scored the tie-breaker.
In Game 3 the underdogs were finally able to steal a game, driven by a 46-save-perfomacne by Vallini. Justin Mercier's overtime goal gave Gherdeina the first win in the series. The Wolves would find a response in Game 4, as Giulio Scandella's hattrick led the team to a 4:2-win. Scandella is playing an excellent playoff so far having collected nine points already. The biggest disappointment in the playoffs so-far has been regular season topscorer Francois Bouchard. If the Wolves want to make a serious push to win their first even national championship title, he will have to be a difference maker.
Overall, so far experience and the quality of the local players is making the biggest difference in the series. Gherdeina's imports are performing well with especially Derek Eastman (36 points in 42 points) deserving credit alongside Moffat and Mercier. However, Pustertal has some the best Italian player like Armin Helfer (29 points in 41 games) or Raphael Andergassen (29 points in 42 games) on disposal, whereas Gherdeina's local players are not among the list of national team members. Despite that, players such as Ivan Demetz (23 points in 41 games) and Fabrizio Senoner (17 points in 34 games) have certainly earned their respect this season. And who knows, the series is not over yet and Gherdeina will certainly try to continue to make it as tough as possible for the Wolves.

Asiago - Valpellice 3:1 (4:7, 3:2, 6:2, 3:1 )
Asiago played a so-so regular season and also their playoff start was not ideal, losing the first game 3:7 to Valpellice. In Game 2 the 'stellati' came back, before Anthony Luciani exploded in Game 3 with three goals and three assists to give Asiago a 6:2-win. The defending champions, who have to rely on third string goalkeeper Davide Mantovani in this series, earned themselves three match pucks in Game 4, winning the contest 3:1.
Valpellice, who have serious financial problems and already had to give up key players such as defencemen Davide Niceletti and Trevor Johnson, are doing much better than expected in this series. Legendary NHL-goalkeeper Tom Barrasso is doing a great job in hist first experience as head coach and has, despite the difficult environment in Valpellice with numerous players joining and leaving the club throughout the season, given the team a good structure.
Asiago, who seem to slowly gain their normal playoff form, have a team built to defend the title. Players like Sean Bentivoglio (64 points), Diego Iori (20 points in 29 games), Layne Ulmer (60 points) or Paul Zanette, who returned to the team prior to the playoffs after experiences in EBEL and EIHL, know how to win playoff games. Head Coach Patrice Lefebvre has been able to fit in some of the young players such as Mirco Presti (25 points) or Marco Magnabosco (23 points in 33 games) as well.

Sterzing - Fassa 3:1 (3:1, 3:4, 6:2, 6:1)
The two surprises of the season are meeting in the quarters and so far the South Tyroleans have taken control.
Between the pipes, Fassa was expected to have the clear advantage with Thomas Tragust in net, whereas Sterzing's Marc Demetz is out and replaced by Domink Steinmann. Steinmann though has grabbed his opportunity, stopping 94.5 % of the shots taken by the Fassa-forwards. The Falcons have not been able to shut down Sterzing's top line as well and this has been the key so far. Regular season topscorer Adam Hughesman (65 points in 42 games), Jason Walter (61 points) and Taylor Stefishen are forming a dangerous line. 11 out of the 20 goals of the Broncos so far in the playoffs have been scored by one of those three forwards. In lines two and three their local players are doing a great job defensively, but if they move on to the semifinals, relying on only one line offensively might not be enough.
Fassa, which is a team with more depth than the Broncos, has not been able to showcase their potential yet. Especially allowing 6 goals in each Game 3 and 4, was not what they were hoping for. With the exception of Mike Vaskivuo (55 points in 40 regular season games), no player has been able to repeat his strong performances in the playoffs. Marton Vas and Luca Felicetti have each only be held to one goal and they will need to step up if Fassa wants to get back into the series. Also Jari Monferone, who has been the most pleasant surprise of Fassa with 32 points this season earning him a spot in the Italian national team at the Olympic-Pre Qualification tournament, has not picked up a single point in this series thus far. If the Falcons want to turn this series around, they will have to find a way to stop Sterzing's deadly top line.
Foto: Roberta Strazzabosco / hockeytime.net

Current events
External links

Czech Rep.: Tipsport extraliga | 1.liga | 2.liga

Slovakia: Tipsport Extraliga | 1.liga

Sweden: SHL | HockeyAllsvenskan
Other: EBEL | Belarus | Croatia | Denmark | Estonia | France | Great Britain | Iceland | Italy | Latvia | Lithuania | MOL-liga | Norway | Poland | Romania | Serbia | Slovenia | Spain | NHL | AHL |
League standings
Game fixtures
League leaders
After a 4-years hiatus, a Kazakh club could be back in Russian Second League Read more»
The 5th season of Ice Hockey Championship was played at Altit Fort, Hunza in -15 C temperature. SCO male team won the Championship against defending champions team of Serena Hotels. ... Read more»