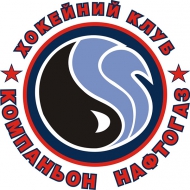 Companion-Naftogaz wins Ukraine League
After one of the most troubled seasons for Ukrainian hockey, Kyiv team captures its first title
Memories of the ambitious project of a Professional League are far for Ukrainian hockey: 2013-2014 season, ended this week with the playoffs finals, was one of most difficult: during the summer Berkut Kyiv, withdrew from competition last season after being dominated regular season, was practically folded after a wishy-washy on which league to play and after the rejection of Belarus Federation to get team in Extraliga; In September still no calendar neither the idea of which teams will compete while Dynamo Kharkiv announced the withdrawal from competitions, except the newly created Junior League, for lack of money just one season after its resurrection giving the city the unenviable record of three teams folded in three seasons (HC Kharkiv in 2011 and Kharkivs'ki Akuly in 2012 followed same fate). Adding the perennial economic problems of Sokil Kyiv, always on the verge of bankruptcy, and the situation far from prosperous of Levy L'viv, the scenario in October was very pessimistic and no one knew if the league would be played. Then some good news came: Levy confirmed partecipation, Federation granted the request to play of Generals Kyiv, an amateur team playing in competitive Kyiv Night League, powerful Donbas Donets'k announced that Bilyỹ Bars Bila Tserkva would be its farm team, filling it with some good quality players and turn it automatically the favourite for final victory, along with Companion-Naftogaz, one of few clubs with healthy coffers leading by former national team coach Aleksandr Seukand, silver medalist last season.

To complete the grind, quite suddenly Vinnyts'ki Haydamaky Vinnytsya, a club played a couple of seasons ago for a season with disastrous results before to fold, was resurrected with ambitious plans. But after four games, all lost (1-3 and 1-3 against Generals; 0-16 and 0-7 against Bilyy Bars) and a series of requests for postponements because club could not guarantee the holding of matches, in December the Federation decided to withdraw the team despite the club has repeatedly stated the will to continue to play. From January League was played regularly with Generals Kyiv lost its spot into playoffs, due to a series of consecutive defeats between January and February, in favor of Levy L'viv, while Companion Naftogaz wins regular season ahead of Bilyy Bars and Sokil. After a 2-0 record in the semifinals against opponents, as expected Companion and Bilyy Bars competed for finals series, finally with excitement and uncertainty: Companion leads the series 2-0, Bilyy Bars equalized with two home victories after the decisive game #5, won 2-1 by Companion on home ice in front of 1.000 spectators, despite the difficult political situation in the country, capturing its first ever title and a ticket for Continental Cup next season.

Companion assistant coach Evgeny Alipov sums up the season after the last game: "Before the game all the guys understand its importance. Many have repeatedly participated in the final match of the playoffs, so were not necessary to spend many words. All were aware that we have to play without ant error, because the price of a mistake may be high. Even before the start of the season we said that the goal is to win the championship. And, gradually, step by step, go to the dream: first win regular season, then went to the finals, and finally beat uneasy opponent in the final decisive game. I would like to emphasize the fact that the final five games were played at a very high level. If the league took this vein, then our players would grow in his skills, and developed... it would be just super!"

Bilyy Bars forward Sergei Babinets thanks the fans for the support but mainly focuses on the future of the country as a prerequisite for the future of hockey in Ukraine : "Now the main thing that in our country everything was okay, that Ukraine was indivisible. I think a lot will depend on what will happen in our country.I wish that all Ukrainians can be united through sport, through hockey. Now it's a very serious and important moment for Ukraine.I think that if everyone in our country will feel well and Ukraine will remain the same as it was born, also hockey will develop.New people came, and now I hope that thanks to them the sport as a whole will develop and there will be hockey teams are not only in Kiev and Donetsk, but also in Kharkiv and Dnipropetrovsk.God forbid that a team will be created in Crimea and that we will go to play Ukrainian league matches there.I hope that hockey will grow and the best years for Ukranian hockey are still ahead!"

Bilyy Bars' and national team forward Artem Bondarev was League Top Scorer notching 39 points (20 goals and 19 assists) in 24 games.
After the end of playoffs series, Federation announced the winners of season awards:
Best Goalkeeper: Mikhail Balaban (Sokil Kyiv)
Best Defender: Dmitri Tolkunov (Bilyỹ Bars Bila Tserkva)
Best Forward: Sergei Chernenko (Companion-Naftogaz Kyiv)
Playoffs MVP: Sergei Zavyalov (Companion-Naftogaz Kyiv)

Top Scorer: Artem Bondarev (Bilyỹ Bars Bila Tserkva)


Czech Rep.: Tipsport extraliga | 1.liga | 2.liga

Slovakia: Tipsport Extraliga | 1.liga

Sweden: SHL | HockeyAllsvenskan
Other: EBEL | Belarus | Croatia | Denmark | Estonia | France | Great Britain | Iceland | Italy | Latvia | Lithuania | MOL-liga | Norway | Poland | Romania | Serbia | Slovenia | Spain | NHL | AHL |
League standings
Game fixtures
League leaders
After two years of preparation, next November the new multi-national tournament will see the light Read more»
KHL President Alexei Morozov said non-Russian clubs will start the season in Russia and may stay there until the issue of crossing borders between states is resolved. Read more»