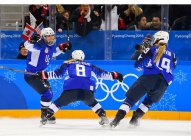 For the first time in 20 years, the United States has won gold at the women's Olympic hockey tournament after beating Canada 3-2 in the shootout on Thursday afternoon in PyeongChang, South Korea. Read more»
21 Feb 2018 | In a superb match worth of the Olympic Games, Finland's team hold on the lead that had all game to be the Olympic Athletes from Russia, 3-2 in regulation time. Read more»

21 Feb 2018 | Sweden managed to claim a victory in their final match of an Olympic campaign that sees them slump from fourth in Sochi to seventh place today. Host country Korea can be proud of their performances, the introduction of hockey to a new audience as well as the political capital gained by having the first ever sporting collaboration between North and South Korea. Read more»

21 Feb 2018 | Canada needed just one goal to secure their place in the Olympic semifinals, beating Finland by a score of 1-0 on Wednesday evening in South Korea. Read more»
Switzerland beat Norway
Two days before the start of the Olympic Tournament Switzerland beat Norway 4-2 in Goyang. Simon Moser scored two goals within 1:03 in the second period.
(12 Feb 2018)
Fourth title for Renon/Ritten
SV Renon/Ritten won its fourth Italian championship - the third consecutive - by beating 6-1 Val Pusteria Wolves in the final played at Odegar Arena in Asiago. The Italian League, this season called Italian Hockey League (IHL), was played just by the eight teams competing in the Alps Hockey League with the Alps League games between Italian teams played at the end of December using as a qualification round and a final four played last weekend in Asiago. Renon won 4-3 at overtime against Vipiteno Broncos in the semifinals, while Val Pusteria knocked out 6-4 host Asiago. For the Wolves, still without a title, is the fourth final lost.
(12 Feb 2018)
U.S. women beat Finland
USA beat Finland 3-1 in the opening game of the A Group of Women's Olympics. Finland took the lead in the final seconds of the first period but USA scored twice in the second and added an empty net goal 13 seconds before the end.
(11 Feb 2018)
Ukita suspended
Japanese forward Rui Ukita was suspended for one game due to a kicking incident in the last minute of the Women's Olympics game against Sweden.
(11 Feb 2018)
Müller scores four in Swiss win
Alina Müller scored the first four goals of the game when Switzerland beat Korea 8-0 on the opening day of Women's Olympics.
(10 Feb 2018)
Jesenice and Olimpija reach final of Slovenian League
Once again the two best teams of the country, HDD Jesenice and HK Olimpija Ljubljana, will battle for the domestic championship, after winning the semifinals series 2-0. Jesenice easily won 4-2 and 5-1 against HK Celje, while Olimpija has a more difficult series against Triglav Kranj, defeated 2-1 and 5-4.
The dates for the finals are still to be determined. The two teams will fight for the title for the fourth consecutive time and the 21th out of 26 editions of Slovenian League. Only Slavija Ljubljana was able to reach the finals besides the two giants, but lost the 5 finals played.
Olimpija has 15 titles, Jesenice 11 (9 as HK Acroni, 2 as the new club HDD Jesenice)
(05 Feb 2018)
Russia beats Belarus
Kirill Kaprizov scored twice and Pavel Datsyuk added a third goal when Russia beat Belarus 3-0 today in Moscow.
(30 Jan 2018)
Premiere for Lyon
Lyon HC won the Coupe de France by beating 2-0 Les Rapaces de Gap in front of 11.500 spectators at the AccorHotels Arena in Paris-Bercy. A deflection by Norbert Abramov at 34:37 and an empty goal by Canadian Dave Labrecque at 58:56 give Lyon the first trophy in its history. Latvian goalie Maris Jucers was named MVP of the final.

Crédit : Xavier Lainé / FFHG
(28 Jan 2018)
Do you know that you can support us and show your support for your favourite player or club at the same time. Find the profile of your favourite and click the link to buy a sponsorship of the profile.

Staff wanted
A large group of hockey fans from around world has helped build this site. We are always looking for more people that want to help out. It doesn't matter if you want to write articles, work with player stats or just want to help out with something else. If you're interested in helping us making this site even better, please contact us at
info@eurohockey.com.

Online Casinos Resources Specially designed for hockey fans you can find hockey league themed online slot machine games and experience the atmoshpere of an ice hockey arena. For guidance and overview on finding the best sites to play hockey slots and other online casino games check out www.casinocanuck.com or www.toponlinecasinos.ca.
Forums are great

Discuss your favourite team or player with other fans on one of our discussion boards!

Czech Rep.: Tipsport extraliga | 1.liga | 2.liga

Slovakia: Tipsport Extraliga | 1.liga

Sweden: SHL | HockeyAllsvenskan
Other: EBEL | Belarus | Croatia | Denmark | Estonia | France | Great Britain | Iceland | Italy | Latvia | Lithuania | MOL-liga | Norway | Poland | Romania | Serbia | Slovenia | Spain | NHL | AHL |
League standings
Game fixtures
League leaders