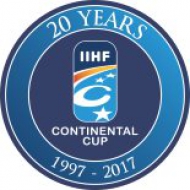 The Continental Cup Second Round, played in the weekend, ended without surprises Read more»
23 Oct 2016 | Saturday's game day in Liiga saw a couple of unexpected results. Teams with hot streaks were slowed down, while others could gain some long awaited momentum. Read more»

21 Oct 2016 | Defector Choi Kwang-hyouk hopes to carry South Korean flag in 2018 Paralympics Read more»

16 Oct 2016 | HV71 has started their season strongly and so far the team have won five out of eight games. But one of the questions I'm asking is, will the success continue? Read more»
Neman win Belarus Cup
After the defeat 4-5 at home in leg one of the finals, Neman Grodno overturned the score winning 4-1 at Chizovka Arena in Minsk, earning the second Belarus Cup, named after legendary Ruslan Salei, in the history of club, after the first ever won in 2014-15 defeating again Yunost in the final.
The club from Minsk is still the major winner of the trophy, with 5 victories
(25 Oct 2016)
MHC Martin forced to postpone games
MHC Martin was forced to postpone the Extraliga games against Zilina and Liptovsky Mikulas scheduled for Friday and Sunday due to a infectious viral illness.
"Unfortunately, one of our players was diagnoed with an infectious viral disease and was quarantined" - said the club in a spress release. Since in this case must be carried out tests on all those who were in close contact with the patient, and make the necessary vaccinations, we were forced to cancel the trainings and of course the games." Team should be back on ice on October 28 for the game against Nitra
(23 Oct 2016)
Zvolen changes coach
"After last disappointing results, the club decided today to cease cooperation with coach Josef Turek and assistant Andrei Podkonický". With a short statement HKM Zvolen chairman Dusan Mraz announced the replacement on the bench. U20 team coach Milan Stas is the new coach. Zvolen is currently 8th in the Extraliga, after 14 rounds
(20 Oct 2016)
Czech U18 team beat Russia - twice
The Czech U18 team bet the Russia U18 in Pribram. The game yesterday ended 5-1. Filip Zadina scored twice while Jan Hladonik, David Kvasnicka and Radim Salda got a goal each for the Czechs. Maxim Marushev scored the Russian goal.
Today Czech Republic won 3-2 on goals by Ondrej Buchtela, Jan Kalus and Krystof Hrabik. Daniil Lobanov and Maxim Marushev scored for Russia.
(16 Oct 2016)
Zeytinburnu Istanbul won Continental Cup first round
For the first time a Turkish team advances to second round of Continental Cup: national champion Zeytinburnu Istanbul dominated First Round, played at Winter Palace in Sofia, Bulgaria. With a perfect record and an impressive 32-6 goals record, Turkish demolished 5-1 home side Irbis-Skate Sofia, 8-3 Serbian champion Partizan Beograd and 19-2 in the last game the Israelian HC Bat-Yam. Partizan finished 2nd, ahead of Irbis Skate and Bat-Yam. Zeytinburnu dominates also the individual statistics, with 5 players finished as scoring leaders, with Ukranian forward Aleksei Voytsekhovsky as top scorer with 15 points (5+10).
Zeytinburnu advances to Second Round, scheduled for 21-23 October in Jaca, Spain against CH Jaca (SPA), Nottingham Panthers (GBR) and HK Liepaja (LAT)
(02 Oct 2016)
Rakell will miss World Cup
Sweden's Rickard Rakell is sick and will miss the World Cup. He will be replaced by Patrik Berglund.
(12 Sep 2016)
Olympic groups
IIHF reports that the groups for PyeongChang 2018 men's ice hockey are known:
Group A: Canada (1), Czech Republic (6), Switzerland (7), Korea (12)
Group B: Russia (2), USA (5), Slovakia (8), Slovenia (11)
Group C: Sweden (3), Finland (4), Norway (9), Germany (10)
(04 Sep 2016)
World Cup rosters update
There are some updates in the rosters for upcoming World Cup:
Canada announces two changes: San Jose Sharks forward Logan Couture replaces the captain of the Dallas Stars Jamie Benn, out due the recover after a muscle surgery.
Also defender Duncan Keith will miss the tournament due the rehabilitation on a knee injury: he will replaced by Jay Bouwmeester
In Sweden roster Anaheim Ducks' defenseman Hampus Lindholm will replace injured Detroit Red Wings' defenseman Niklas Kronwall In the net, Jhonas Enroth will replace injured Robin Lehner of the Buffalo Sabres,
(26 Aug 2016)
Staff wanted
A large group of hockey fans from around world has helped build this site. We are always looking for more people that want to help out. It doesn't matter if you want to write articles, work with player stats or just want to help out with something else. If you're interested in helping us making this site even better, please contact us at
info@eurohockey.com.
Online Casinos Resources If you are looking for something fun to do during commercial breaks, canadascasinos.ca is a new online casino review portal that features all the best promotions and bonuses for a great casino time!
And if you're looking for more info on casino games, you can find it all on online-casinogames.ca, the ultimate casino games guide!
Forums are great

Discuss your favourite team or player with other fans on one of our discussion boards!

Czech Rep.: Tipsport extraliga | 1.liga | 2.liga

Slovakia: Tipsport Extraliga | 1.liga

Sweden: SHL | HockeyAllsvenskan
Other: EBEL | Belarus | Croatia | Denmark | Estonia | France | Great Britain | Iceland | Italy | Latvia | Lithuania | MOL-liga | Norway | Poland | Romania | Serbia | Slovenia | Spain | NHL | AHL |
League standings
Game fixtures
League leaders