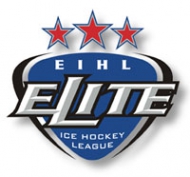 The EIHL in the uk has changed its structure for next year. Read more»
27 Apr 2017 | The Euro Hockey Tour has reached the Czech Republic and the Carlson Hockey Games. Sweden and the Czech Republic won on the opening day. Read more»

26 Apr 2017 | With a perfect first period Great Britain win Lithuania and kick out the memory of a shameful failure Read more»

26 Apr 2017 | Three goals in 30 seconds gives Croatia the first victory in the tournament Read more»
Tarandos Athens win Greek League
Tarandos Athens win the 2016-17 Greek League, back in action after 3 years of absence and after the Hellenic Federation of Winter Sports incorporates icehockey following the closure of Hellenic Ice Sports Federation in 2014.
Tarandos Athens and Ice Guardian Thessaloniki finished both with 15 points and the titles was assigned to Athens team for the better goals difference in head to head matches.
Tarandos won also the newly created Junior League
(26 Apr 2017)
IHWC Division III without Bosnia
Bosnia and Herzegovina won't travel to Sofia to compete in IHWC Division III, scheduled 10-16 April.
Because of the short notice in communication, tournament format won't change and all Bosnia games will count as forfeited.
The other teams will be divided in two groups with cross-over semi-finals and placement games.
Bulgaria, Chinese Taipei and Hong Kong will play in Group A and Georgia, Luxembourg, South Africa and the United Arab Emirates in Group B.

(08 Apr 2017)
New champion in Serbia
After 11 consecutive titles by Partizan Beograd, Serbian hockey celebrated a new champion: the new team HK Beograd, created by the federation before the season to compete in MOL Liga, was crowned champion of Serbian League after eliminating Partizan - struggle with economic problems and finished 3d out of four in regular season -  in semifinals and Crvena Zvezda in two games of finals 7-2 and 2-1. Vojvodina Novi Sad takes the bronze winning 7-1 Partizan. Crvena Russian forward Alexander Zubritsky finished as top scorer
(08 Apr 2017)
Medvescak continue to dominate domestic league
Medvescak Zagreb win the 9th consecutive tilte of Croatian League, the 24th in the history of club, by beating once again traditional rival KHL Mladost Zagreb in three games: after a battiling game #1, won 3-2 at overtime, Medvescak trashed opponents 12-1 and 10-2, alligning some of the KHL players.
As in last season, the games played between Croatian teams partecipating in Slovenian league - KHL Mladost, Medvescak and KHL Zagreb - counts also for Croatian League regular season. KHL Sisak, still without an indoor rink, played just against the three teams from Zagreb. Medvescak defender Domen Vedlin finished as top scorer
(08 Apr 2017)
Macau Aces win first title in Hong Kong
- cihl.com
The Macau Aces held off the Hong Kong Tycoons to become the 2016-2017 CIHL Quam Cup Champions after reaching the finals for the first time.
Jeff Ceccacci (1g, 2a), Whitney Olsen (2g), and Stefan Northman (1g, 1a) helped the Aces build a 5-1 lead, only to see it erased as the Tycoons netted three consecutive goals to make it a 5-4 game with under one minute left to play.
Time expired before the Tycoons could complete the comeback and the Aces celebrated in joy as they raised the Quam Cup
(08 Apr 2017)
Sweden beats Hungary
Sweden beat Hungary 4-0 in Budapest tonight. Goals by Richard Gynge, John Norman, Emil Pettersson and Pär Lindholm.
(03 Apr 2017)
Martin Lacroix named head coach of Romania
Some days after having led Corona Brasov to the national title, Canadian Martin Lacroix accepted the position of headcoach of Romania national team for the upcoming IHWC Division II A, held in Galati from 03 to 09 April, where Romania, relegated from Division Ib last year, will battle for the promotion with Australia, Belgium, Iceland, Spain and Serbia
Dunarea Galati and Steaua Bucharest coaches Marius Trendafir and Nelu Alexe will be the assistant coaches.
"I accepted the appointment as coach of the Romanian team because it's a new challenge, an honor and a responsibility for me. In Galati we will try to get the best results and I think it is possible to finish first in the group and gain promotion. As a first step I will try to establish a new mentality among the components of the national team and prepare seriously every game" said Lacroix
(29 Mar 2017)
Women's World Championship coming up
On Friday starts the Women's World Championship in Plymouth, Michigan, United States. Yesterday the U.S. Women's National Team and USA Hockey announced that they've reached an agreement so USA will be represented by their best players at the home championship, trying to defend the gold medals.
In exhibition games yesterday Sweden beat Germany 3-2 and Switzerland beat Russia 4-0.
(29 Mar 2017)
Do you know that you can support us and show your support for your favourite player or club at the same time. Find the profile of your favourite and click the link to buy a sponsorship of the profile.

Staff wanted
A large group of hockey fans from around world has helped build this site. We are always looking for more people that want to help out. It doesn't matter if you want to write articles, work with player stats or just want to help out with something else. If you're interested in helping us making this site even better, please contact us at
info@eurohockey.com.
Online Casinos Resources If you are looking for something fun to do during commercial breaks, canadascasinos.ca is a new online casino review portal that features all the best promotions and bonuses for a great casino time!
And if you're looking for more info on casino games, you can find it all on online-casinogames.ca, the ultimate casino games guide!
Specially designed for hockey fans you can find hockey league themed online slot machine games and experience the atmoshpere of an ice hockey arena. For guidance and overview on finding the best sites to play hockey slots and other online casino games check out www.casinocanuck.com or www.toponlinecasinos.ca.
Forums are great

Discuss your favourite team or player with other fans on one of our discussion boards!

Czech Rep.: Tipsport extraliga | 1.liga | 2.liga

Slovakia: Tipsport Extraliga | 1.liga

Sweden: SHL | HockeyAllsvenskan
Other: EBEL | Belarus | Croatia | Denmark | Estonia | France | Great Britain | Iceland | Italy | Latvia | Lithuania | MOL-liga | Norway | Poland | Romania | Serbia | Slovenia | Spain | NHL | AHL |
League standings
Game fixtures
League leaders