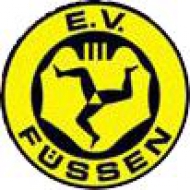 16-time German champions EV Füssen last played in 3rd tier Oberliga Süd, have to restart in 6th tier, the lowest league in Bavaria. Youth department not affected by bankruptcy. Read more»
29 Jul 2015 | HV71 have signed former NHL star Ryan O' Byrne and the contract is signed for two years. -"He's a defensive defender who will give us extra dimension in the physical play," Sporting Director Johan Hult said on HV71's webbsite. Read more»

28 Jul 2015 | SHL newcomers Rögle BK's headcoach Anders Eldebrink is humbled for upcoming season in SHL: -" We know it's going to be tough, but we are humbled," the Swedish coach said to hd.se. Read more»

28 Jul 2015 | Eurohockey talks with Bosnia and Hercegovina assistant coach Kevin Auerbach about the present and the future of hockey in the country Read more»
Niklas Treutle to play in NHL
EHC Red Bull München lost their goalie talent Niklas Treutle. The club and the goalie ended the contract so that the player can join the Arizona Coyotes organization to chase his NHL dream. He is the second DEL goalie to join the Arizona Coyotes organization this summer after Tyler Beskorowany (Düsseldorfer EG) who will play for their AHL farmteam Springfield Falcons. München already had signed a good replacement in German national goalie Danny aus den Birken.
(31 Jul 2015)
India changes coach
For the first time since its first appearance on ice in 2009, India replaced American coach Adam Sherlip with former assistant coach Abdul Hakim Giri.
Hakim, 38, a phys-ed teacher in Leh, was on Indian national team bench since 2009 and was U18 national team headcoach
(27 Jul 2015)
Marcus Thuresson new club director in Rögle BK
Former player Marcus Thuresson is replacing Magnus Blomsterberg as Rögle BK's new Club Director.
(27 Jul 2015)
Garrett Roe have signed with Linköping HC
The 27-year old forward Garrett Roe have signed with Swedish Hockey Leagues Linköpings HC and the contract is signed for one year. -"He's a creative, speedy forward with a great attitude," Fredrik Emwall, General Manager Linköping says.
(26 Jul 2015)
Simon Gysbergs to KHL
The 28-year old Canadian defenseman choose to leave Djurgårdens IF after only 12 games, where he recorded 6 points. Gysbergs new club adress will Medvescak Zagreb in KHL.
(26 Jul 2015)
Heilbronner Falken back in DEL2
Relegated after last season, Heilbronner Falken are back in DEL2 replacing EV Landshut, excluded for financial reasons
"Heilbronn staff have worked very committed in the last few days and submitted orderly and complete documentation despite the short lead time. We are glad to start the league with a complete grid" said DEl2 CEO René Rudorisch.
(25 Jul 2015)
Indrašis signs new contract
Latvian forward Miks Indrašis signed a new 2-year contract with Dinamo Riga of KHL.
(23 Jul 2015)
Künast to coach German U20 national team
Former German national goalie Christian Künast has been announced as the new head coach for the German U20 national team.
This is the second high-level recruitment for a German national team after Künast's brother-in-law Marco Sturm took the position as new head coach of the men's team last week.
Künast was a goalie in his active career and played in 2 World Championships and the 2002 Olympic Winter Games in Salt Lake City for the senior men's team. His first experience as head coach he collected with the Hannover Indians in 2. Bundesliga in 2012-13.
(21 Jul 2015)
Hockey competitive odds
It's not surprising that many athletes love gambling. Most of them are risk-lovers and they go all over the place in search of that adrenaline and competitive high that makes you feel alive. All new popular sport betting bookmaker Betway offers the most competitive odds on the market and also gives you the chance to test yourself on card games. Placing bets with Betway has never been easier. Check out what the current online betting odds are and start the fun.
Staff wanted
A large group of hockey fans from around world has helped build this site. We are always looking for more people that want to help out. It doesn't matter if you want to write articles, work with player stats or just want to help out with something else. If you're interested in helping us making this site even better, please contact us at
info@eurohockey.com.
Interviews
Our interviews are easiest found
here
Forums are great

Discuss your favourite team or player with other fans on one of our discussion boards!

Czech Rep.: Tipsport extraliga | 1.liga | 2.liga

Slovakia: Tipsport Extraliga | 1.liga

Sweden: SHL | HockeyAllsvenskan
Other: EBEL | Belarus | Croatia | Denmark | Estonia | France | Great Britain | Iceland | Italy | Latvia | Lithuania | MOL-liga | Norway | Poland | Romania | Serbia | Slovenia | Spain | NHL | AHL |
League standings
Game fixtures
League leaders