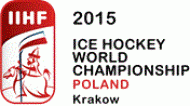 The last day of the Division IA Championships in Cracow was really expected in 4 countries : Ukraine, Japan, Poland and Hungary. The two first of these teams were fighting to remain in Division IA, for the next two teams it was a big battle for promotion. Read more»
25 Apr 2015 | It took 81 minutes in Game 7 of the Liiga Finals to determine a new champion for the year 2015. In the end it was youngster Sebastian Aho, who scored the championship winning goal. Read more»

25 Apr 2015 | This year division IA championships is taking place in Cracow, in a magnificent new stadium called Arena Krakow. Here is a summary of the first four days. Read more»
Awards in Belarus
After the end of Extraliga, Federation, through the votes of captains and coaches, determined the winners of seasonal awards.
Best goalkeeper - Maxim Malyutin (Shakhtar Soligorsk)
Best defender - Andrei Korshunov (Neman Grodno)
Best Forward - Victor Andruschenko (Shakhtar Soligorsk)
Top scorer - Jakub Cerny (Yunost Minsk)
Best young player - Christian Henkel (Yunost Minsk)
Best referee - Maksim Sidorenko
Best arena - Chizhovka Arena Minsk
Special prize for his great contribution to the development of hockey in Belarus was awarded the Governor of Minsk region Semyon Shapiro.
the winner of best coach prize will be determined after the end of the World Championship in Czech Republic
(28 Apr 2015)
Kazakhstan League awards determined
Kazakhstan Ice Hockey Federation announces the seasonal awards for 2014-2015

Kazakhstan League Best Goaltender: Anton Todykov (Gornyak Rudny)
Kazakhstan League Best Defender: Aleksei Shorokhov (Arlan Kokshetau)
Kazakhstan League Best Forward: Ivan Kiselyov (HK Astana)
(28 Apr 2015)
New name, coach and team for Torpedo Ust-Kamenogorsk
Next season Torpedo Ust-Kamenogorsk will allign a team in MHL, as announced by Governor of East Kazakhstan region Daniyal Akhmetov. In the same press conference was also announced that team will be back at original name Torpedo Ust-Kamenogorsk, even if company Kazzinc will continue to support the club. Finally was announced former assistant coach Alexei Fetisov as new headcoach
(27 Apr 2015)
Ukraine relegated
In the first game of the last day of the Div. IA Championships in Cracow, Ukraine was defeated by the team of Japan with the score 3:1. This means that Ukraine is relegated to division IB.
(25 Apr 2015)
Ertis confirms title in Kazakhstan
Ertis Pavlodar won third consecutive title in Kazakhstan beating Arlan Kokshetau 4-1 in the final series. ertis won also Kazakhstan Cup and played in Continental Cup superfinals this season
(21 Apr 2015)
Sary Arka farm will play in Temirtau
The farm team of Sary Arka Karaganda will play the next Kazakhstan League based in Temirtau, replacing Arystan, folded due to financial difficulties, ensuring the continuity of hockey in the city. The team will continue using the name Arystan (Lions). It's still unclear the future of current Sary Arka farm tem, Berkut. Rumours are about a possible partecipation in MHL
(17 Apr 2015)
Beybarys will allign a team in MHL-B
Kazakhstan will have another team on Russian Junior Leagues: Beybarys Atyrau announced the club will compete next season in MHL-B as a youth league next year will likely not be created in the country
(16 Apr 2015)
Jesenice wins title in Slovenia
A goal on power play by Miha Brus gives Jesenice the victory 2-1 in finals game #4 against arch-rival HDD Olimpija Ljubljana, the 3-1 in the series and the Slovenian title for the team heir of Acroni Jesenice, folded two years ago.
(16 Apr 2015)
Hockey competitive odds
It's not surprising that many athletes love gambling. Most of them are risk-lovers and they go all over the place in search of that adrenaline and competitive high that makes you feel alive. All new popular sport betting bookmaker Betway offers the most competitive odds on the market and also gives you the chance to test yourself on card games. Placing bets with Betway has never been easier. Check out what the current online betting odds are and start the fun.
Staff wanted
A large group of hockey fans from around world has helped build this site. We are always looking for more people that want to help out. It doesn't matter if you want to write articles, work with player stats or just want to help out with something else. If you're interested in helping us making this site even better, please contact us at
info@eurohockey.com.
Interviews
Our interviews are easiest found
here
Forums are great

Discuss your favourite team or player with other fans on one of our discussion boards!

Czech Rep.: Tipsport extraliga | 1.liga | 2.liga

Slovakia: Tipsport Extraliga | 1.liga

Sweden: SHL | HockeyAllsvenskan
Other: EBEL | Belarus | Croatia | Denmark | Estonia | France | Great Britain | Iceland | Italy | Latvia | Lithuania | MOL-liga | Norway | Poland | Romania | Serbia | Slovenia | Spain | NHL | AHL |
League standings
Game fixtures
League leaders