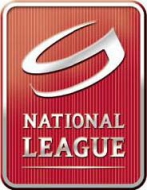 The Ticino clubs earn fundamental wins, while Langnau and Biel lose again Read more»
30 Nov 2015 | The Czech champions are struggling, and a change is urgently needed Read more»

30 Nov 2015 | Bienne is now placed last, while Langnau can finally breathe a bit Read more»

29 Nov 2015 | The team from Liberec is now solidly leading the Extraliga table, while last year's champions are on the edge of collapse Read more»
Continental Cup Finals will be held in France
The Rouen Dragons will host this year's edition of the IIHF Continental Cup Super Final. Between the 8th and 10th of January the 13-time French champion will face off against Asiago Hockey (Italy), Herning Blue Fox (Denmark) and GKS Tychy (Poland). It is already the fourth time that the winner's plate will be awarded in Rouen.
(01 Dec 2015)
Shirt retirement
Adam Calder, native of Manitoba in Canada, last played for UK Elite League Championship winning Coventry Blaze in 2010 and now they have decided to retire his no 25 shirt.
During his six seasons (2004to 2010) he played 384 games for them and holds the record still for the most points during an Elite league season - 125 - during 2007-08 season.
He was a grand slam winner (Elite League, Play Offs, Challenge Cup) in 2004-05 with a deceptively lazy style he was a true winner for Coventry.
(01 Dec 2015)
KAC fire head coach Doug Mason
Austrian record champion Klagenfurter AC has released Doug Mason from his duties as head coach of the team. It is the club's second coaching change in two years, after Mason has been signed during the last season. Alexander Mellitzer is acting as interim coach until new personell is hired.
(01 Dec 2015)
Hamburg without Wolf for several weeks
DEL club Hamburg Freezers announced that their forward David Wolf is out for at least a couple of weeks. The 26 year old left winger suffered a torn hamstring in the Freezers' 1-6 away defeat against Kölner Haie, making that loss even more bitter for the Nothern Germans.
(17 Nov 2015)
Olimpija and Jesenice will battle for Slovenian Cup
Archrivals Jesenice and Olimpija Ljubljana will compete for the first edition of Slovenian Cup, playing the final on December, 1 in Jesenice. Olimpija won 5-1 the city derby against Slavija Ljubljana, while Jesenice prevailed 2-1 over HK Celje
(15 Nov 2015)
Swedish junior championships finals
The semifinals and finals of the Swedish U16, J18 and J20 championships will be played in Stora Hallen, Nyköping March 24-28 2016.
(12 Nov 2015)
Sputnik Nizhny Tagil fires coaches
With 8 victories after 19 rounds, Sputnik Nizhny Tagil announces the club fires coach Vladimir Golubovich and the assistant Vadim Shaidullin. Club manager Marat Valiullin will lead the team as interim coach
(11 Nov 2015)
New Sports Director at Ässät
Former player and Karhu-Kissat junior chief Jari Korpisalo has been chosen to replace Mika Toivola as Ässät Sports Director.
Korpisalo and Ässät has agreed to a 3-year deal starting in early January. Korpisalo played 575 games for Ässät between 1990 - 2005 and was the team's best scorer 6 times during that era. Since 2006 he had been working for his own junior team Karhu-Kissat as a junior chief.
Current Sporting Director Toivola will continue as usual until January and after year change they will sit down and decide how they shall split the work.
(06 Nov 2015)
Hockey competitive odds
It's not surprising that many athletes love gambling. Most of them are risk-lovers and they go all over the place in search of that adrenaline and competitive high that makes you feel alive. All new popular sport betting bookmaker Betway offers the most competitive odds on the market and also gives you the chance to test yourself on card games. Placing bets with Betway has never been easier. Check out what the current online betting odds are and start the fun.
Staff wanted
A large group of hockey fans from around world has helped build this site. We are always looking for more people that want to help out. It doesn't matter if you want to write articles, work with player stats or just want to help out with something else. If you're interested in helping us making this site even better, please contact us at
info@eurohockey.com.
Interviews
Our interviews are easiest found
here
Forums are great

Discuss your favourite team or player with other fans on one of our discussion boards!

Czech Rep.: Tipsport extraliga | 1.liga | 2.liga

Slovakia: Tipsport Extraliga | 1.liga

Sweden: SHL | HockeyAllsvenskan
Other: EBEL | Belarus | Croatia | Denmark | Estonia | France | Great Britain | Iceland | Italy | Latvia | Lithuania | MOL-liga | Norway | Poland | Romania | Serbia | Slovenia | Spain | NHL | AHL |
League standings
Game fixtures
League leaders