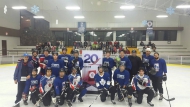 Sunny Costa Rica is famous for its tourist destinations, but a Canadian pioneer arrived there with the dream to turn the country into an hockey nation. Eurohockey meets Bruce Callow, the founder of Castillo Knights, the only ice hockey team in the country Read more»
16 Jul 2017 | Once again the project of a professional league in Ukraine didn't work. Next season the clubs will play a junior league with the prospect of attracting even less crowd. Eurohockey talked about the perennial crisis of Ukranian hockey with Sportarena journalist Serhii Hapshenko Read more»

16 Jul 2017 | A 7-2 victory over the United States on Saturday evening secured a perfect record at the 2017 Maccabiah Games in Israel, giving Canada their second straight gold medal at the tournament. Read more»

11 Jul 2017 | From Argentina to USA: the long-awaited compilation of all the champions, from almost all the leagues around the world Read more»
Games of the day: 22 July
HK Temirtau - Snow Leopards Astana 5-0
HK Gomel - Dinamo St. Petersburg 3-4 SO
HK Lida - Beybarys Atyrau 0-5
Switzerland U17 - Czech Republic U17 2-5
Nomad Astana - Arlan Kokshetau 3-2
(23 Jul 2017)
AHL releases players to go to Pyeongchang
Unlike the NHL, American Hockey League announced players with a contract in the league will be eligible to play in the 2018 Winter Olympics even if the schedule does not have an Olympic break.
Players could only be loaned for Olympic participation from February 5-26.
"I would guess we're going to lose a fair number of players," said AHL CEO David Andrews "Not just to Canada and the U.S., but we're going to lose some players to other teams, as well. But we're used to that. Every team in our league has usually got two or three guys who are on recalls to the NHL, so it's not going to really change our competitive integrity or anything else."
(22 Jul 2017)
Dijon relegated in Division 2, Chamonix back in Magnus
After the validation od Financial Commission of Magnus Ligue, Les Ducs de Dijon lost their licence for playing in Magnus Ligue and the club didn't submit neither guarantees to play in Division 1, so the Federation decided to demote the club in Division 2, the third level of French hockey.
Chamonix, relegated after the last season, is bring back in Magnus even if without the fusion with Morzine-Avoriaze, that will compete in Division 3.
Cergy-Pontoise will replace Chamonix in Division 1
(22 Jul 2017)
Games of the day: 20 July
@ Minsk (Minsk Cup):Yugra Khanty-Mansiysk - Neman Grodno 4-3 SO
@ Raubichi (BLR): Yunost Minsk - Dinamo Maladzyechna 0-4
HC Dynamo Pardubice - HC Slovan Bratislava 5-2
(20 Jul 2017)
New hockey season started today
Almost three months after the KHL finals, the hockey season in Russia re-started today with the first friendly game of the summer: in Astana, Kazakhstan, local KHL team Barys lost 2-6 against Torpedo Ust-Kamenogorsk.
As every silly season, follow all the preparation games and tournaments on pre-season games page on Eurohockey
(14 Jul 2017)
Slovenia Federation launches new league
The Slovenian Federation, in partnership with Croatian and Serbian counterparts, launched the calendar of a new trans-national league called IHL - International Hockey League, starting from September after the positive partecipation of Croatian and Serbian teams in the last two editions of Slovenian League.
10 teams will partecipate, 5 from Slovenia - HK Slavija Ljubljana, HK ECE Celje, HK Triglav, HK MK Bled and HDK Maribor - 3 from Croatia - KHL Medveščak Zagreb 2, KHL Mladost Zagreb and KHL Zagreb - and two from Serbia - Crvena Zvezda Beogrand and HK Vojvodina Novi Sad.
After a home/away round robin and a round more according to the standing, the first eight teams advance to playoffs. A maximum of 5 imports are allowed.
(13 Jul 2017)
Kazakhstan Cup calendar unveiled
Kazakhstan Federation published the calendar of Kazakhstan Cup 2017, held in the cities of Pavlodar (Group A) and Kokshetau (Group B). The ten partecipants will compete in two groups from 19 to 24 August and the winner of each group will play the final at Kokshetau Arena August,27.
Last season Kulager Petropavlovsk won the trophy by beating 2-1 Ertis Pavlodar in the final
(12 Jul 2017)
Miroslav Šatan named new GM of Slovakia
Miroslav Šatan is the new GM of Slovakia national team. The former hockey player signed a one-year contract with an option for the next one.
"I am glad that Miro has agreed with our offer. We believe that this is the best opportunity for Slovak hockey" said President Martin Kohút.
(29 Jun 2017)
Do you know that you can support us and show your support for your favourite player or club at the same time. Find the profile of your favourite and click the link to buy a sponsorship of the profile.

Staff wanted
A large group of hockey fans from around world has helped build this site. We are always looking for more people that want to help out. It doesn't matter if you want to write articles, work with player stats or just want to help out with something else. If you're interested in helping us making this site even better, please contact us at
info@eurohockey.com.
Online Casinos Resources If you are looking for something fun to do during commercial breaks, canadascasinos.ca is a new online casino review portal that features all the best promotions and bonuses for a great casino time!
And if you're looking for more info on casino games, you can find it all on online-casinogames.ca, the ultimate casino games guide!
Specially designed for hockey fans you can find hockey league themed online slot machine games and experience the atmoshpere of an ice hockey arena. For guidance and overview on finding the best sites to play hockey slots and other online casino games check out www.casinocanuck.com or www.toponlinecasinos.ca.
Forums are great

Discuss your favourite team or player with other fans on one of our discussion boards!

Czech Rep.: Tipsport extraliga | 1.liga | 2.liga

Slovakia: Tipsport Extraliga | 1.liga

Sweden: SHL | HockeyAllsvenskan
Other: EBEL | Belarus | Croatia | Denmark | Estonia | France | Great Britain | Iceland | Italy | Latvia | Lithuania | MOL-liga | Norway | Poland | Romania | Serbia | Slovenia | Spain | NHL | AHL |
League standings
Game fixtures
League leaders