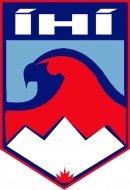 Can Iceland can get the same success in ice hockey as they did in the Football's Euro 2016? Eurohockey.com talked to Emil Alengård, one of the leading players in the Icelandic national team. Read more»
21 Jul 2016 | Eurohockey collected the largest list of pre-season games playing all over Europe. Check it out and follow your favourite team Read more»

20 Jul 2016 | Steven Ellis talked to Jamaican ice hockey goalie Nathan Walford about playing in the TEP showcase and the future of hockey in the country. Read more»

16 Jul 2016 | There were six significant transfers and one contract extension in the Elite league this week Read more»
Donbas joins EHC
Current Ukranian champion Donbass Donets'k is the newest member of Alliance of European Hockey Clubs (EHC), becoming the first Ukrainian club and the first from former CIS joining the organization, created last June with the mission to unite and represent Europe's professional ice hockey clubs.
"The creation of EHC is an opportunity to make the European hockey market more modern and profitable, and we are proud to become the first Ukrainian club part of that organization" - said Donbass CEO Alexei Braga.
(21 Jul 2016)
Tom Barasso new coach at Asiago
Asiago Hockey announced the appointment of former NHLer Tom Barasso as new headcoach, Barasso, 51, had his first experience as headcoach last season at Valpellice Bulldogs, when he replaced Canadian Pat Curcio, winning a National Cup, the second ever trophy for the club, and loosing at game #7 playoffs quarterfinals against Asiago
(21 Jul 2016)
DVTK Miskolc hires Stana as goalie coach
MOL Liga champion DVTK Miskolc announced former goalie Rastislav Stana as new goalie coach. Stana,36, retired after 2014-15 season after a career in North America, Sweden, Russia and Czech Republic. Although he has won just one national title, in 2013-2014 with Kosice, he was the gaolie of historic World Championship title won by Slovakia in 2002. He will work in Miskolc with former Sapa Fehervar junior teams goalie coach Tamás Farkas
(21 Jul 2016)
Miroslav Valíček new General Secretary at Slovak Federation
Former Director of Slovak hockey Hall of Fame Miroslav Valíček is the new General Secretary of Slovak IceHockey Federation replacing Robert Pukalovič. Mr Valíček also worked in 2019 World Championship organizing Committee.
"He's an experienced person who has previously worked with the Federation. He will be one of my closest collaborator" said President Martin Kohut
(20 Jul 2016)
Barys confirmed camp in Switzerland
After a first statement announcing the cancellation of training camp in Switzerland due the delay in the journey bacause of political situation in Turkey, Barys Astana confirmed today the team arrived in Davos. During the camp team will play three pre-season games, 2 against HC Davbos and one versus Vityaz.
(20 Jul 2016)
AIHL Finals in Melbourne
The 2016 AIHL season will see its final act at O'Brien Group Arena in Melbourne on 27-28 August weekend when the top four regular season AIHL teams will compete for the Goodall Cup.
(17 Jul 2016)
Barys Astana cancelled training camp in Switzerland
Due to the difficult political situation in Turkey (through which the flight had been planned), Barys Astana cancelled the first part of pre-season training camp, planned in Switzerland. Pending a decision of logistic issues players will continue to prepare for the season in Astana.
Barys scheduled two games with Davos for last week of July, but wasn't yet released an official statement about confirmation
(17 Jul 2016)
Calendar of Belarus Cup unvelied
Belarus Federation publishes today the calendar for Belarus Cup, named after Ruslan Salei, in memory of the defender tragically passed away in Yaroslavl plane crash. As in last editions, the 11 Extraliga teams plus Belarus U20 national team are divided in two groups playing a single round robin. The two winners will advance to finals. Two finalists from last edition, champion Yunost Minsk and Dinamo Maladzyechna are in thew same group, so won't meet in the final act.
As usual Eurohockey will follow Belarus Cup with game-by-game stats
(12 Jul 2016)
Staff wanted
A large group of hockey fans from around world has helped build this site. We are always looking for more people that want to help out. It doesn't matter if you want to write articles, work with player stats or just want to help out with something else. If you're interested in helping us making this site even better, please contact us at
info@eurohockey.com.
Online Casinos Resources If you are looking for something fun to do during commercial breaks, canadascasinos.ca is a new online casino review portal that features all the best promotions and bonuses for a great casino time!
And if you're looking for more info on casino games, you can find it all on online-casinogames.ca, the ultimate casino games guide!
Forums are great

Discuss your favourite team or player with other fans on one of our discussion boards!

Czech Rep.: Tipsport extraliga | 1.liga | 2.liga

Slovakia: Tipsport Extraliga | 1.liga

Sweden: SHL | HockeyAllsvenskan
Other: EBEL | Belarus | Croatia | Denmark | Estonia | France | Great Britain | Iceland | Italy | Latvia | Lithuania | MOL-liga | Norway | Poland | Romania | Serbia | Slovenia | Spain | NHL | AHL |
League standings
Game fixtures
League leaders