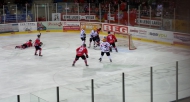 With an hattrick of Czech forward, Fischtown Penguins triumph in front of their fans. Also Belfast advances to semifinals as the higher ranked 2nd placed team from the 2nd round Read more»
19 Oct 2014 | Tilburg Trappers achieved first victory scoring four goals in the third period, the last with 30 seconds to play Read more»

19 Oct 2014 | Hämeenlinna and Tappara are currently rolling up the field from behind. With 4-game winning streaks each they gained ground in the standings. Read more»

19 Oct 2014 | Lakers and Ambri winless, Zug and ZSC Lions with a win each and Kloten goes 1-1 against romand teams. Read more»
AIHL says no to Rhinos comeback
Some days ago icehockeynewsaustralia.com reported the intention of Central Coast Rhinos to rejoin Australian Ice Hockey League (AIHL) after a five years hiatus. But AIHL Annual General Meeting rejected the request without further explanations
(19 Oct 2014)
IIHF ruled about Continental Cup format
After withdrawal of Companion Kyiv from Continental Cup, IIHF announced the changement in competition format, ruling Kompanion Kyiv will be replaced in Group E of the third round to take place 21-23 November 2014 in Angers, France, by the second-placed team of Group B or C with the better record from their three games in their second-round group played 17-19 October
(18 Oct 2014)
CSKA Sofia signed Russian veterans for Continental Cup
CSKA Sofia certainly won't travel to Bremerhaven for Continental Cup second round as underdog: Bulgarian team has strengthened the roster with the addition of five Russian players among which stand out former stars as Oleg Kvasha and Vladimir Antipov, both retired after last season. Other veterans contracted are: defender Mikhail Lyubushin and forwards Dmitry Vlasenkov and Dmitry Bykov.
Cska will play first game friday night against host Fischtown Pinguins Bremerhaven
(16 Oct 2014)
Energija Elektrénai fired coach
Energija Elektrénai fired Belarusian coach Dmitri Ovsyannikov after ten games and only four victories in Belarus Second League. Assistant coach Dovydas Kulevičius will be interim coach.
"Basically, it was a question of difference between the expectations and the potential. Dmitri is a great man and a good coach, we wish him the best in future works. Who will coach the team until the end of the season, it's still an open question - says club director Rolandas Aliukonis
(15 Oct 2014)
Two technical losses for Kalev-Valk, Viking approved
Estonian League started with some problems: the first two games of Kalev-Välk are considered 5-0 technical losses because the team didn't show up. Viking Tallinn and Panter/Purikad earn three points without playing
Federation also approved the HC Viking membership application. The new team replaced HK Viiking Sport Tallinn, folded after last season in debt, but it does not consider as the legal successor so can not require the payment of the debts of the other club to the new one
(11 Oct 2014)
Swedish duo on Brasov bench
Corona Brasov finds a new coach after the resignation of Miroslav Ihnacak:
Former Troja-Ljungby coach and general manager Jerry Andersson signed for MOL League vice-champion, along with Håkan Nygren, fired by Ferencvaros some weeks ago, as assistant coach.
(11 Oct 2014)
U18 schedule announced
Today the game schedule of the 2015 IIHF Ice Hockey U18 World Championship in Zug and Luzern was announced. You can find it here or on the tournament's website.
(10 Oct 2014)
Valeri Karpov passed away
Former Russian player Valeri Karpov died at 44 for the consequences of a domestic incident (a bad fall down the stairs) suffered last July. After two months in coma, Karpov suffered three operations, but was never able to recover. In September was transported from Chelyabinsk to Berezovsky, to follow specific rehabilitation in a hospital.
Drafted by Anaheim, Karpov played 76 games in NHL and 523 in Soviet/Russian League with a title in 1999 with Metallurg Magnitogorsk. He won a World Championship in 1993 and a silver in 2002 with Russia. He was inducted into the Russian and Soviet Hockey Hall of Fame in 1993. Before the accident, Karpov signed as Chelmet Chelyabinsk assistant coach
(10 Oct 2014)
Player of the month
Pekka Rinne was named European Player of the Month for April/May 2014.

Staff wanted
A large group of hockey fans from around world has helped build this site. We are always looking for more people that want to help out. It doesn't matter if you want to write articles, work with player stats or just want to help out with something else. If you're interested in helping us making this site even better, please contact us at
info@eurohockey.com.
Interviews
Our interviews are easiest found
here
Forums are great

Discuss your favourite team or player with other fans on one of our discussion boards!

Czech Rep.: Tipsport extraliga | 1.liga | 2.liga

Russia: KHL | Vysshaya liga

Slovakia: Tipsport Extraliga | 1.liga

Sweden: SHL | Allsvenskan
Other: NHL | AHL | EBEL | Elite A (ITA) | Magnus (FRA) | GET (NOR) | HL (DEN) | Belarus
League standings
Game fixtures
League leaders