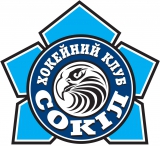 Sokil Kyiv
Name in original language: Сокіл Київ
Year of foundation: 1963
Club status: ceased
Address: 46, Mel'nykova Str.
Kyiv 04119 Ukraine
Phone: +380 44 483-3490
Fax: +380 44 483-3400
Email: office@hcsokol.kiev.ua
WWW: Sokil Kyiv
Did you find any incorrect or incomplete information? Please, let us know.
Season 2017-2018
Current roster
season 2017-2018
* no longer in the club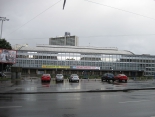 Adress: Sportyvna Ploscha, 1
Kyiv
Ukraine
Capacity: 7000
Opened in: 1960
from 1963 to 1973: Dynamo Kyiv
from 1973 to 1992: Sokil Kyiv
from 1992 to 1993: Sokil-Eskulap Kyiv
from 1993 to present: Sokil Kyiv
from 1963 to present: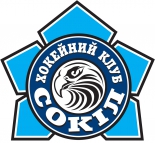 Former goalie Yuri Shundrov passed away
Former goalkeeper Yuri Shundrov passed away at 62 as reported by the official website of the Ukrainian Hockey Federation.
Shundrov, born in Penza, Russia, played for 16 years for Sokil Kyiv, winning a bronze medals of the USSR championship and several titles of champion of Ukraine. He closed the career in Romania, with Rapid Bucharest.
With the national team of Ukraine played in four World championships: 1995, 1997, 1998 and 1999, winning the award as best goalie in 1998. He was back in national team as assistant coach in 2007 and 2010
After the retirement, Shundrov worked as goalies' coach at Metallurg Magnitogorsk, CSKA Moscow, Torpedo Ust-Kamenogorsk and until last season at HC Sochi
(01 Aug 2018)
Sokil Kyiv games postponed
Games between Sokil Kyiv and Levy L'viv, scheduled to take place December 27th and 28th have been postponed. Sokil Kyiv has failed to pay the rent at ATEK Sport Complex and the venue has refused the club from using the ice.
(27 Dec 2013)
Aleksandr Godynyuk appointed Donbas junior team coach
Former Ukraine national team coach Aleksandr Godynyuk signed three-year contract with Donbas Donets'k to lead the new junior team that will compete in MHL next season. In last two seasons Godynyuk was on Sokil Kyiv bench.
(10 Apr 2013)
Companion - Donbas-2 will be the final in Ukraine
Companion Naftogaz Kyiv advances for the first time to PHL finals after beating 2-1 SO Sokil Kyiv in a dramatic semifinal game #5. Companion will face champion Donbas-2 that eliminated 3-0 in the series Dynamo Kharkiv.
Regular season dominator Berkut Kyiv was disqualified for financial irregularities and didn't competed in playoffs
(17 Mar 2013)
Levy L'viv is back, now Sokil Kyiv will be out from Ukranian League?
Levy L'Viv apparently solved its financial problems and is back in PHL. Now historical Sokil Kyiv can leave the Ukranian Professional Hockey League. Team didn't travel to Donetsk to play against Donbas-2 last January 7, claimed financial problems and already canceled contracts with two star players Vadim Shahraychuk and Kaspars Saulietis
(09 Jan 2013)
Donbas confirms title in Ukraine
Reigning champion Donbas Donets'k confirm national title winning Sokil Kyiv 5-0 at home in game six of finals in front of 4.000 spectators, closing the series 4-2. Donets'k Russian forward Yury Koksharov, scored an hattrick in last game, was named Ukraine League playoffs MVP
(25 Mar 2012)
Sokil Kyiv wins regular season in Ukraine
Sokil Kyiv has won the first Ukrainian Professional League regular season. The long-established team from the capital finished at the top of the standings and will now faced in the playoff semifinals Companion-Naftogaz, coached by former Sokil mentor Alexander Seukand. Current champion Donbas Donets'k and Berkut Kyiv will decide the other finalist. This second semifinal will have Swedish referees as per team requests.
(01 Mar 2012)
Sokil strengthen leadership in Ukraine
With goals by Shakhraychuk, Nikolishin and Chernenko Sokil Kyiv wins 3-0 against the main rival Berkut in the "Battle for Kyiv" and strengthen its leadership in Ukranian Professional Hockey League. For the first time in 36 rounds Berkut ends a game scoreless. Sokil is now leaders with 94 points, 6 more then champions Donbas Donets'k. Berkut Kyiv is third with 74.
(02 Feb 2012)
Yakovenko player of the month in Ukraine
New Ukraine Professional Hockey League (PHL) awarded its first ever Player of the Month. First honour goes to 32 years old Sokil Kyiv forward Aleksandr Yakovenko for 12 points (5+7) recorded in september
(08 Oct 2011)
Historic rosters:
Historic statistics:
Past results:
League standings:
Fast facts
season 2017-2018
Canada takes gold after thrilling final against Russia. Sweden grabs bronze. Read more»