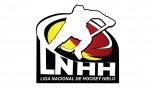 Liga Nacional
League status: Active
English name: Spanish League
Administered by: Federación Española de Deportes de Hielo
Head manager: Frank Gonzalez
Year of start: 1972
Did you find any incorrect or incomplete information? Please, let us know.
GROUP: Regular Season
GROUP: Playoffs qualification
GROUP: 5th-6th places qualification
Last updated: 11 Mar 2017, 16:05
2014-2015 season:
1st Round: 2 Groups, each team play a single round robin vs group's teams: the two top teams from each group of the 1st phase and the best 3rd form the 1st division.
The other teams are the 2nd division.
In the 1st division teams get ALL of the points obtained in the 1st phase
In the 2nd division teams arrive with ALL the points obtained in the 1st phase and the results of the matches between them Note: matches between these teams are part of the schedule of 2nd division and not return to play in the 2nd phase.
In the 1st division, matches are played between 5 teams in a home/away round robin

Play-Off of the 1st division:
The top four teams qualify for the semifinals of Play-Off to the best of 5 games in 3 weekends
§ The teams qualified for the final play best of 5 matches
in 3 weekends.
No automatic promotion/relegation
from 1972 to 2011: Liga Nacional
from 2011 to 2014: Liga Nacional Top 6
from 2014 to present: Liga Nacional
Bobby Robins is the new coach of CH Jaca
American Bobby Robins, 35, is the new head coach of CH Jaca, silver medallist of last Spanish League. Robins played most of his career in AHL, with two stints in Europe, at Belfast Giants and HK Jesenice. In 2014, Robins debuted in NHL with the Boston Bruins, becoming the oldest rookie to make an opening-day roster at 32-years-old.
He retired after 2014-2015 due to concussion.
(20 May 2017)
Jaca confirm title in Spain
Beating away 6-2 regular season winner Txuri Urdin San Sebastian in decisive game #5 of finals, CH Jaca confirm the title of Spanish Liga Nacional. It's title number 13 for the club, the fifth in last 7 years
(20 Mar 2016)
CH Jaca is Spanish champion
Club Hielo Jaca won its 12th title beating 5-1 GC Puigcerdà in game #5 of the finals at home in front of 1600 spectators. It's the 4th title in last six years for the club, became the most successful in the country.
(09 Apr 2015)
Txuri Urdin score 42 goals
Night of big scores in Spanish Nacional Liga: the biggest one was in Valdemoro, Madrid district, where Txuri Urdin San Sebastian destroyed 42-0 Steel Acorns Valdemoro with Ignacio Solorzano (6 goals and 5 assists as best scorer). Txuri had 135 shots on goal, Valdemoro just 4
(02 Nov 2014)
Bipolo Vitoria wins Spanish League
Bipolo Vitoria/Gasteiz confirms its dominion over the Spanish hockey scene winning the second consecutive title after beating 5-2 in playoffs finals game #4 CG Puigcerdà. With just 5 games lost in last two regular seasons and a 4-lines roster (not common in Spain where usually teams play with two lines), Bipolo swept opponents allowing Puigcerdà a victory in the series. Catalan team submitted a protest after the first two games of finals alleging three Bipolo imports - Evan Mackintosh, Vitaly Kulikov and Dmitry Gnitko - were alligned unevenly, but Federation rejected the requestNow Bipolo can seal another perfect season grabbing also Copa del Rey that will be played in Barcelona next week, with Bipolo as favourite
(17 Mar 2014)
Bipolo Vitoria wins regular season in Spain
Champion Bipolo Vitoria finished ahead the regular season of Spanish League with a 18-2-0 record and 54 points, 12 more then runner-up Puigcerdà.
Bipolo - Jaca and Puigcerdà - Txuri Urdin will be the playoffs semifinals pairs.
Puigcerdà Slovak Jan Simko is the top scorer with 56 points (37+19)
(16 Feb 2014)
Champion Escor Bakh Vitoria won Supercopa
After the 9-1 victory in first leg final, it was just a proforma for Escor Bakh Vitoria to take home the Spanish Supercopa, the new opening season trophy raffling between League winner and Copa del Rey holder.
In front of its fans, Escor Bakh won against CH Jaca 6-2 (2-2,2-0,2-0)
1-0 Juan Brabo (David Balazs, Jakub Bauer) 0:46
1-1 Jose Antonio Biec (Desiderio Perez, Charles Strauss) 02:17
1-2 Jose Antonio Biec (Charles Strauss, Guillermo Betran)PP 08:10
2-2 Jakub Bauer (David Balazs, Miroslav Oravec)PP 09:23
3-2 Tommy Mannerma (Juan Muñoz, Michael Klepac)SH 29:18
4-2 David Balazs (Jakub Bauer, Alejandro Hernandez)PP 35:36
5-2 Juan Muñoz (Miroslav Oravec, Tommy Mannerma) 44:54
6-2 Miroslav Oravec (Jakub Bauer, David Balazs)PP 51:44
SOG: 44-25 PIM: 6x2 - 9x2+1x10(Ubieto) Att: 342
(15 Sep 2013)
Champion Escor Bakh Vitoria trashed Jaca in Supercopa first leg
The first edition of Supercopa - the challenge between league champion and Copa del Rey winner - is on the way to Vitoria after the first leg: Escor Bakh hammered Jaca 9-1 and will now defend this advantage at home next Saturday
CH Jaca - Escor Bakh Vitoria 1-9 (0-1,0-5,1-3)
0-1 Txetxu Gavilanes (David Balazs, Jakub Bauer) 02:55
0-2 Miroslav Oravec (David Balazs) 20:52
0-3 Evan Mackintosh (Juan Muñoz) 28:10
0-4 Miroslav Oravec (Juan Brabo, David Balazs) 29:45
0-5 Juan Brabo (Jakub Bauer, Michael Klepac) 33:17
0-6 Adrian Sosa (Evan Mackintosh) 38:00
0-7 David Balazs (Vitaly Kulikov) 41:11
0-8 Tommy Mannerma (Eneko Lopez, Juha Saikko) 49:45
0-9 Juha Saikko (Eneko Lopez) 51:26
1-9 Charles Strauss (Pablo Pantoja) 53:50
PIM: 22-14 SOG: 26-48 Att: 750
(08 Sep 2013)
Bipolo Vitoria wins first title in Spain
By beating 7-6 CG Puigcerdà in playoffs finals game #3, Bipolo Vitoria closed the series 3-0 and wins Spanish League for the first time. Puigcerdà Slovak forward Jan Simko, suspended in third game, was the season top scorer
Bipolo also won regular season and will play against Txuri Urdin for Copa del Rey semifinals on March 23 while Puigcerdà will face former champion CH Jaca
(03 Mar 2013)
Vitoria and Puigcerdà battle for title in Spain
Regular season winner Bipolo Vitoria and CG Puigcerdà are the finalists for Spanish League. Both teams needed just two games to advance to final: Vitoria eliminated Txuri Urdin San Sebastian, while Puigcerdà knocked off reigning champion CH Jaca.
Finals are best-of-five and will start on February 16
Follow Spanish League and review complete boxscores for all games on Eurohockey.com!
(03 Feb 2013)
Past league results:
League standings:
Historic statistic:
Individuals records:
Fast facts
season 2016-2017
Youngest player: Unai Calvo (16 years)
Oldest player: Juan Tejeiro (56 years)
Shortest player: Antonio Garcia-Zarandieta (165 cm)
Tallest player: Ruslan Cernych (198 cm)
Nationalities: Andorra (1), Canada (6), Chile (1), Czech Republic (1), Spain (150), Finland (2), France (1), Great Britain (1), Lithuania (1), Russia (3), Slovakia (5), Sweden (3), Ukraine (2), USA (3)
Highest win: CHH Txuri Urdin - CP Milenio Logroño 23-0
Season average attendance: 288
Grown in Canada, Luis de Almeida Johansson has a mission: to turn Portugal into an hockey country Read more»
Estonia could do something that they've never done ever before: have players drafted into the National Hockey League. Read more»