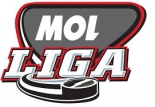 MOL Liga
League status: Active
Administered by: Hungarian Ice Hockey Federation
Head manager: Jozsef Levai
Year of start: 2008
Did you find any incorrect or incomplete information? Please, let us know.
Last updated: 22 Mar 2017, 20:34
The games played between the Hungarian teams count towards the Hungarian National Championship in the OB I bajnokság. The Romanian teams also compete in the Romanian National Championship Liga Naţională.
2012-13 season:
Regular season: 4 home and away round robin (48 matches per team, 168 matches in total)
Season starts on 7. september, regular season ends on 25. february
Regular season 1 to 4 qualifies for playoff
play-off starts on 3. march, last fixture in playoff on 26. march
Semifinals: best of 5
Final: best of 7
regular season: 3x20 mins, if tied: 5 mins overtime, than shootout
playoff: 3x20 mins, if tied: 10 mins overtime, than shootout
home players: players with passport of the country where the team comes from
max. 5 foreign players on the gamesheet
no naturalization during the season
players (double citizens as well) can use only one passport during the season (the one with which they are registered for the league)
MOL Liga Awards announced
At the eve of playoffs finals between reigning champion DVTK Miskolc and MAC Budapest, MOL Liga announced the awards for the season:
despite the season finished at the quaterfinals for his club Dunaujvaros, Canadian foraward Kevin Dansereau was elected Best Forward thanks to 71 points marked (34 goals and 37 assists).
League rookie Sean Escobedo (MAC Budapest) win the Best Defender award, while his teammate Bence Bálizs was chosen as Best Goalie, same honour he received two seasons ago
(12 Mar 2017)
New year, new coach at Dunaújvárosi Acélbikák
Lee Gilbert is no longer the coach of Dunaújvárosi Acélbikák: the recent poor results of the team in MOL Liga cost the Canadian the position. He was replaced by Finnish Heikki Mälkiä who was inactive last season after winning the Inter-National League with Lustenau. Hunor Strenk remains as assistant
(02 Jan 2017)
Leo Gudas new coach at Miercurea Ciuc
Czech Leo Gudas, 51, is the new coach of Sport Club Miercurea Ciuc. He replaces Canadian Tom McCarthy, resigned last week.
(24 Nov 2016)
Jason Morgan back to Hungary
Two days after he was fired from Orlik Opole in Poland, Canadian coach Jason Morgan found a new bench in Debrecen, replacing Russian coach Evgeny Mukhin. fired during his third season at the club. Morgan won MOL Liga title last season with DVTK Miskolc
(07 Nov 2016)
DVTK Miskolc hires Stana as goalie coach
MOL Liga champion DVTK Miskolc announced former goalie Rastislav Stana as new goalie coach. Stana,36, retired after 2014-15 season after a career in North America, Sweden, Russia and Czech Republic. Although he has won just one national title, in 2013-2014 with Kosice, he was the gaolie of historic World Championship title won by Slovakia in 2002. He will work in Miskolc with former Sapa Fehervar junior teams goalie coach Tamás Farkas
(21 Jul 2016)
Sapa Fehervar win Hungarian Cup
Sapa Fehervar beats 4-1 MOL-Liga champion and Cup holder DVTK Miskolc to win 2015-16 Hungarian Cup in the rematch of last year final. Debreceni takes the bronze after 4-3 OT victory over MAC Budapest
(28 Mar 2016)
DVTK Miskolc changes coach
Current MOL Liga champion DVTK Jegesmedvék Miskolc announces a change on the bench: coach Peter Mayer was fired despite the team is leading the table, one point ahead MAC Budapest.
"There have been problems inside the team, so we had to change and move on, because we need new impulses" - said President of DVTK Miskolc Egri István
"Because we are in the first place, I have no reason to be ashamed of. What happened is part of a long process: I could not find a common language with the team" commented Mayer who will stay in the club coaching staff.
Mayer was replaced by Canadian Jason Morgan, until now on the bench of junior team, at his first assignment as senior coach
(03 Jan 2016)
Nove Zamky won't play in MOL Liga next season
Slovakia Hockey Federation does not allow HC Nove Zamky to play in MOL Liga anymore. "Thursday after I spoke with the President of the Federation, it became clear that there is no chance to play in MOL League - said Ferenc Sucharda - so I immediately informed the league. Now we will work to return in MOL Liga in 2016." Nove Zamky entered into MOL Liga in 2012-13, winning the title in 2013-2014 season. MOL Liga has currently 9 teams, with the addition of MAC Budapest and SAPA Fehervar 2 for the next season
(26 Jun 2015)
Hungary Federation President resigned
After five years and two terms, Hungary Ice Hockey President Miklós Németh resigned. Federation has 60 days to find a new boss
"You have to step aside when you are on top" commented Nemeth
(26 May 2015)
End of season awards in Hungary
The Hungarian Ice Hockey Federation announced their end of season awards for the 2014-15 season.
Gábor Ocskay Award - Best Forward: Dániel Kóger (Fehérvár AV19)
Vedres Cup - Best Goalie: Miklós Rajna (Fehérvár AV19)
Miklós Cup - Most technical players: István Bartalis (Fehérvár AV19)
Kósa Cup - Rookie of the Year: Balázs Sebők (Hokki, Finland)
Leveles Cup - Best youth player: Máté Gáspár (EHC Linz, Austria)
Miklós Séra Award - Best youth coach: Tyler Dietrich (Fehérvár AV19)

Male player of the year: Zoltán Hetényi (Fehérvár AV19)
Female player of the year: Anikó Németh (KMH Budapest)
Inline player of the year: Zoltán Revák (Ferencváros)
(21 May 2015)
Past league results:
League standings:
Historic statistic:
Individuals records:
Fast facts
season 2016-2017
Youngest player: David Pokorny (17 years)
Oldest player: Viorel Radu (46 years)
Shortest player: Tibor Florian Albert (159 cm)
Tallest player: Tamas Laday (200 cm)
Nationalities: Canada (33), Czech Republic (4), Estonia (1), Finland (4), Hungary (157), Kazakhstan (2), Latvia (2), Romania (70), Russia (16), Slovenia (4), Serbia (19), Slovakia (20), Sweden (1), Ukraine (5), USA (12)
Highest win: MAC Budapest - CSM Dunarea Galati 15-2
Season average attendance: 675
From Reykjavik to Istanbul: 17 clubs are ready to battle for the trophy Read more»
Estonia could do something that they've never done ever before: have players drafted into the National Hockey League. Read more»