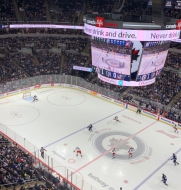 Laine Returns to Winnipeg
WINNIPEG – Finnish sniper Patrik Laine returned to Winnipeg for the first-time last night after being traded to the Columbus Blue Jackets for Pierre Luc-Dubois a little more than a year ago.
There was a mix of cheers and boos whenever the Tampere native touched the puck throughout the evening. However, at one point, a Winnipeg Jets video tribute to Laine at a tv timeout prompted a standing ovation that lasted several minutes.

In the end, Dubois carried the Jets to a 4-3 overtime win as Laine was held pointless on the night. Still, it was a great sight for fans to see Laine once again perform in a city where he was once so beloved.
Before the game, the 23-year-old Laine said he was a littler nervous returning to the city where he began his National Hockey League career.
"It's definitely been marked on my calendar. Especially just playing Winnipeg," said Patrik Laine. "Obviously, didn't get the chance to play them when they were in Columbus (Laine was injured for that November 2021 game). I've waited for this day for a while. Not so much playing Winnipeg, but just coming back here and playing in front of these great fans again. It'll be fun. I enjoyed every minute of playing here. Because of the fans. This is one of the best places I've ever played hockey, when I played here. So, it'll definitely be exciting."
Laine returned to Winnipeg on a hot streak, scoring 19 goals and 14 assists in his last 24 games. If Laine hadn't missed two months of the season due to injury, it's not out of question to say that he could have won the NHL's goal scoring title for the first time.
"I've always believed, and I've been told, that every time you work hard, the success is going to come at some point. It didn't come last year, and I wasn't working hard enough. That's no secret," said Laine. "Kind of let it go at times. But try to learn from your mistakes and not make them happen again. So, that's kind of what I took from last year, that I don't want (that) kind of season ever (to) happen to me again."
Columbus coach Brad Larsen told reporters on Friday that it's not just Laine's goal-scoring prowess that makes him stand out, but his work away from the puck.
"He's still a young man and what's exciting is that I think his game is growing and I think he's seeing it, he's feeling it," said Larsen. "That's the one thing with Patrik, there was always talk about him being lazy or (having bad) body language or different things but what you understand a little bit better, it's not a selfish thing. He puts a lot of pressure on himself. He wants to be a great player every night and I don't know if he's handled it perfectly every time and he would probably self-admit that, but I think he's growing from that."
With the Columbus Blue Jackets missing the playoffs this season, it's becoming more and more likely that Patrik Laine will join the Finnish National Team at the 2022 IIHF World Championships, which just so happens to be at home in Tampere and Helsinki, Finland, from May 13-29.  
Current events
External links

Czech Rep.: Tipsport extraliga | 1.liga | 2.liga

Slovakia: Tipsport Extraliga | 1.liga

Sweden: SHL | HockeyAllsvenskan
Other: EBEL | Belarus | Croatia | Denmark | Estonia | France | Great Britain | Iceland | Italy | Latvia | Lithuania | MOL-liga | Norway | Poland | Romania | Serbia | Slovenia | Spain | NHL | AHL |
League standings
Game fixtures
League leaders
A look back at a season that lived up to its promise. Read more»
The Alliance of European Hockey Clubs (E.H.C.) has announced the nominees for the 2023 Fenix Outdoor & Warrior European Hockey Awards. Read more»