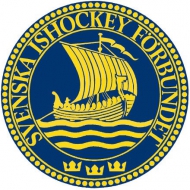 HV 71, Djurgården and Färjestad win Swedish Junior Championships
The Swedish J20, J18 and U16 Championships final games were played in Nyköping this weekend.
HV 71 won the J20 championship after beating Luleå 4-1 in the semi final and the local Småland rival Växjö 2-1 in the final. Filip Sveningsson decided the final game at 10:27 of the overtime period. Martin Jönsson opened the scoring for HV at 29 minutes but German prospect Dominik Bokk tied it seven minutes later. Erik Brännström who has played with the senior team in SHL all season got assists on both the HV 71 goals.
HV's last J20 goald medals came in 2013 and 2014.
Örebro won the bronze medals after a shootout win over Luleå.
The J18 championship was won by Djurgården of Stockholm who beat the 2017 champion MODO 3-1 in the final. Anton Larsson made it 1-0 for Djurgården at 6:53 and Simon Andersson tied it at 10:18. Rasmus Kahilainen restored the Djurgården lead with 6:58 remaining of the first period. Oscar Bjerselius, who got assists on the first two Djurgården goals, scored the third for the Stockholm side. The game saw no more goals and Djurgården won the J18 championship for the first time since 2008.
Frölunda beat Linköping 4-2 in the bronze medal game.
Färjestad won the U16 championship after two crazy games. In the semi final against Djurgården Färjestad was down 4-0 after 11:35 - all four goals scored by Djurgården's super talent Alexander Holtz. But then Färjestad scored nine unanswered goals to win 9-4.
In the final against Frölunda Färjestad was also in trouble. Frölunda had a 5-4 lead after two periods but Linus Lööf scored twice in the third period and Johan Ekberg also got a goal and Färjestad won 7-5.
Current events
External links

Czech Rep.: Tipsport extraliga | 1.liga | 2.liga

Slovakia: Tipsport Extraliga | 1.liga

Sweden: SHL | HockeyAllsvenskan
Other: EBEL | Belarus | Croatia | Denmark | Estonia | France | Great Britain | Iceland | Italy | Latvia | Lithuania | MOL-liga | Norway | Poland | Romania | Serbia | Slovenia | Spain | NHL | AHL |
League standings
Game fixtures
League leaders
After a 4-years hiatus, a Kazakh club could be back in Russian Second League Read more»
The 5th season of Ice Hockey Championship was played at Altit Fort, Hunza in -15 C temperature. SCO male team won the Championship against defending champions team of Serena Hotels. ... Read more»