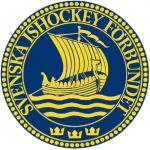 J18 Nationell
League status: Active
Youth league: yes, U18
Administered by: Svenska Ishockeyförbundet
Year of start: 1992
Did you find any incorrect or incomplete information? Please, let us know.
J18 Nationell is the highest Under-18 league in Sweden. It is played from January to March.
J18 Nationell is divided into two divisions with 10 teams in each, North and South.
The teams start the season in J18 Elit. J18 Elit is played in 4 divisions, North, East, West and South. The 5 best teams in each qualify for J18 Nationell
The 6 best teams in each of the 2 divisions of J18 Nationell qualify for the Swedish U18 Championship, So does the best team in each of the four continuing J18 Elit's.
The 4 teams from J18 Elit play aganist the 5th and 6th placed teams from J18 Nationell in a pre-qualification for the playoffs. The winners of these games will play the 3rd and 4th placed teams in the 1/8 finals. The top 2 teams of each J18 Nationell North ans South enter the playoffs in the quarter finals.
The winner of the playoffs is named Swedish Under-18 Champion.
from 1992 to 2020: J18 Allsvenskan
from 2020 to present: J18 Nationell
Swedish junior championships finals
The semifinals and finals of the Swedish U16, J18 and J20 championships will be played in Stora Hallen, Nyköping March 24-28 2016.
(12 Nov 2015)
Past league results:
League standings:
Historic statistic:
Individuals records:
After a 4-years hiatus, a Kazakh club could be back in Russian Second League Read more»
The 5th season of Ice Hockey Championship was played at Altit Fort, Hunza in -15 C temperature. SCO male team won the Championship against defending champions team of Serena Hotels. ... Read more»