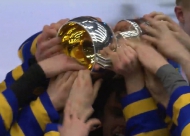 Sweden wins U18 gold
For the first time ever Sweden won the World U18 Championship, and they did it on home soil in Örnsköldsvik. Big hero was Lucas Raymond who scored three goals including the overtime winner.
On the ice tonight were two teams that really wanted the World Under-18 gold medals. Sweden, who played on home ground, had never won the gold medals before and last time Russia finished on top was in 2007. Before the tournament started not many expected these to teams in the final. USA, Finland and Canada were mentioned as top favourites. USA and Canada played the bronze medal game earlier today with USA as winner while Finland had an awful tournament winning only one game.
Sweden and Russia had faced each other in the group stage with Sweden as 3-0 winner. Today's big man for Sweden was Lucas Raymond of Frölunda, born 2002. He scored the opening goal, the 3-3 tying goal in the third period and the game winner at 65:44.
"Absolutely magical to do this at home in front of our amazing fans. Absolutely indescribable.", says Raymond to SVT. "We have worked so hard for this."
In the opening game Sweden lost 6-1 to USA but then followed six wins. Sweden's most impressive player of the tournament was the goalie Hugo Alnefelt who was named best Swedish player of the game four times in five starts.
Raymond's 1-0 goal came in the middle of the opening period and Simon Holmström doubled the lead at 25:53. Six minutes later Russia managed to beat Alnefelt for the first time when the captain Vasili Podkolzin made in 1-2.
In the third period Russia needed only 20 seconds to tie the game at two. At 50:22 Maxim Groshev took russia to the lead but Sweden replied instantly. Only 25 seconds later Raymond tied it again. Sweden took a couple of penalties late in the third period but Russia were unable to score.
In the overtime period Sweden shot seven shots and Russia only one. The last one, of course, resulted in a goal. Raymond got the puck from Alex Brännstam and put it past Yaroslav Askarov in the Russian net from between the circles.
The unlucky Russian goalie still had a great tournament and was named Best Goalkeeper. Sweden's Philip Broberg was named Best Defenceman while USA's Cole Caufield, of course, was named Best Forward. Caufield scored 14 goals in seven games to tie Alexander Ovechkin's record from 2002.
Jack Hughes of Team USA was the tournament's top scorer for the second year in a row. With 20 points this year and another 12 in 2018 he is now the all-time scoring leader of the World U18 Championship, one point ahead of Ovechkin.
Slovakia are relegated after losing 6-3 to Switzerland earlier today.

The Swedish gold medal winning roster.
Photo: SVT

Czech Rep.: Tipsport extraliga | 1.liga | 2.liga

Slovakia: Tipsport Extraliga | 1.liga

Sweden: SHL | HockeyAllsvenskan
Other: EBEL | Belarus | Croatia | Denmark | Estonia | France | Great Britain | Iceland | Italy | Latvia | Lithuania | MOL-liga | Norway | Poland | Romania | Serbia | Slovenia | Spain | NHL | AHL |
League standings
Game fixtures
League leaders
As the pandemic continues to ravage ice hockey throughout the world the Scottish Ice Hockey Association decided enough is enough. Read more»
Despite the problems with Covid-19 outbreak, the new multi-national tournament will begin at the end of November Read more»