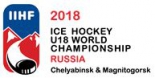 WJC18
League status: Active
Youth league: yes, U18
English name: IIHF World U18 Championship
Administered by: IIHF
Year of start: 1999
Did you find any incorrect or incomplete information? Please, let us know.
The 10 teams are divided into two, five-team groups in the Preliminary Round.
After a single round-robin series in each group, the top four teams from each group advance to the Playoff Round while the fifth placed team in each group moves to the Relegation Round.
The winner of each Quarterfinal moves onto the Semi-Finals, while the loser will play a placement game.
The winner of each Semi-Final game will move onto the Gold Medal Game, while the losers will play in the Bronze Medal Game.
The two teams in the Relegation Round play a best-of-three series. The loser is relegated to Division I Group A.
New coaches for Switzerland juniors
After coach Christian Wohlwend signed for HC Davos, Swiss Federation named Thierry Paterlini as new head coach of U20 National Team. Former player, Paterlini coached the U18 Team since 2015. He will be replaced by former U17 coach Martin Höhener
(13 Jun 2019)
Slovakia U18 relegated
Slovakia lost the third game of the relegation round at the World U18 Champonship in Sweden. Switzerland won the game 6-3 to avoid relegation.
Germany are promoted from Division 1A.
(28 Apr 2019)
Preliminary Round of World U18 championship comes to an end
Results of the last day of the Preliminary Round of the World U18 Championship in Sweden: USA - Latvia 7-1, Finland - Switzerland 12-0, Russia - Sweden 0-3 and Czech Republic - Canada 2-6.
This gives the following quarter final pairings: Canada - Latvia, Belarus - Russia, Sweden - Czech Republic and USA - Finland.
Switzerland and Slovakia will play games to avoid relegation.
(23 Apr 2019)
Latvia sends Slovakia to the relegation round
At the U18 World Championship in Sweden Latvia beat Slovakia 2-0 to secure a spot in the quarter finals. Ernests Osenieks and Ralfs Jevdokimovs scored the goals in the second period. Arturs Silovs made 24 saves for the shutout.
Slovakia will play the fifth place team of the other group to avoid relegation.
(22 Apr 2019)
Swedish U18 roster
Sweden named today its roster for the upcoming World U18 Championship in Switzerland. Find it here with player profiles.
(31 Mar 2015)
Luca Cereda named in Switzerland U20 coaching staff
Luca Cereda is the new assistant of coach John Fust at Swizerland U20 team. Cereda replaces Gerd Zenhäusern, who was recently appointed head coach of HC Fribourg-Gotteron. After his retirement, Cereda works as assistant coach at Switzerland U18 and as head coach of Ambri Piotta Elite Junior A team
(23 Oct 2014)
U18 schedule announced
Today the game schedule of the 2015 IIHF Ice Hockey U18 World Championship in Zug and Luzern was announced. You can find it here or on the tournament's website.
(10 Oct 2014)
New Swedish U18 coach
Jim Brithén will be new coach of the Swedish U18 national team.
He will be assisted by Stefan Bergkvist. Maciej Szwoch will be goalie coach.
(12 May 2014)
Don Hay to coach Canada U18 at WJC
Hockey Canada announces that Don Hay, head coach of the WHL's Vancouver Giants, will be the head coach of Canada's National Men's Under-18 Team for the 2013 IIHF Ice Hockey U18 World Championship, April 18-28 in Sochi, Russia.
Hockey Canada also announced that Jody Hull, head coach of the OHL's Peterborough Petes, and Yves Sarault have been named assistant coaches.
(25 Mar 2013)
Latvia finalize roster for U18 IHWC
Latvian coach Leonīds Tambijevs announces the final cuts in roster for upcoming WJC U18 in Czech Republic: defenders Krists Apsītis (HS Rīga/Prizma) and Kristaps Bazevičs (Alaska Avalanche, USA) and forwards Filips Plostnieks (HS Rīga/Prizma), Edgars Homjakovs (Liepājas Metalurgs2),Rūdolfs Pētersons (HK Rīga95) and Roberts Šmits (Select Hockey Academy, USA) won't travel to Znojmo.
Latvia played two preparation games, winning 3-2so against Liepaja Metalurgs U18 and loosing 5-6so against HK Riga
(10 Apr 2012)
Past league results:
League standings:
Historic statistic:
Individuals records:
A short Cup competition involving four teams is to be played from next week in England. Read more»
The resumption of ice hockey in Britain begins this weekend. It will be in the form of a short seven week competition known as the Spring Cup. Read more»