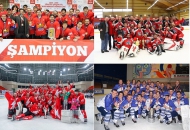 The dynasties continue
In Turkey, Spain, Iceland and Lithuania nothing new on the ice: all the champions confirmed the title
TURKEY
2018-2019 Turkish Super Lig was much more battled then in the last editions, when Zeytinburnu Istanbul dominated the regular season with perfect records and tons of goals scored against all opponents, but the results was the same: team from Zeytinburnu municipality won the sixth consecutive title by beating 3-0 in the playoffs finals the regular season champion Buz Adamlar from another area of Istanbul, Başakşehir. Zeytinburnu started the season with a disappointed campaign in Continental Cup, when it was knocked out by debutant SA Akuyreyri from Iceland. Unlike last years, several teams have filled the rosters with imports, especially Russians, and the overall level of the tournament has benefite. The finals were battled, Zeytinburnu won 2-1, 4-3ot and 4-3 in the decisive game in front of 500 spectators. During the regular season Buz Adamlar sensationally won 4-1 on Zeytinburnu ice, securing the title of regular season. In the bronze series Gumus Patenler Ankara has swept 4-2 ; 6-3 and 12-4 Narmanspor Narman.
Koc University American forward Matt Puntureri was the top scorer of the league with 73 (52+21) points in 14 games, while the individual awards have been assigned to: Tolga Bozaci (Zeytinburnu SK) as Best Goalie, Emrah Savas (Buz Adamlar) as Best Defender and  Sergei Chernenko (Zeytinburnu SK) as Best Forward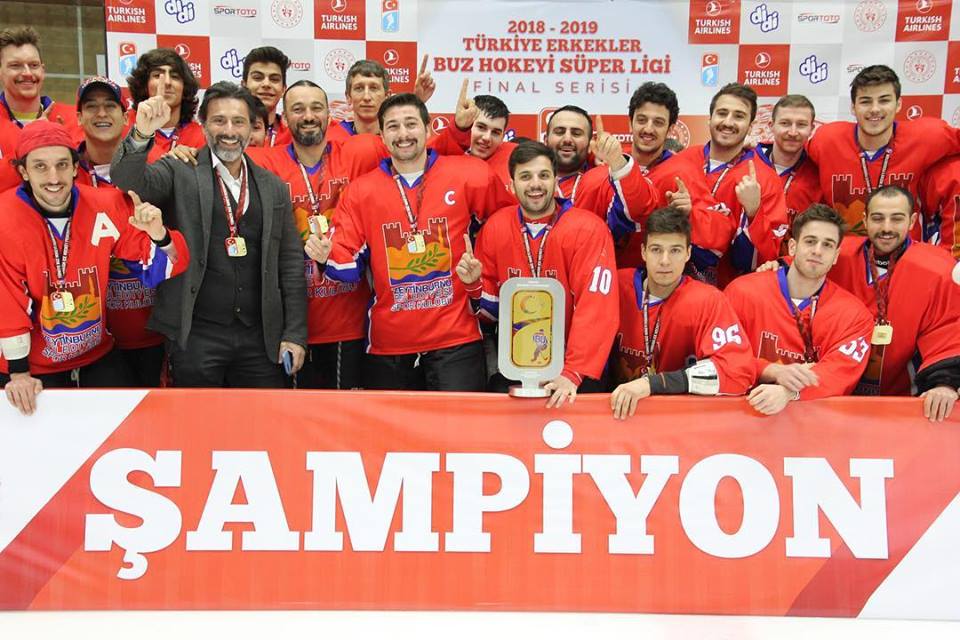 2018-2019 champion Zeytinburnu Istanbul
---
ICELAND
Sixth title - the second consecutive -  in the last seven seasons for SA Akureyri in Iceland: the team from Northern Iceland, nicknamed the Vikings, closed the regular season 10 points ahead fierce rival SR Reykjavik, defeated 3-0 - 3-2ot; 3-2 and 4-1 - in a final series without many emotions. The best moment of the season for SA was the sensational european campaign in the Continental Cup: as newcomer and underdog, Icelandic team made history winning the Group A of the competition in Sofia at the end of September, fighting proudly in the second round, played in Riga in October, beating Spanish Txuri Urdin and giving an hard time to Donbas Donets'k.
As in the last season, 2017 Icelandic Player of the Year SR forward Robbie Sigurdsson finished as league top scorer with 26 points (8+18)

The other awards were assigned to:
Adam Beukeboom (SA): Best Goalie and Playoffs MVP
Jussi Sipponen (SA): Best Defender
Jordan Steger (SA): Best Forward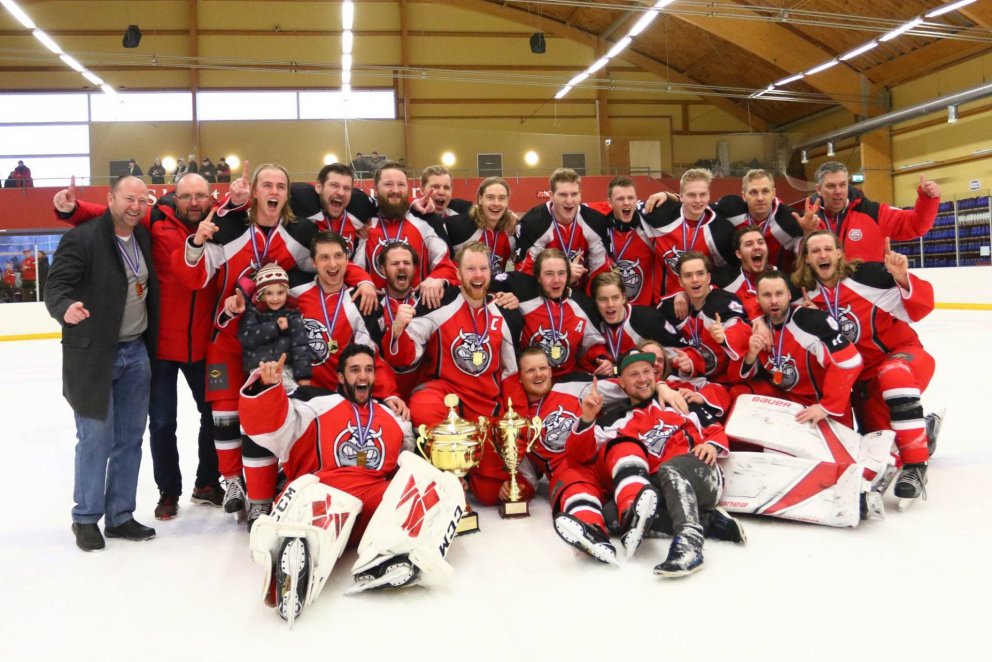 2018-2019 champion Skautafelag Akureyri
---
LITHUANIA
Another season dominated for Energija Elektrenai in Lithuania: 4th consecutive title and number 25 in the history of the most successful team of the country. This season just four teams - last season were a record of eight - began the league, representing an unexpected step backwards in the development of hockey in the country compared to the last years of constant growth. Despite suffering an unusual number of two deafeats - by Kaunas Hockey and Hockey Punks Vilnius - during the regular season, Energija, this season competing only in the domestic scenario after several season in Belarus 2nd division, closed the season 20 points ahead of Kaunas Hockey. The ambitious team lead by former Federation President Petras Nauseda was unexpectedly eliminated in the semifinals by Hockey Punks, then easily defeated by Energija  6-3; 7-4 and 7-2 in three games in the final series
Gelezinas Vilkas Vilnius forward Dominikas Bisturys finished as top scorer with 28 points (13+15), the other awards were assigned to:
Maxim Ponomarenko (Energija): Best Goalie
Andrejus Zidkovas (Energija): Best Forward
Sergei Markovsky (Hockey Punks): Best Defender

Rolandas Aliukonis (Energija): Playoffs MVP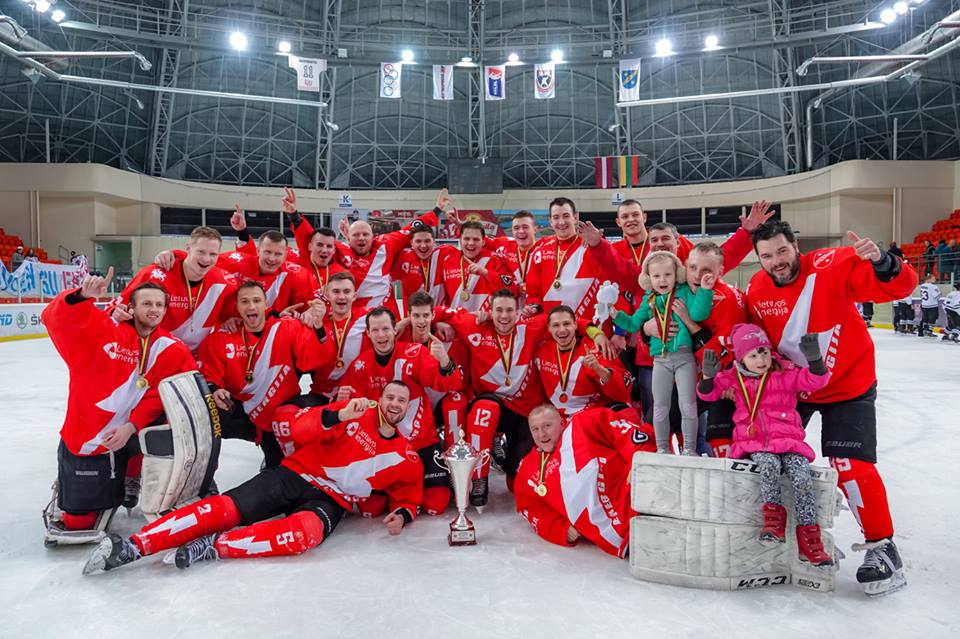 2018-2019 champion Energija Elektrenai
---
SPAIN
Favourite Txuri Urdin confirmed the title in Spain, winning the 16th championship, the third consecutive for the Basque club, strengthening the record of most successful club in the country. The season was characterized by surprises, positive and negative:  the sensational exclusion from the playoffs of CH Jaca, the dominant club in the last seasons, a fierce rival for Txuri Urdin. The new management of the club decided to cut the budget, not signing import players, promoting to senior team several young players. It will be a long process to come back to former glory: this season Jaca finished at the bottom of the standing, missing the postseason. Reverse path for CG Puigcerdà, reaps the benefits of investing in young people a couple of seasons ago: under the guidance of coach and former captain Salva Barnola, the Catalan club starred a season to remember, conquering the final and engaging the champions in a tough finals series, winning a game in San Sebastian and yielding only to the last game, lost 3-2

Txuri Czech forward Petr Macháček finished as top scorer with 41 (19+22) points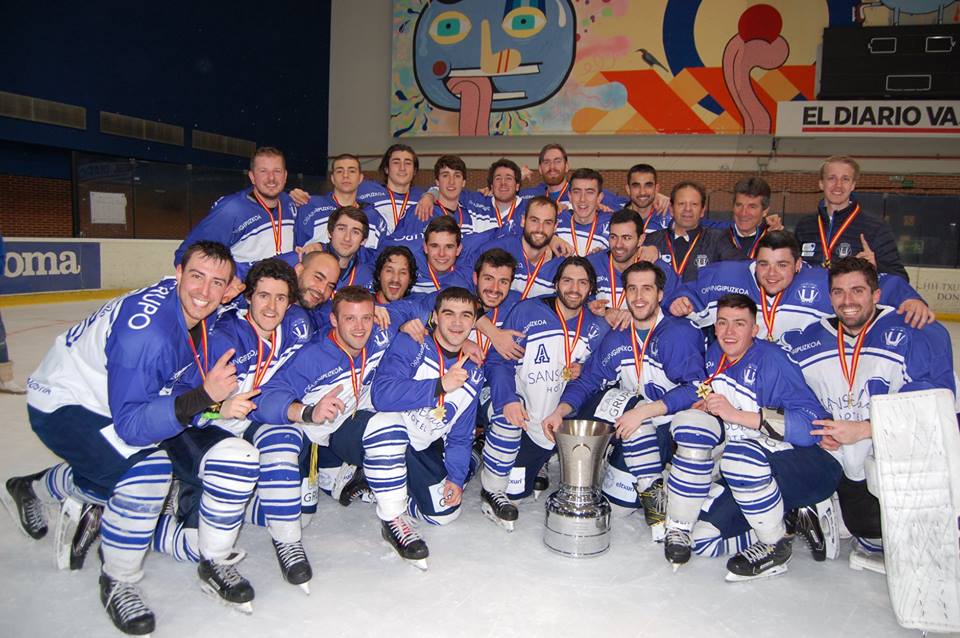 2018-2019 champion Txuri Urdin San Sebastian


Czech Rep.: Tipsport extraliga | 1.liga | 2.liga

Slovakia: Tipsport Extraliga | 1.liga

Sweden: SHL | HockeyAllsvenskan
Other: EBEL | Belarus | Croatia | Denmark | Estonia | France | Great Britain | Iceland | Italy | Latvia | Lithuania | MOL-liga | Norway | Poland | Romania | Serbia | Slovenia | Spain | NHL | AHL |
League standings
Game fixtures
League leaders
Gary Graham parted ways with EIHL side Nottingham Panthers this morning. Read more»
With a 5-2 win for Cardiff and 4-1 win for Angers they will take their place in the Superfinal. Read more»