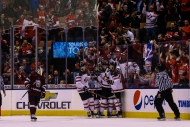 Life of a Team in the Junior Relegation System
Getting to the top division of the World Juniors is an accomplishment on it's own. Staying in the top group, however, is even harder.
One year, you're king of the world.
You proved your team was better than the rest and worthy of moving up to the strongest division in the world. For a small hockey nation like yours, it's an unbelievable achievement. It could be the start of something great. It can spawn the interests of young kids around the world. You, an 18-year-old, little-known athlete from a nation many have never heard enough could be the start of a major hockey revolution.
And then you're team gets embarrassed on national TV and you have to start all over again.
It truly is tough to be in the position of a recently promoted team, fighting to avoid relegation after just proving yourself worthy enough to earn a promotion. It's tough, but it's the life these recently promoted teams have to deal with. At the World Juniors, it's extremely hard to earn promotion and stay there even for just a year. Building a long-term program can depend on success like that, but it's far from an easy task.
Keeping together a strong roster for years at a time is a tough task. Some teams have a good enough system so the best players are playing together for years, while also competing in similar-level tournaments throughout many years. But for others, maybe their Under-18 teams participate in lower divisions, meaning they aren't playing tough enough competition.
For others, the best of the best just graduate right after peaking, and you're stuck in a never-ending cycle.
Let's take Belarus' 2016 World Junior team, for example. Of the 23 players that played with the 2015 Division IA championship-winning squad, only four of them were eligible to play again in 2016 and only three actually played. That meant the team was going to bring either a more inexperienced or just a younger team in general, which they ended up doing. What happened? They scored six goals and allowed 19, the worst in Group B. It was a shame for their efforts to go to waste, but they just had no chance from the start.
Then, this most recent year, Latvia made it up to the top group. They had some decent performances out of the likes of Mareks Mitens, Rudolfs Balcers, Renars Krastenbergs and Martins Dzierkals, but that isn't enough when you have to go up against the likes of Canada, Russia and the United States, all who made it with a chance at a medal.
Even when Latvia brought their best, it just wasn't enough. And this isn't to rag on the talent differences between nations. Canada shouldn't have to weaken their core to let other teams have a chance. That's not even close. But it's the fact that the junior relegation system makes it hard to run with consistent traction really seems to hurt some nations.
In junior hockey, there is a term that some fans refer to as the "four-year rule". In leagues like the Canadian Hockey League, players can play at the age of 16 and up until their overage year, if kept, at 20. If a team gets a lot of great young talent at 16 and 17, that means they have a chance to be really strong every 2-4 years while playing with a much older roster. In junior hockey, the age of a roster does matter, as an average junior player gets better with age.
Denmark was fortunate to have many of their best generational talent all around the same age at the same time in 2015. Their goal differential of -5 is one of the best in terms of recently promoted teams. Players like Nikolaj Ehlers, Oliver Bjorkstrand, Mikkel Aagaard, Sonny Hertzberg and George Sorensen already had an NHL Draft experience under their built, whether picked or not. Their average age of the roster was 18.61, which actually is a decent amount more than the 18.43 that Belarus brought in 2016, seeing as there is little wiggle room to work with.
Belarus will have a tough time again in 2018, but have the chance to see seven players return to the tournament. Two of their better players, Maxim Sushko and Vladislav Yeryomenko, will still have another year of eligibility left for 2019, whether they stick around or go back to Division IA. But if they can stick around for one more year, that will mean the world to a country that wants to prove they can produce top quality talent after a pinnacle of top players a decade ago.
Latvia will likely go on and dominate Division IA next year, seeing as they will have a lot of talented players returning for one more tournament. But if they do move on to the top tournament in 2019, they'll have to work on making sure they get enough solid players built up and ready to go next year. Besides, only one player from this year's team, Deniss Smirnovs, can participate when the tournament heads to Western Canada.
It's a hard knock life.
At the World Championships, it's a little different. Even if you get relegated one year, you will likely have the same base of players to choose from for a long time. As long as the stars stay active, you can build upon your current base with some of your better junior stars. So, when it comes to the World Juniors, staying at the top group is tougher than it looks, especially when the majority of your team play knowing that relegation is on the horizon.
The fact of the matter is that there probably isn't any better solution for the relegation system. It is how it is and some teams have actually done quite well because of it. Besides, only one team gets relegated, not two. It could be worse. But it just gives all the more reason to cheer on the recently promoted teams because they have more than just a hill to climb.
They're ascending an erupting volcano.
Follow me on Twitter, @StevenEllisNHL.
Current events
External links

Czech Rep.: Tipsport extraliga | 1.liga | 2.liga

Slovakia: Tipsport Extraliga | 1.liga

Sweden: SHL | HockeyAllsvenskan
Other: EBEL | Belarus | Croatia | Denmark | Estonia | France | Great Britain | Iceland | Italy | Latvia | Lithuania | MOL-liga | Norway | Poland | Romania | Serbia | Slovenia | Spain | NHL | AHL |
League standings
Game fixtures
League leaders
The tenth title comes after a dominated final series, won in just 4 games. Read more»
Even if this is site mainly about European ice hockey we always look out for hockey around the world. In this piece we take a look back at some historic NHL moments. Read more»