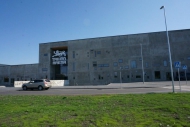 WC Div 1B: Day 4 - Netherlands with a big win
Netherlands surprised Japan who now is without a chance to win the World Championship Division 1B. Romania and Poland won their games and one of them will finish on top of the standings after Saturday's games.
The five Dutch players who played Oberliga finals with Tilburg Trappers finally joined Team Netherlands and that made the difference today when they surprised Japan with a 3-2 win. Japan was one of the three teams fighting for the top spot but now will have to settle with a position in the middle of the standings. All three Dutch goals were scored by the joining Tilburg players who all played their first game of the tournament. Reno de Hondt opened the scoring in the first period and Giovanni Vogelaar made it 2-0 in the second. Hiromichi Terao scored the first Japanes goal with alittle less than six minutes remaining of the game. Danny Stempher made it 3-1 in the empty net before Yushi Nakayashiki scored the last goal of the game for 3-2.
Poland recovered after yesterday's overtime loss against Romania and beat the hosting team Estonia 3-2. Poland had a 3-0 lead after two goals by Filip Komorski and one by Bartlomiej Neupauer before Andrei Makrov and Robert Rooba scored for Estonia. Poland could keep the lead until the end and still hope to win the championship.
Romania were outshot 31-20 by Ukraine but still managed to win the game 5-1. Before the last lay of the tournament both Romania and Poland have 10 points, but it is advantage Romania who won the game between the teams. On the last day Romania play the Netherlands who are desperate to earn points to avoid relegation. Poland will play Japan who don't have as much to play for, only to decide if they will finish 3rd, 4th or 5th. The final game of the tournament might be extremely important if Netherlands earns points against Romania.

Czech Rep.: Tipsport extraliga | 1.liga | 2.liga

Slovakia: Tipsport Extraliga | 1.liga

Sweden: SHL | HockeyAllsvenskan
Other: EBEL | Belarus | Croatia | Denmark | Estonia | France | Great Britain | Iceland | Italy | Latvia | Lithuania | MOL-liga | Norway | Poland | Romania | Serbia | Slovenia | Spain | NHL | AHL |
League standings
Game fixtures
League leaders
Thailand was outstanding at the Southeast Asian Games in Manila, Philippines, beating Singapore 8-0 in the final. Read more»
First held at the 1920 Summer Olympics, the IIHF Ice Hockey World Championship is an annual tournament and one of the most exciting ones as well. The high-profile tournament was formed in 1908 and first held in 1920. In the beginning, ... Read more»