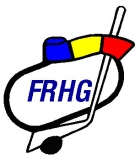 Romania
Year of foundation: 1924
Colours: yellow, red, blue
Club status: active
Address: Romanian Ice Hockey Federation
Bdul. Basarabia 35-37
Patinoarul Mihai Flamaropol
Sectorul 2
022103 Bucuresti
Romania
Phone: +40 21 324 68 71
Fax: +40 21 324 77 13
Email: office@rohockey.ro
Did you find any incorrect or incomplete information? Please, let us know.
Season 2017-2018
Current roster
season 2017-2018
* no longer in the club
from 1899 to present: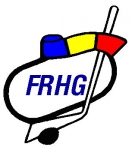 Martin Lacroix named head coach of Romania
Some days after having led Corona Brasov to the national title, Canadian Martin Lacroix accepted the position of headcoach of Romania national team for the upcoming IHWC Division II A, held in Galati from 03 to 09 April, where Romania, relegated from Division Ib last year, will battle for the promotion with Australia, Belgium, Iceland, Spain and Serbia
Dunarea Galati and Steaua Bucharest coaches Marius Trendafir and Nelu Alexe will be the assistant coaches.
"I accepted the appointment as coach of the Romanian team because it's a new challenge, an honor and a responsibility for me. In Galati we will try to get the best results and I think it is possible to finish first in the group and gain promotion. As a first step I will try to establish a new mentality among the components of the national team and prepare seriously every game" said Lacroix
(29 Mar 2017)
Euro Ice Hockey Challenge: Romania replaces Kazakhstan
Romania national team will replace the national team of Kazakhstan on the Polish stage of Euro Ice Hockey Challenge (EIHC), scheduled in Torun, Poland, from 05 to 08 February.
Kazakhstan withdrew its participation due to financial problems and injured players. Poland, Hungary and Ukraine are the other participant
(22 Jan 2015)
Poland wins EIHC tournament in Hungary
Poland only lost the first game against tournament hosts Hungary (1-2 SO) before going on to beat Ukraine (5-2) and Romania (6-0) to win their respective EIHC tournament with a total of 7 points. Ukraine (6 pts), Hungary (5 pts) and a chanceless Romania - 1:17 goals - (0 pts) followed in the standings.
(10 Nov 2013)
Poland beats Romania in EIHC
Poland opened the EIHC tournament on home ice by beating Romania 9-0. As Croatia withdrew from the tournament it will be a three team tournament. Tomorrow Poland will play The Netherlands.
(11 Nov 2011)
Historic rosters:
Historic statistics:
Past results:
League standings:
Fast facts
season 2017-2018
Just over a week after Head Coach Paul Thompson resigned the Sheffield Steelers appointed Tom Berrasso as the new leader. Read more»
Two goals by Swiss forward gives Lugano a key victory in Champions League against reigning champion Read more»