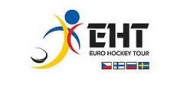 It is perfect to play with Jaromir Jagr, says Czech defenceman Radek Martinek
Czech defenseman Radek Martinek has not been playing for the national team in more than six years. Now he is back for Czech Hockey Games and reminded himself to the fans by scoring two goals against Russia.
He scored first two Czech goals of the game, both after heavy shots on power plays from longer distance. "I got great passes. I went on ice with Jaromir Jagr and other great players. I really appreciated it," said Martinek, who plays for New York Islanders in the NHL.
His goals sent the Czech Republic twice into the lead in the sold-out Rondo Arena in Brno, the 2nd biggest city in the Czech Republic. "Both goals were quite similar, I wanted to shoot them high," added Martinek.
The World champions from the Czech Republic scored incredible six goals on the Russians. Martinek, who had only 3 goals on the national team so far in 70 games, scored two of them. "I think I haven`t scored two goals for a very long time. Last time it was during the NHL lockout, when I played for Ceske Budejovice," said Martinek who won the World championships in 2000 and 2001.
The Czech national team had a bad power play in the Euro Hockey Tour this season. "They usually send me for last 30 seconds of a power-play in the NHL. Here, there are many skilled players. Jaromir Jagr was perfect. It is fantastic for everyone to play with him," said Martinek about Jagr, who had one goal and three assists in this game.
The Czechs played one of their best games this season. Eventually the Russians started losing their nerves. "At the end of 2nd period, they went out of concept, they made many unnecessary fouls," explained Martinek.
Mainly Artyukhin was active in fights. "I am not a fighter, so I could not be a leader in this. I know Artyuckin from the NHL and I know I have to be careful when he is around," said Martinek.
A victory over Russia gives self-confidence to the Czechs who will defend their World title in Bratislava. "It definitely encourages us. On the other hand, it is just a preparation game for the World championship. We should not overrate it," stays Martinek on the ground.
The Czech Republic will win the Czech Hockey Games this year. It has been decided already before the last day of the tournament when the Czechs play against Sweden. Also this game, in which Jaromir Jagr will play again, will be sold out.

Czech Rep.: Tipsport extraliga | 1.liga | 2.liga

Slovakia: Tipsport Extraliga | 1.liga

Sweden: SHL | HockeyAllsvenskan
Other: EBEL | Belarus | Croatia | Denmark | Estonia | France | Great Britain | Iceland | Italy | Latvia | Lithuania | MOL-liga | Norway | Poland | Romania | Serbia | Slovenia | Spain | NHL | AHL |
League standings
Game fixtures
League leaders
The Executive Committee of Federation announces the winners of individual awards for the 2016-17 season Read more»
Czech-born goaltender Tomas Vomacka has hopes of making it to the NHL. His dream begins this weekend at the 2017 NHL Entry Draft. Read more»