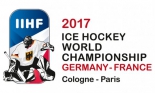 World Championship
League status: Active
Administered by: IIHF
Head manager: Rene Fasel
Year of start: 1930
Did you find any incorrect or incomplete information? Please, let us know.
GROUP: Group A in Lanxess Arena, Cologne
GROUP: Group B in AccorHotels Arena, Paris
Last updated: 17 May 2017, 21:52
From 2012 a new championship format is introduced and 16 teams will play in two preliminary round groups with eight teams in each. The top four teams in each preliminary round group will advance to the quarterfinals.
The teams that finish last in each group will be relegated to Division I. Teams placed 5-8 will have no more games.
Sweden will play in Belarus
Belarus and Sweden will play two friendly games in preparation for World Championship 2017. Both games will be held in Grodno, at the Ice Sports Palace, on on Friday and Saturday, 21 and 22 April 2017
(17 Jan 2017)
Gennady Tsygurov passed away
Former Russian coach Gennady Tsygurov passed away at 75. Known for winning titles of second division - with Torpedo Nizhny Novgorod in 2003, MVD in 2005 and Traktor Chelyabinsk in 2006 - Tsygurov coached Traktor, Avangard Omsk, Kazan and Lada during the career. In 1995-1996 and from 1998 to 2000 was assistant coach of Russia National Team. In 1999 he lead Russia U20 to the victory in WJC defeating Canada 3-2 at overtime in Winnipeg, in front of 13.000 spectators. He was also assistant coach of Kazakhstan in 3 World Championships and at Olympics in Turin 2006
(15 Dec 2016)
Swedish NHL players join the WC team
Forward Andre Burakovsky and defenseman Mattias Ekholm joins the Swedish World Championship squad. Nicklas Bäckström, Johnny  Oduya and Filip Forsberg says no to participating.
Defender John Klingberg might join the team later is the doctors let him.
(13 May 2016)
Ovechkin joins Team Russia
The Russian national team announced today that Alexander Ovechkin of Washington Capitals will join the team for the rest of the 2016 IIHF Ice Hockey World Championship.
So will his teammates defenceman Dmitry Orlov and forward Evgeny Kuznetsov.
(11 May 2016)
World Championship preparation
The World Championship in Russia starts in three days. Four pre-tournament games were played today. Canada beat Czech Republic 3-0 and Kazakhstan beat France 6-3. Finland-USA (3-2) and Switzerland - Germany (4-3) were both decided in overtime.
(03 May 2016)
Leonids Beresnevs named new Latvian national team coach
Experienced coach Leonids Beresnevs was named new headcoach of Latvian national team during a board meeting of the Latvian Federation. Beresņevs, 57, coached Latvia several times in the past, both senior and junior level. After two seasons at Arlan Kokshetau in Kazakhstan, Beresņevs was back at Latvia to coach HS Riga.
"The contract with mr Beresņevs was signed until the end of the World Championship in Russia. If the coach will fulfill the goals, then the contract will be extended until the end of season, including the Olympic qualifications in September. If Latvia will earn a ticket to Korea 2018, the contract will automatically be extended for two years" said Federation President Kirovs Lipmans.
(10 Feb 2016)
2015 WC a financial success
With a profit of 450 million Czech crowns or 16.6 million euro, the 2015 IIHF World Championship was even more successful than anticipated. Originally a profit in Czech crowns of less than 100 million was expected. The better result comes due to the record attendance for a World Championship of 741.000 spectators. The Czech Republic plans to host its next tournament in 2023.
(17 Jul 2015)
Vladimir Vujtek switches Slovakia for Czech Republic
Resigned as Slovakia coach after four years, Vladimir Vujtek finds a new bench in his homeland Czech Republic and will lead national team until the end of 2016 World Championship. Despite being Czech, Vujtek never had the opportunity to coach senior national team (coached U20 team from 1993 to 1995) until now, as the successor of resigned Vladimir Ruzicka, stepped down from the function after accusations of corruption when he was at Slavia Praha.
Next month details of contract and names of assistants will be announced
(18 Jun 2015)
Aleksandrs Belavskis leaves Latvia
Aleksandrs Belavskis is no longer the coach of Latvia national team. The Latvian Hockey Federation decided not to renew his contract after the 13th place at the last World Champioship which was not considered a satisfactory result
(17 Jun 2015)
Dmitry Kurbatov appointed Executive Director of Russian Federation
As part of restructuring and improving the efficiency, Russian Hockey Federation appointed former vice-president of the KHL Dmitry Kurbatov as new Executive Director, with the task to oversee the main issues of the organization, the development of new strategies and the interaction with players, regional policy, as well as the questions of funding and administrative management. Kurbatov replaces Valery Fesyuk, who served since 2008, who asked to be relieved from his post due to the commitments in the preparation of home World Championship, which will be held from 6 to 22 May 2016 in Moscow and St. Petersburg.
(09 Jun 2015)
Past league results:
League standings:
Historic statistic:
Individuals records:
Fast facts
season 2016-2017
Youngest player: Clayton Keller (18 years)
Oldest player: Cristobal Huet (41 years)
Shortest player: Tommaso Traversa (171 cm)
Tallest player: Oleg Yevenko (201 cm)
Nationalities: Belarus (25), Canada (24), Czech Republic (24), Denmark (23), Finland (25), France (25), Germany (25), Italy (25), Latvia (25), Norway (25), Russia (25), Slovenia (25), Switzerland (25), Slovakia (25), Sweden (25), USA (24)
Season average attendance: 10683
From Reykjavik to Istanbul: 17 clubs are ready to battle for the trophy Read more»
Estonia could do something that they've never done ever before: have players drafted into the National Hockey League. Read more»