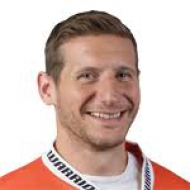 Loyal Steeler reaches a great milestone
The most successful captain in the history of the Sheffield Steelers of the EIHL reached the great feat of 700 games at the weekend.
On Sunday against the Belfast Giants of the EIHL Jonathan Phillips made his 700th appearance, making him easily the most capped of all players for Sheffield Steelers.
He talked to Eurohockey and gave answers to a few questions I put to him.
RN:How did your move from Cardiff to Sheffield come about? First we knew was that you had signed
JP:For me it was something I needed to do to keep improving. Cardiff was and still is a great club but being my home town team i wanted to leave before I hit a comfort zone. Dave Whistle was in sheffield at the time and i loved playing for him when he was in Cardiff so he called me at the end of the season and a deal was done. A lot of people in Cardiff think I moved away to make more money when in fact I was offered more to stay in Cardiff.
RN: You took over from Shawn Maltby in the 2006-2007 season right? How did that make you feel? 

JP:Yes, It was my first season in Sheffield i was only 23 and it was definitely scary. When Malts got injured Dave Matsos approached me at practice and told me I was his new captain, i thought it was until Malts was back but he wanted me to remain as captain. I felt awkward being a young guy and i have so much respect for Malts, but he was great and told me i had nothing to worry about.
RN: After two lengthy spells out through injury, especially 6 years ago with the knee injury, what makes you want to carry on?
JP:Injuries happen especially in Hockey but i have always come back faster and stronger but what makes me want to carry on is I love It!! I love being part of a team and the experiences and memories that we make are priceless. This is something I have wanted to do since watching my first game and I have been fortunate enough to be fulfilling my childhood goal.
RN: Last year was the latest in a trio of testimonials, the others have ended with the recipient saying "enough is enough" will you be the same, everyone hopes not?
JP:No not at all. Age is just a number to me and I still feel as fast as i've ever been and my body feels great. I would love to carry on.
RN: You must have many memorable moments, being the most successful captain, but which sticks in your mind.
JP:We have had so many great times in Sheffield, but it has to be last years Playoff's! we had to win the hard way thats for sure but the way as a team we pulled together was absolutely incredible!!
RN: My favourite goal of yours was the short handed one in last years play offs, but which goal really stood out for you (even in Cardiff)
JP:I think that one will stick with me forever to be honest. As soon as i got on the breakaway i knew the importance of scoring especially as we had a 5 min penalty to kill against a great power play. I think you could see what it meant in my celebration hahaha it was just raw emotion.
That game and his favourite goal:
RN: Without fear or favour, who is the most influential coach you have ever played under.
JP: I  would have to say Paul Heavey. He signed me to my first contract in Cardiff exactly like what Thommo has done with Kirky, Cole and Browny. He taught me how to be a professional and worked with me on what it takes to make it.
RN: When new players arrive, as the captain do you have any words of wisdom for them?
JP:Just to enjoy it! It can be a tough place to play here in Sheffield but as a team if we work hard and all stick together and have fun along  the way you can have the time of your life

Czech Rep.: Tipsport extraliga | 1.liga | 2.liga

Slovakia: Tipsport Extraliga | 1.liga

Sweden: SHL | HockeyAllsvenskan
Other: EBEL | Belarus | Croatia | Denmark | Estonia | France | Great Britain | Iceland | Italy | Latvia | Lithuania | MOL-liga | Norway | Poland | Romania | Serbia | Slovenia | Spain | NHL | AHL |
League standings
Game fixtures
League leaders
Winning 2-1 against host Rungsted, Yunost keeps the perfect record proposing as favourite for the Superfinals Read more»
The final continental cup group game took place in Rungsted between Sheffield Steelers of Great Britain and Kurbads Riga of Latvia. Read more»