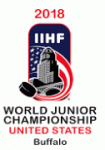 WJC
League status: Active
Youth league: yes, U20
English name: IIHF Ice Hockey U20 World Championship
Administered by: IIHF
Did you find any incorrect or incomplete information? Please, let us know.
After a single round-robin series with five teams in two groups, the top four teams from each group advance to the Playoff Round while the fifth placed team in each group moves to the Relegation Round.

The winner of each Quarter-final moves onto the Semi-Finals.

The winner of each Semi-Final game will move onto the Gold Medal Game, while the losers will play in the Bronze Medal Game.
The two teams in the Relegation Round play a best-of-3 series. The loser is relegated to the Division I Group A.
World Juniors quarter finals
The World Junior Championship quarter finals will be played on Tuesday:
Czech Republic - Finland
Canada - Switzerland
Sweden - Slovakia
USA - Russia
Belarus and Denmark will play three games to decide who relegates.
(01 Jan 2018)
Addition to the Czech WJC squad
Czech Republic added the defenseman Frantisek Hrdinka to the World Juniors roster today.
(31 Dec 2017)
Finland adds forward
Finland added forward Eetu Tuulola to the WJC roster.
(30 Dec 2017)
Denmark adds player
Denmark registers Mathias From as their last player on the World Juniors roster.
(29 Dec 2016)
Gennady Tsygurov passed away
Former Russian coach Gennady Tsygurov passed away at 75. Known for winning titles of second division - with Torpedo Nizhny Novgorod in 2003, MVD in 2005 and Traktor Chelyabinsk in 2006 - Tsygurov coached Traktor, Avangard Omsk, Kazan and Lada during the career. In 1995-1996 and from 1998 to 2000 was assistant coach of Russia National Team. In 1999 he lead Russia U20 to the victory in WJC defeating Canada 3-2 at overtime in Winnipeg, in front of 13.000 spectators. He was also assistant coach of Kazakhstan in 3 World Championships and at Olympics in Turin 2006
(15 Dec 2016)
No more William Nylander at WJC
Swedish team doctor PA Bergsten announced today that Swedish star William Nylander who was injured on the first day of the World U20 Championship won't be able to play more in the tournament.
Sweden also lost defenseman Adam Ollas Mattsson to an injury during the quarter final gae against Slovakia. He will be out for 4-6 weeks.
(03 Jan 2016)
WJC Quarter Final draw
The Group stage of the World U20 Championship ended tonight with Sweden on top of Group A and Russia of Group B. The quarterfinals will be played on Saturday: Russia-Denmark, Sweden-Slovakia, Finland-Canada and USA-Czech Republic. Switzerland and Belarus will play three games to decide who gets relegated.
(01 Jan 2016)
Egli suspended three games
Switzerland's Chris Egli has been suspended three games following his check to the head of Sweden's William Nylander in yesterday's game at the World Juniors.
(27 Dec 2015)
Sebastian Aho injured
Team Sweden U20 defenseman Sebastian Aho was injured during today's game against Canada. He will now miss the World Juniors in Finland. A puck fractured his larynx and he will be out for 4-6 weeks.
(23 Dec 2015)
Swedish WJC squad
Sweden named today the preminary roster for the World Juniors to be played in Helsinki. You can find it here.
(07 Dec 2015)
Past league results:
League standings:
Historic statistic:
Individuals records:
Despite material disadvantages, Georgia's hockey team is moving up the charts. Read more»
The 9 and 10 October saw Game Day 5, the penultimate round of the group stage this year's Champions Hockey League. Each team played the first of a back to back meeting with the same opponent as the group stage of ... Read more»