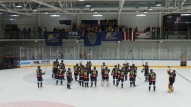 All already set?
Kurbads celebrates the European debut with a convincing victory against the toughest opponent and can already see the qualification
Host Kurbads faces Polish favourite GKS Tychy in a tough match, played in old-hockey style, with less technic and more physical confrontations for the joy of fans that packed the small arena in Latgale, Riga. As usual also many Tychy fans travelled with the team confronting the local supporters.
Both teams are clearly on another level comparing with Donbas and Narva, so this game is unanimously considered as the decisive one. And teams on the ice seems to know very well, because since the first minutes all the players put a special energy on the ice. The first period hasn't many chances to score, but an incredible intensity. Home goalie Uldis Calpa has more work than his colleague John Murray because generally is Tychy to lead the game, hitting the post around minute 10. But the score is opened by Kurbads with a perfect counter attack brilliantly finished at 15:20 by veteran Martins Cipulis at his first game with new team, served by another player with many experiences under his belt as Janis Sprukts.
The central period is more spectacular mainly because Kurbads finally can play more openly, using the skills of its experienced players, leaving to Tychy the control of the game to pinch with counterattacks. At 31:05 Adam Baginski just sat in the sinbin while Janis Sprukts beats Murray with a perfect shot from the face-off. Tychy reacts sieging the opponent's net but Calpa is always reacted keeping his team alive, all in all without real risks. At 37:17 Martins Gipters cleverly finds Martins Lavrovs at the other side of ice, launched the forward to the net for a perfect finish with no chances for Murray. 3-0 at the end of second period is a tough price to pay for Tychy for the inability to score in a series of confusing attacks.
The plot continues in the first part of last period: after 5 minutes Filip Komorski misses a penalty shot and in the pursuance of the action Gatis Gricinskis scores the fourth goal. Tychy is now even more confused and suffers the fifth goal, scored after a nice move by Sandis Zolmanis, fined with 10 minutes for excessive celebration. The game is over, for the frustration of Polish fans and the ecstasy of home crowd, unbelieving for a result far beyond any optimistic forecast. In the middle of the party, there is space for two late goals from Tychy, both by Jakub Witecki: at 49:43 with a nice shot from the right angle and at 49:43 tapping in a rebound on a Bartosz Ciura attempt. Tonight victory is really crucial and Kurbads get the hands on qualification with a convincing performance. Tychy has to cheer for an unlikely defeat against the weakest opponents

Czech Rep.: Tipsport extraliga | 1.liga | 2.liga

Slovakia: Tipsport Extraliga | 1.liga

Sweden: SHL | HockeyAllsvenskan
Other: EBEL | Belarus | Croatia | Denmark | Estonia | France | Great Britain | Iceland | Italy | Latvia | Lithuania | MOL-liga | Norway | Poland | Romania | Serbia | Slovenia | Spain | NHL | AHL |
League standings
Game fixtures
League leaders
First tournament win for Sweden with Johan Garpenlöv as head coach. Read more»
Thailand was outstanding at the Southeast Asian Games in Manila, Philippines, beating Singapore 8-0 in the final. Read more»