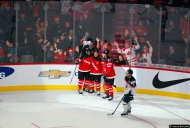 Well begun is half done...
Canada sweep away a weak Slovakia in a perfect WJC opening night in Montreal
It's Canada time at Bell Center! The hosts finally take the ice against Slovakia in the home WJC premiere. Canada holds the record in WJC gold medal, 15 titles in 37 edition but the last one come in 2009, a geological era for a nation that breathes hockey. Montreal Arena isn't sold out for the tenth duel between Canada and Slovakia at U20 level, in what looks like a mission impossible for hosts: 9 victories and one draw in previous matches for North Americans. Curiously the two teams battled in last two editions of WJC, always in preliminary round and always recovering from a double disadvantage: in 2013 in Ufa , Canada won Slovakia 6-3 after a nightmare first period closed with Europeans winning 2-0; last year in Malmo, Slovakia was up 3-1 after 33 minutes before Anthony Mantha decided the game almost alone, giving Canada a sweaty victory. With a hint of optimism Slovakia can remember the only positive result – an unusual 0-0 draw – happened in Canada, during the 1999 WJC in Brandon, Manitoba, when team Slovakia had the best result ever, grabbing the bronze medal.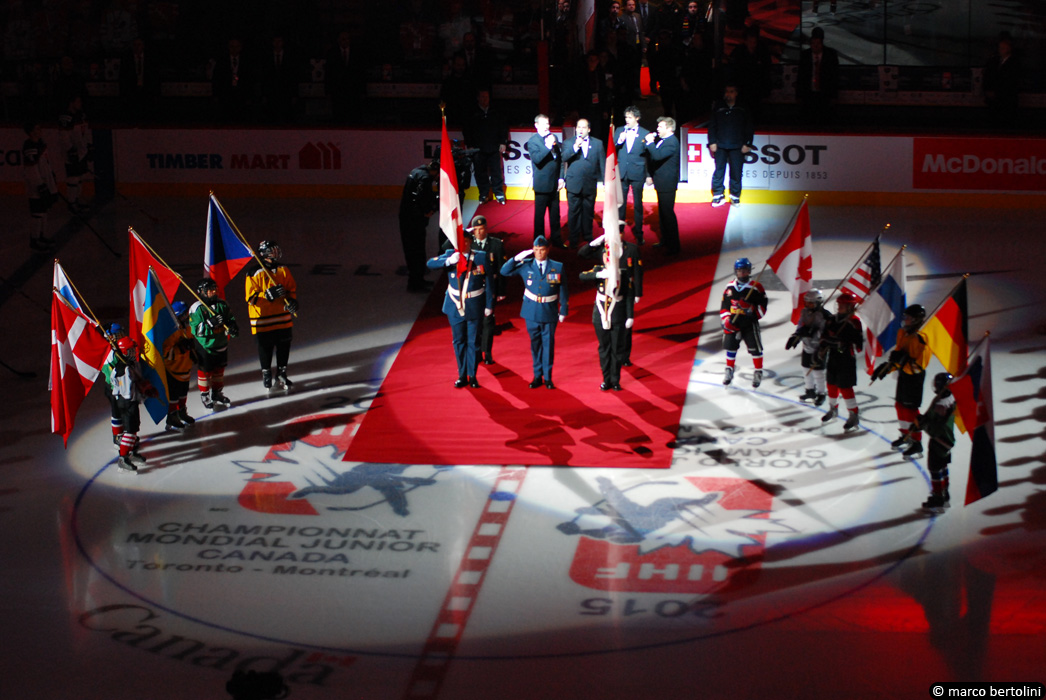 After a short but impressive opening ceremony, teams are on ice with no surprises in the rosters: Zach Fucale and Denis Godla in the net.  Pushed by the crowd, Canada pressure Slovakia and has the first good chance after four minutes when Branislav Pavuk lost the puck slipping and Godla has the first difficult save. The great pressure produces the first goal at 04:52 with Robby Fabbri finalizing a pass by Sam Reinhart. Slovakia has immediately a great chance to tie the game but Fucale is outstanding in rebounding twice saving his net. At 08.17 Slovakian defense completely forget Anthony Duclair in front of Godla and for number 10 is really easy score the second goal on Max Domi pass. One minute and it's 3-0 Canada, again with Robby Fabbri and again with much to put in place for opponents' defense: three goals in five shots for Canada. Slovakia simply try to keep the puck away from its defensive zone, giving hosts the total control of the game with the willing goalie Godla trying to shelter from the rain of pucks towards his cage. If Slovakia can face Canada in terms of technical skills, there is no match as to speed and physical presence.
Same storyboard in the second period, with Canada trying to open the airtight defense of Slovakia and Denis Godla seeing pucks arriving from everywhere: at 26 Godla has to rebound three times on Brayden Point tentative but Slovak goalie can only pick the puck from the cage at 26:56 when Nick Paul finalizes a wrap-around from Jake Virtanen. After easily surviving a power play, Canada scores fifth goal with Brayden Point on Fabbri pass. It's enough for Godla, replaced by David Okolicany. Slovakia takes courage and tries a couple of counter-attacks but is punished by Max Domi at 36:14 with the most beautiful goal of the night: a shot diagonally displacing the goalie. Anthony Duclair has a goal disallowed for an interference on the goalie, but 20 seconds after Nic Petan finds the way to beat Okolicany in a 4vs4 situation closing second period with the most explicative stats: 28-8 shots on goal.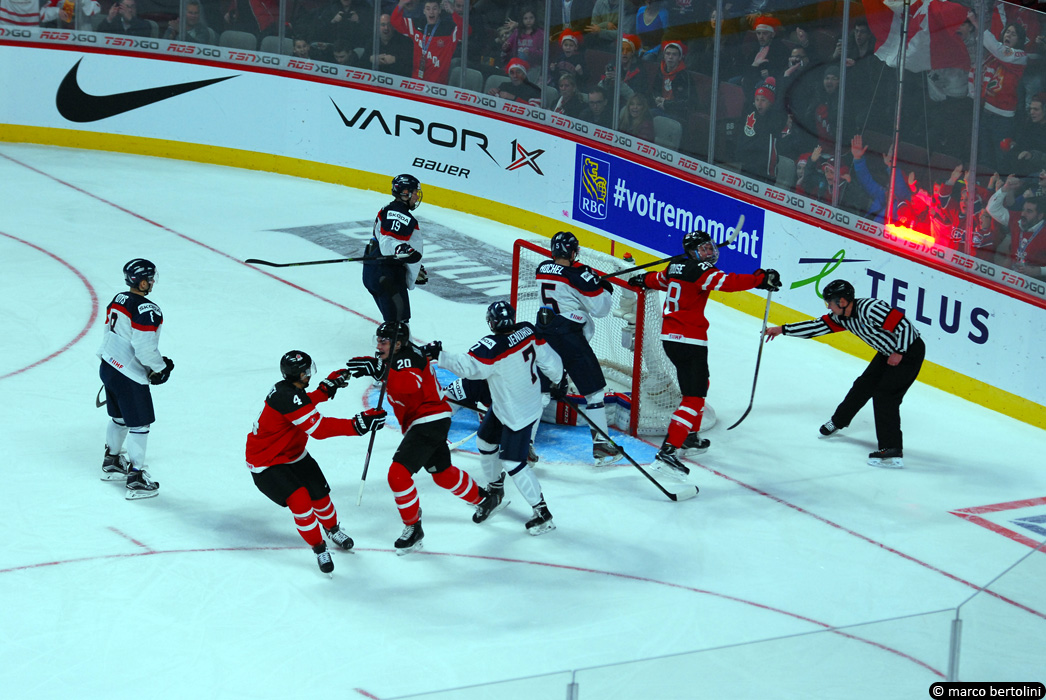 With the game closed, the last period runs quietly, to remember: a great save with the stick by Fucale on Cehlarik with Slovakia on power play and finally some good opportunity for Ernest Bokros' boys and, of course, a lot of chances for Canada resulting in the goal number 8, scored by Jake Virtanen taking a rebound from the back boards on a Point shot. Hosts begin the way to a medal expected by everyone in the country, but this Slovakia is not the best test to see if Canada can really aspire at the gold. To complete the perfect night for Montreal fans, Slovakia captain and Canadiens prospect Martin Reway was named game MVP along with Robby Fabbri
In the mixed zone same Reway admits Canada was simply stronger: "They played with an incredible intensity and put a great pressure on us from the begin. We know we had to play a perfect game to have some chance but we made mistakes and in 5 minutes it was 3-0 Canada, impossible to recover"
Also coach Ernest Bokros made a clear analisys dfuring press conference: "we had the toughest opponent possible for our first game, after the first period I understood the night would be tough for us." questioned about star Martin Reway performance, Bokros said: "We know Reway is a special player and an important piece for our team, pitywe aren't plenty of Reway in Slovakia, while in Canada you have 10 or 15 Reway in the team!"
Canada coach Benoit Groulx is obviously pleased with the result: "Everyone know the importance of first game, we won and we played well, so I'm very satisfied. When you have guys playing in third or fourth line like Robby Fabbri, Brayden Point or Nic Petan fighting on every puck and producing a lot of points, you, as coach, are extremely optimist for the future. They have the right spirit and a tremendous speed and this makes them a difficult opponent to deal with"
Groulx also briefly commented the next game against Germany, saying that "we will change our style of playing tomorrow because Germany is a different opponent," adding that Eric Comrie will start in the goal

See more photos on Eurohockey.com Facebook page or on Google+ page

Current events
External links

Czech Rep.: Tipsport extraliga | 1.liga | 2.liga

Slovakia: Tipsport Extraliga | 1.liga

Sweden: SHL | HockeyAllsvenskan
Other: EBEL | Belarus | Croatia | Denmark | Estonia | France | Great Britain | Iceland | Italy | Latvia | Lithuania | MOL-liga | Norway | Poland | Romania | Serbia | Slovenia | Spain | NHL | AHL |
League standings
Game fixtures
League leaders
Despite the difficult health situation, Kazakhstan hosts a World Championship preparation tournament Read more»
In 24 hours the bid of the Baltic country was considered and rejected Read more»