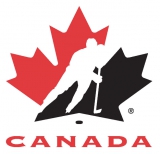 Canada
Year of foundation: 1920
Colours: red, white, black
Club status: active
Address: Hockey Canada
2424 University Drive N.W.
Calgary, Alberta T2N 3Y9
Canada
Phone: +1 403 777 36 33
Fax: +1 403 777 36 35
Email: jwasilew@hockeycanada.ca
Did you find any incorrect or incomplete information? Please, let us know.
Season 2017-2018
Current roster
season 2017-2018
* no longer in the club
from 1899 to present: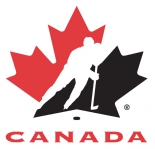 Big wins on Ivan Hlinka Memorial opening day
Three of the four games on the first day of Ivan Hlinka Memorial in Breclav, Czech Republic and Bratislava, Slovakia ended with big wins. First Lukas Wernblom and Samuel Fagemo scored two goals each when Sweden beat USA 6-1 in Breclav. In the second game in Breclav Czech Republic beat Switzerland 6-2 after two goals by Jan Jenik and two by Jakub Lauko.
In Bratislava Ruslan Iskhatov scored the winner when Russia beat Canada 4-3 after a shootout. Rasmus Kupari had two goals and three assists when Finland got an easy 6-1 win over Slovakia.
(07 Aug 2017)
World Cup rosters update
There are some updates in the rosters for upcoming World Cup:
Canada announces two changes: San Jose Sharks forward Logan Couture replaces the captain of the Dallas Stars Jamie Benn, out due the recover after a muscle surgery.
Also defender Duncan Keith will miss the tournament due the rehabilitation on a knee injury: he will replaced by Jay Bouwmeester
In Sweden roster Anaheim Ducks' defenseman Hampus Lindholm will replace injured Detroit Red Wings' defenseman Niklas Kronwall In the net, Jhonas Enroth will replace injured Robin Lehner of the Buffalo Sabres,
(26 Aug 2016)
World Championship preparation
The World Championship in Russia starts in three days. Four pre-tournament games were played today. Canada beat Czech Republic 3-0 and Kazakhstan beat France 6-3. Finland-USA (3-2) and Switzerland - Germany (4-3) were both decided in overtime.
(03 May 2016)
Women's national team tournaments
Today started two national team tournaments for women. In Sundsvall, Sweden Canada beat Finland 2-0 and the home team lost 2-6 to USA. In Czech Republic Russia beat Switzerland 4-1 and Germany beat Slovakia 4-2.
(04 Nov 2015)
Ivan Hlinka Memorial starts tomorrow
The prestigeous U18 tournament starts tomorrow in Breclav and Bratislava. Yesterday two pre-tournament friendlies were played: Slovakia-Canada 1-12 and Czech Repubic - USA 2-1.
(09 Aug 2015)
World Championship quarter-finals
The quarter-final match-ups of the World Championship in Minsk is now decided after the group stage has ended. USA will play Czech Republic in the first game. Then follow Russia-France, Canada-Finland and Sweden-Belarus. All four will be played on Thursday.
(20 May 2014)
Canada wins Colombia in Pan-American debut
In the only game of the day, Canada opens its Pan-American tournament in Mexico with a 9-3 victory against Colombia. Former Ohio University and Idaho Steelheads Kyle Reed and former EV Landshut Marc Rancourt both scored three goals.
(04 Mar 2014)
John Tavares out for semifinal
Hit from Arturs Kulda into the boards during the second period John Tavares suffered a leg injury during Canada's 2-1 quarterfinal victory against Latvia and will miss the remainder of the Olympic tournament.
(19 Feb 2014)
Martin St. Louis replaces Stamkos in Canada roster
Hockey Canada announced Tampa Bay forward Martin St. Louis will replace injured Lightning centre Steven Stamkos in the Olympic men's hockey team. St-Louis played once for Canada at Olympics, in Turin 2006
(06 Feb 2014)
Steven Stamkos out from team Canada
No Olympics for Tampa Bay Lightning Canadian forward Steven Stamkos. The player broke the tibia on November 11 in a match with Boston and has not been medically cleared to play.
Today is obviously very disappointing for me," Stamkos said in a short staement. "I honestly believe that we did everything possible in order to have my injured leg ready in time for the Olympics, but I realize you can't force healing. I know, in the best interest of my long-term health, I cannot represent Canada in Sochi, as much as I would like to."
Team Canada will announce the replacement in next 48 hour
(06 Feb 2014)
Historic rosters:
Historic statistics:
Past results:
League standings:
Fast facts
season 2017-2018
Winning 2-1 against host Rungsted, Yunost keeps the perfect record proposing as favourite for the Superfinals Read more»
The final continental cup group game took place in Rungsted between Sheffield Steelers of Great Britain and Kurbads Riga of Latvia. Read more»