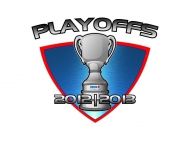 Vienna and KAC proceed to the semifinals
On Tuesday evening, favoured teams Vienna Capitals and KAC successfully finished their job in the quarterfinals, while Villach stayed alive with a win in Linz.
Vienna - Znojmo 4:0 (Vienna won series 4-1)
The fifth clash between the team from the Austrian capital and the Czechs didn't offer too much dilemma. After only two periods it was obvious who will play in this year's semifinals. Woger and Schiechl found the way to the net in the first period while Ferland and Fortier sealed the deal in the second.
KAC - Graz 5:2 (KAC won series 4-1)
KAC celebrated their entry into the semifinal series with an identical score to Vienna Capitals. Moderer opened the scoring for the visitors, but until the first intermission Scofield and Herburger bring the lead back to Klagenfurt. Spurgeon then scores to open the second period and increase the lead. In the last twenty minutes Geier, Wren, and Scofield for his second of the night put 5:2 on the board.
Linz - Villach 2:3 (Linz lead series 3-2)
This one is turning into an exciting one. The current title holders couldn't pull off a win in front of their fans and Villach survived for at least one more game. In the first four minutes Villach announces a big day through Petrik and Ryan. Numerous penalties then came on both sides and it was a highly aggressive game. In the second Irmen and Hisey score two quick goals to tie the game at two. In the end Nageler decided the game with a game-winning goal 5 minutes prior to the end, to bring this series back to Villach.
Linz - Villach are scheduled for Friday at 19:15.

Czech Rep.: Tipsport extraliga | 1.liga | 2.liga

Slovakia: Tipsport Extraliga | 1.liga

Sweden: SHL | HockeyAllsvenskan
Other: EBEL | Belarus | Croatia | Denmark | Estonia | France | Great Britain | Iceland | Italy | Latvia | Lithuania | MOL-liga | Norway | Poland | Romania | Serbia | Slovenia | Spain | NHL | AHL |
League standings
Game fixtures
League leaders
The Russian Federation declared champions the teams at the top of standing when the Leagues were stopped Read more»
There are a few reasons Ice Hockey has taken the world by storm in recent decades. Namely, the improvement of the sport and the refinement of the culture that surrounds and props it up. ... Read more»