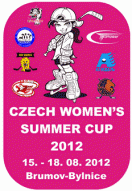 Czech Women's Summer Cup 2012 - Day 3
Moscow Tornado continues to win as they beat the Netherlands 4-0, it is the other Russian club that is stirring up chatter albeit for the opposite reason.
HC Agidel Ufa opened up the tournament with a 3-1 win over the Netherlands but then dropped two consecutive games: 5-1 to ESC Planegg and 3-1 to Slavia Praha. While Ufa's goaltending has definitely been a weak link for the club, they cannot shoulder all the blame as the offense has been fighting the puck every game so far. The frustration for lack of goals has become apparent, as players have resorted to trying to do the work individually and not using their linemates. Today's game against the Vienna Sabres was no different as they fired 24 shots on net in regulation time but only managed to get one past Sandra Borschke in the third to tie the game. Uf'a's Nicol Cupkova stepped over the blue line, untouched, and let a shot go that slipped through Borschke's five-hole. Despite Borschke's stellar effort in the game (and all tournament so far), Ufa controlled the majority of the game and could not capitalize on crucial scoring chances.
The game ended in a shootout, the second game in a row for the Sabres, however they could not find the same result last night as Ufa's Cupkova slid another five-hole goal in to win the game 2-1.
That win seemed to help Ufa gain momentum as they put together another win, knocking off the struggling Minsk 2-0.
The biggest shock of the tournament so far came this morning when the Netherlands not only won, they shutout Pantera Minsk 3-0. Savine Wielenga had a goal and two assists while Claudia van Leeuwen earned the shutout.
ESC Planegg's Janina Fuschs put on an amazing performance in the net against Slavia Praha. Planegg held a 3-1 lead heading into the third, but Praha was relentless as they threw everything they could at Fuschs and managed to tie the game. For the second game in a row Planegg found themselves heading into a shootout. Three shooters from each club could not solve the goalies until Planegg's Danielle Ward came down and made moves that would have made Patrick Kane smile to beat Praha's Katrina Becevova. Praha had the last shot but Fuschs, who faced 38 shots in the game, turned her away and secured the victory for Planegg.

Czech Rep.: Tipsport extraliga | 1.liga | 2.liga

Slovakia: Tipsport Extraliga | 1.liga

Sweden: SHL | HockeyAllsvenskan
Other: EBEL | Belarus | Croatia | Denmark | Estonia | France | Great Britain | Iceland | Italy | Latvia | Lithuania | MOL-liga | Norway | Poland | Romania | Serbia | Slovenia | Spain | NHL | AHL |
League standings
Game fixtures
League leaders
From Reykjavik to Istanbul: 17 clubs are ready to battle for the trophy Read more»
Estonia could do something that they've never done ever before: have players drafted into the National Hockey League. Read more»