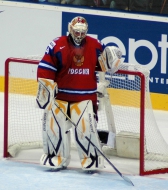 Russia blanks Czechs to remain unbeaten
Russia won their sixth consecutive game beating the Czech Republic 2-0 in a close game with two good goalies.
Konstantin Barulin's goaltending was a key factor when Russia defeated the Czech Republic 2-0. Barulin made 33 saves for the shutout stopping several good Czech scoring opportunities.
Russia got a perfect start to the game scoring already in the first shift. Nikulin got the puck to Aleksandr Perezhogin who went in front and put it in behind Jakob Kovar in the Czech goal. "I expected a pass from Perezhogin, but he moved from behind the net, made a circle and shot it to the far post", Kovar said about the goal.
This was clearly the best Czech performance of the tournament and after Russia dominated the first minutes of the game they took over more and more of the game but after two periods they had still not scored despite 23 shots against Barulin in the Russian goal.
"We did everything that we said we would do before the game", Czech forward Ales Hemsky said after the game. "But it's hard when they score on their first shot", he added.
And when Russia got the chance to start the third period with a five on three power play Malkin was there again. Aleksandr Popov had a good shot on goal just when the Czechs got their fourth skater back on ice, Kovar made a good save but Popov picked up the rebound and passed the puck to Malkin who had a easy finish for 2-0. Malkin's seventh goal of the tournament.
After the goal Russia took over more of the game and the Czechs didn't create so many chances and when they did Barulin was there to save them. "He played very good", Russian head coach Zinetula Bilyaletdinov said about Barulin's performance. But he didn't want to answer on who that will be his first choice for the upcoming games "Varlamov and Barulin both played very well, perhaps we have two number one goalies".
The Russian defense also played well against a Czech offense that played a bit quicker than in earlier games. It didn't seem like the team missed the two suspended defenders Yemelin and Kalinin so much. "We missed them both but our defenders played very well today", Russia's forward Pavel Datsyuk said about the two suspensions after the game.
This was Russia sixth win in a row and now the team will reinforced with two more super stars as Aleksandr Ovechkin and Aleksandr Semin both are joining the team from Washington Capitals. "They're good players, it will be a big help for us", Datsyuk said about the reinforcements after the game.
On the post game press conference both coaches agreed that it was a good game between two good team. Czech coach said that the Russian five on three power play was proably decisive for the game.

Czech Rep.: Tipsport extraliga | 1.liga | 2.liga

Slovakia: Tipsport Extraliga | 1.liga

Sweden: SHL | HockeyAllsvenskan
Other: EBEL | Belarus | Croatia | Denmark | Estonia | France | Great Britain | Iceland | Italy | Latvia | Lithuania | MOL-liga | Norway | Poland | Romania | Serbia | Slovenia | Spain | NHL | AHL |
League standings
Game fixtures
League leaders
As the pandemic continues to ravage ice hockey throughout the world the Scottish Ice Hockey Association decided enough is enough. Read more»
The IIHF Council decided unanimously today to initiate another series of tournament cancellations for the 2020/21 season, following recommendations of the IIHF COVID-19 Expert Group. ... Read more»