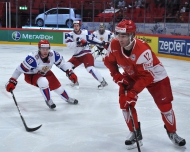 Two good goalies when Russia beats Denmark
The game between Denmark and Russia had a total of 88 shots on goal but Simon Nielsen and Konstantin Barulin made sure that only four goals were scored.
Danish goalie Simon Nielsen makes his fifth World Championship but this was the first game that he actually was given the chance to play. And what a tough game it was for him, but despite getting 52 shots against he only conceded three goals. "It was hard, I was a bit nervous from the beginning but it became better", Nielsen said after the game.
Russia's goalie Konstantin Barulin was also good saving 36 shots, 20 of them in the third period. His coach Zinetula Bilyaletdinov however was short in his comments about his goalie "He was good, just normal", he said. About the game the coach didn't say much more "We just wanted the result and we got it".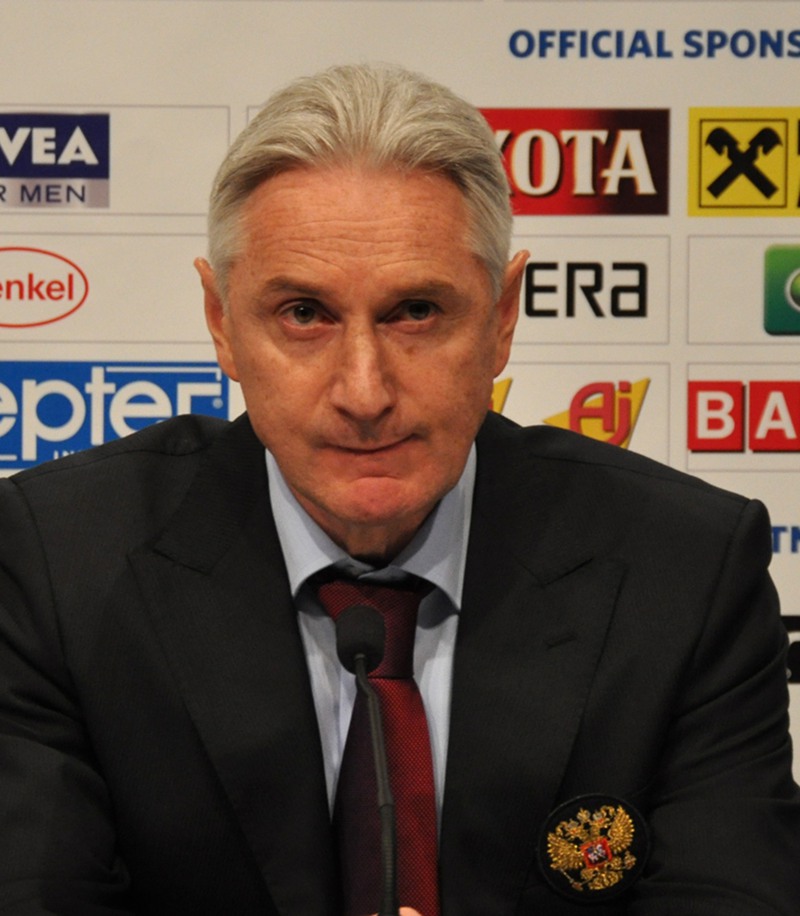 The Russian coach after the game.
Photo: Roman Kucera


"Obviously it was a tight game. Russia is a great team but we had our chances in the third but their goalie was great", Danish assistant captain Morten Madsen commented about the game.
Yevgeni Medvedev opened the scoring early with a powerful shot from the blue line to beat Nielsen. Lars Eller tied the game a few minutes after Medvedev opening goal, scoring off a Russian skate.
Malkin made it 2-1 for Russia when Denmark failed to clear their own zone and when most of players were going on attack Russia and Malkin got the space they need to score.
Russia took over more and more of the game in the second period and Dmitri Kalinin gave Russia a two goal when he unleashed a great shot off the post after a nice drop pass by Kuznetsov.
Denmark fought very hard but could thank Simon Nielsen that the score was only 3-1 after two periods. Kulyomin also missed a penalty shot for Russia and after that the fighting Danes had their best period of the game and was very close to reduce Russia's lead.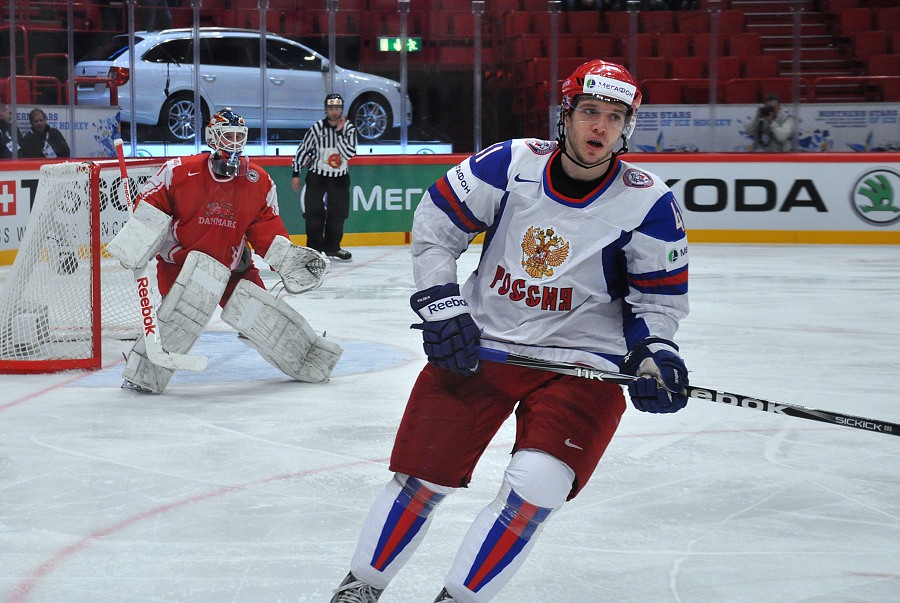 Kulyomin has just missed a penalty shot.
Photo: Roman Kucera
Denmark's coach Per Bäckman was very pleased with his team's effort. "I think we do a heroic effort. The last ten minutes we took a chance, I didn't really believe on it myself but we had our chances. We got out our maximal potential but we need some luck to win against Russia"
But close is not enough and Denmark recored another loss. Despite still being winless the Danes are optimistic before the last three games against Germany, Latvia and Norway. The goal scorer Lars Eller said "I'm optimistic, if we play like today we have a great chance".
Morten Madsen said "We have three games left and we have beaten them before" while his team mate Kirill Starkov added "We have a good mood in the team".
Russia is now playing Sweden tomorrow in a game that probably decides who will the group in Stockholm.

Czech Rep.: Tipsport extraliga | 1.liga | 2.liga

Slovakia: Tipsport Extraliga | 1.liga

Sweden: SHL | HockeyAllsvenskan
Other: EBEL | Belarus | Croatia | Denmark | Estonia | France | Great Britain | Iceland | Italy | Latvia | Lithuania | MOL-liga | Norway | Poland | Romania | Serbia | Slovenia | Spain | NHL | AHL |
League standings
Game fixtures
League leaders
As the pandemic continues to ravage ice hockey throughout the world the Scottish Ice Hockey Association decided enough is enough. Read more»
The IIHF Council decided unanimously today to initiate another series of tournament cancellations for the 2020/21 season, following recommendations of the IIHF COVID-19 Expert Group. ... Read more»