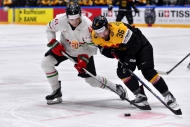 Champions Hockey League (CHL) - pre-match review
The fifth Champions Hockey League final will take place on 5 February 2019 in the Scandinavium, Gothenburg, Sweden. It will see four times winners, Frölunda Indians with home ice advantage against the first ever German team to reach the finals, Red Bull Munich. Frölunda are certainly the favourites, but Munich, who have several of Germany's Olympic Bronze medal team in their roster, will be ready to play underdog and provide a shock result. Below you can have a sneak preview of who to watch out for on each team.
Frölunda Indians

The talented Indians have several players who have first hand experience of being beaten by the Germans at the Pyeongchang Olympics. That includes their captain and Swede Joel Lundqvist, Norwegians Mats Rosseli Olsson and Mattias Nørstebø and Canadian defensemen, Chay Genoway. But that will probably only make them more determined to get revenge and beat Munich.
And with the attacking quality they have they have every reason to be confident.
Genoway is the competition's top scoring defenseman and American forward, Ryan Lasch is the competition's Top Scorer so the Swedish team are not short of talent in front of net.
At the back Frölunda are not lacking in skillful players either. They have, for example, assistant captain Jonathan Sigalet. The 32 year old Boston Bruins drafted Canadian marshals the defense and is usually paired with young protégé and the 20 year Detroit Red Wings drafted, Gustav Lindström who is thriving in his first season in the SHL.
Whilst Joel Lundqvist is the only Frölunda player to have played more than 60 matches in the NHL, the team has is drenched in quality. Only two of the defensemen on the roster have not been NHL drafted and seven of the forwards are drafted players so they can field high quality players on every shift. And that does not count for the young Samuel Fagemo, who will be drafted this summer.
But whilst they may not have NHL match experience, this team also knows how to win the CHL. Not just the managers, but a huge amount of the players have been part of the double win in 2015/6 and 2016/7. That includes four forwards from the first win and three backs and eight forwards from that second win who are still on the squad.
And let's not forget netminder, Jonas Gustafsson, who appeared in both winning finals and was drafted by Minnesota Wild in 2010 and has played two full seasons in the AHL.
Make no mistake this is a talented team, but they can be neutralized and they can be inconsistent - remember they only just squeezed their way past HC Lugano in the first knockout match.
But when they play their best, like against HC Pilsen, they are almost unbeatable. I have back them from the beginning and believe they have got what it takes to win this year's CHL.
Red Bull Munich
Whilst this is Munich's, and indeed Germany's, first appearance in the CHL final, this team is familiar with success and should not be underestimated.
They have won the DEL three years in a row and on their way to this final have beaten teams from Sweden, Switzerland and Austria away from home in the pressurized knockout phases.
The team has considerably more NHL and AHL experience than their Swedish rivals with nearly 5000 matches combined in the North American leagues. This comes mainly from two import players, 35 year old, Matt Stajan with over 1000 games in the NHL and 34 year old John Mitchell who also played c. 500 matches in the world's top league. Mitchell's experience shows as he leads the team in points in CHL and DEL in this season.
But whereas Mitchell has 12 assists in the CHL, it is another Canadian import, Trevor Parkes who has most goals for the Germans with nine. He has played c. 200 AHL games but the 27 year old has he much greater success in the DEL where he is now in his third season. All three are in their first year in Munich and will be wanting to cash in on this unique opportunity.
But this team is not all about import players. Red Bull is the home club of six of Germany's Olympic Bronze medal team. They are defensemen Yannic Seidenberg (in photo) and Daryl Boyle alongside forwards Patrick Hager, Frank Mauer and Yasin Ehliz. However, most crucially of all, netminder, Danny aus den Birken. He was the Winter Games best keeper and has been the DEL's best keeper every year Munich has won the national championship. At 33 year's old aus den Birken will be looking to take this golden opportunity to seize the top prize in European hockey. He, and his teammates, are hoping to pull off the surprise of the competition and take the CHL trophy from under the Swede's noses on 4 February.
Expect the Germans to keep it tight hoping to frustrate Lasch and Co. and then pick off them off late on in the game, whilst the Swedes are likely to come out flying and try to crush Munich's spirit as soon as the first whistle blows.
Current events
External links

Czech Rep.: Tipsport extraliga | 1.liga | 2.liga

Slovakia: Tipsport Extraliga | 1.liga

Sweden: SHL | HockeyAllsvenskan
Other: EBEL | Belarus | Croatia | Denmark | Estonia | France | Great Britain | Iceland | Italy | Latvia | Lithuania | MOL-liga | Norway | Poland | Romania | Serbia | Slovenia | Spain | NHL | AHL |
League standings
Game fixtures
League leaders
Sokil Kyiv trashes Valk Tartu but can't advance to Continental Cup semifinals Read more»
Despite a brave game by Ferencvarosi, a single goal scored by vetern Edijs Brahmanis is enough to secure the first place for Olimp Riga Read more»