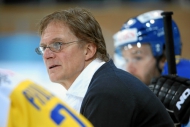 End of an era
After 22 years and a harvest of titles, Arno Del Curto leaves HC Davos
In 1996 everyone used Nokia 8110, Clinton was the President of US, Detroit won Stanley Cup with Steve Yzerman as captain and Scotty Bowman on the bench and Arno Dal Curto arrived at HC Davos as head coach after a modest career as player in Division 1 and some seasons on the bench of ZSC Lions, Bulach, Luzern and Switzerland U20. That event marked the beginning of an era of successes, trophies and the launch of numerous talents for the Grisons club. When Dal Curto begins his work, the club is already the most titled of of the country, but does not win the championship since 1985 and the Spengler Cup, the home tournament, since 1958. With his tough, fast and intelligent ice hockey Dal Curto turned the club into a dominant force for all the 2000s, with a leading generation of Swiss players as all time leading scorer Reto von Arx, Michel Riesen, Marc Gianola, Sandro Rizzi, Peter Guggisberg, Björn Christen, Beat Forster and current captain Andres Ambühl, along with goalies Reto Berra and Jonas Hiller and imports Josef Marha and Alexandre Daigle. In an inteview in 2011, coach said about his relationship with players: "I'm friend with my players. I enjoy discussing with them, having fun, but I attack their relentlessly too. Reto by Arx and Josef Marha were the most difficult. Once Arx hid in the garage where we lived so he would not hit me. I need to drive my players constantly, otherwise they would not develop. They don't mind me. They know that I want to help them. I just want them to work harder on themselves. After a good training session, I like to come to the restroom with a cup of coffee and talk to them. I never ask a lot of rules, too many can destroy a team."

Dal Curto announced yesterday his resignation,  leaving the club, this season struggling at the bottom of the standings, after six Swiss League titles (2002, 2005, 2007, 2009, 2011, 2015), five Spengler Cup (2000, 2001, 2004, 2006, 2011) and a record of 22 consecutive partecipations in play-offs. For this successes, Dal Curto was awarded as the Swiss Sports Personality of the Year in 2007 and 2011 and Coach of the Year in 2005 and 2010.
Dal Curto commented his decision with a short statement: "This season was too much, I should have stopped last summer.It was a decision that concerns only my person. It was an extraordinary journey and perhaps the cycle should have ended after the wonderful fifth title in 2011. But then came the incredible sixth affirmation in 2015 that allowed us to play in the Champions League, the best ever experienced with Davos. It was great to compete with Czech, Swedish and Finnish teams"
HC Davos thanks Dal Curto stressed in an official statement "Arno was much more than a successful coach. The passion with which he formed his players was unique. He also enthused HCD fans for many years, as well as all ice hockey fans, with an offensive game with a marked tempo ".


Czech Rep.: Tipsport extraliga | 1.liga | 2.liga

Slovakia: Tipsport Extraliga | 1.liga

Sweden: SHL | HockeyAllsvenskan
Other: EBEL | Belarus | Croatia | Denmark | Estonia | France | Great Britain | Iceland | Italy | Latvia | Lithuania | MOL-liga | Norway | Poland | Romania | Serbia | Slovenia | Spain | NHL | AHL |
League standings
Game fixtures
League leaders
Cardiff Devils won by one-goal-difference against home side Grenoble and advances to the Continental Cup Superfinals along with Nomad Astana Read more»
Kazakh champion closes the Continental Cup semifinals round with a perfect record, by beating HK Zemgale in the last game Read more»