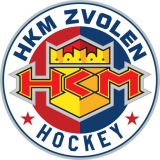 HKm Zvolen
Short name: Zvolen
Year of foundation: 1932
Colours: blue, red, yellow
Club status: active
Address: Pod dráhami 2293/21,
960 01 Zvolen
Phone: +421 455 321 973
Fax: +421 455 320 150
Email: office@hkmzvolen.sk
WWW: HKM Zvolen
Did you find any incorrect or incomplete information? Please, let us know.
Season 2023-2024
Current roster
season 2023-2024
* no longer in the club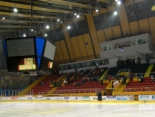 Adress: Pod dráhami 2293/21
96001 Zvolen
Slovakia
Phone: +421 45 5321 973
Email: stadion@hkmzvolen.sk
Capacity: 5869
Opened in: 1969
from 1927 to 1964: ZTK Zvolen
from 1964 to 1983: LB Zvolen
from 1983 to 1994: ZTK Zvolen
from 1994 to 1995: HK Hell Zvolen
from 1995 to present: HKm Zvolen
from 1993 to 2000: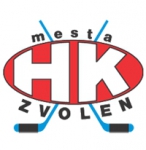 from 2000 to 2019: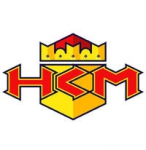 from 2019 to present: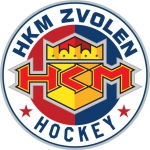 Banska Bystrica won't play in CHL
Slovakian tri-champion Banská Bystrica won't join 19-20 edition of Champions Hockey League.
"Costs are too high - said club President Juraj Koval - so we not joining the Champions League because our participation is financially a loss. Deficit means that we are threatening our own financial security."
Slovakia has a spot avaiable for the competition and according to the rules HKM Zvolen, finished second in the regular season, should replace the champion
(30 Apr 2019)
Slovak hockey player passed away at 21
Slovak forward Kristián Lunter, 21, was found dead on Sunday evening in unclear circumstances. Product of HKM Zvolen, with an experience in Czech U20 League with Kometa Brno, Lunter played this season for HC Presov in Slovak 1.Liga, with two goals and three assists in 15 games, the last one on Friday
(26 Nov 2018)
Dukla Trencin fires coach
The job of Josef Turek at Dukla Trencin lasted two months: hired at the end of October to replace resigned Milos Holan, the 45-years-old coach was fired today after the last defeat 8-3 against Liptovsky Mikulas. He will be replace by a coaching triumvirate: current club GM Ján Kobezda will be the new headcoach, assisted by experienced Julius Penzes - fired in November by Nove Zamky - and U18 team coach Viliam Cacho. Turek started season at Zvolen, before being dismissed in October

(04 Jan 2017)
Dukla Trencin changes coach
Dukla Trencin announced head coach Milos Holan and assistant Robert Petrovicky both resigned for personal reasons last Tuesday following the defeat 5-2 against Poprad. "I'm quitting only for personal reasons, not leaving because of poor results, and I think with the team I had a good relationship, we hadn't problems" said Holan
Today the club announces the appointment of Josef Turek as new headcoach. Turek, 44, was fired by Zvolen last week.
"We needed to find a coach as soon as possible to lead the team in the last two games before the break, so he can work with the team during the break " said the General Manager Jan Kobezda.
(27 Oct 2016)
Zvolen changes coach
"After last disappointing results, the club decided today to cease cooperation with coach Josef Turek and assistant Andrei Podkonický". With a short statement HKM Zvolen chairman Dusan Mraz announced the replacement on the bench. U20 team coach Milan Stas is the new coach. Zvolen is currently 8th in the Extraliga, after 14 rounds
(20 Oct 2016)
Zvolen appoints Josef Turek as new headcoach
Slovak champion HKM Zvolen announced Czech Josef Turek as head coach following the resignation of Julius Supler. Joseph Turek started the season in HK36 Skalica, before to move to Chomutov from November to January. With Zvolen Turek signed a contract until the end of next season.
(28 Feb 2014)
Julius Šupler resigned as coach of HKM Zvolen
Julius Šupler resigned as coach of Zvolen: 63-year-old coach arrived on Zvolen bench in mid-October, when he replaced Cech Lubomir Oslizla. At the time of his arrival Extraliga reigning champion was in 10 place, currently, the team is in 7th with 66 points and three rounds to play, not yey sure of playoffs qualification.
"Perhaps my departure would be a good incentive for players and clubs to mobilize targets and dragged to the desired state. I would hate if my party should be the cause of the failure. I gave all players a chance to show their own potential. It is not an escape from the sinking ship. I did everything in my power: players are well prepared, they can play hockey, now it's up to them how" said in a statement Šupler.
(27 Feb 2014)
New coaches in Extraliga
Two teams changed coach in Slovak Extraliga: Andrej Výboh replaced Josef Turek, moved to Czech Chomutov, at HK 36 Skalica, while former Sanok and Kosice coach Milan Staš is the new head coach of Dukla Trencin, replacing fired Robert Kaláber. Earlier in mid October also champion Zvolen hired Julius Supler as new coach for dismissed Lubomir Oslizlo
(09 Nov 2013)
New coaches in Slovakia
Three clubs from Extraliga announces new coaches in last day: champion Kosice appointed Anton Tomko from 1 Liga champion Bardejov as new coach. Same Bardejov announced Tomko's replacement, the former GKS Tychy coach Jan Vodila.
Silver medalist Zvolen signed former Kometa Brno assistant coach Lubomir Oslizlo. Finally Skalica will have Josef Turek on its bench. Turek coached Trinec last season
(22 May 2013)
Historic rosters:
Historic statistics:
Past results:
League standings:
Fast facts
season 2023-2024
A look back at a season that lived up to its promise. Read more»
The Alliance of European Hockey Clubs (E.H.C.) has announced the nominees for the 2023 Fenix Outdoor & Warrior European Hockey Awards. Read more»