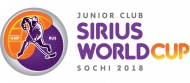 Loko Yaroslavl wins the 2018 Junior Club World Cup
The 2016 winner Loko Yaroslavl of the Russian junior league MHL regained the JCWC title after beating HV71 of Jönköping, Sweden in the final in Sochi.
After a scoreless first period of the final game Max Wennlund needed only 22 seconds of the second to score 1-0 for HV71. Nikolai Kovalenko tied it three and a half minute later but HV71 got the lead again when Ebbe Fjellström made it 2-1 in the last minute of period two.
Kirill Slepets tied the game at 48:43 with a one-timer from the right circle on a power-play and Danil Gizatullin scored the winner 9:52 before the end. He picked up a rebound from Hugo Alnefelt and shot off the post and then bounced off Alnefelt's skate into the net.
HV71 pulled the goalie the final minute but Loko Yaroslavl got away with the 3-2 win.
Ottawa Capitals beat EC Red Bull Salzburg in the bronze medal game. Ryan Mosley got the medal-winning goal.
Final Standings:
1 Loko Yaroslavl
2 HV71 Jönköping
3 Ottawa Capitals
4 EC Red Bull Salzburg
5 Jokerit
6 HC Ocelari Trinec
7 HC Davos
8 KRS Heilongjiang Junior
Individual awards:
Best Goalkeeper - Hugo Alnefelt
Best Defender - Roope Reini
Best Forward - Nikolai Kovalenko
Top scorer - Vladislav Rybakov
MVP - Nikolai Kovalenko
Current events
External links

Czech Rep.: Tipsport extraliga | 1.liga | 2.liga

Slovakia: Tipsport Extraliga | 1.liga

Sweden: SHL | HockeyAllsvenskan
Other: EBEL | Belarus | Croatia | Denmark | Estonia | France | Great Britain | Iceland | Italy | Latvia | Lithuania | MOL-liga | Norway | Poland | Romania | Serbia | Slovenia | Spain | NHL | AHL |
League standings
Game fixtures
League leaders
After a 4-years hiatus, a Kazakh club could be back in Russian Second League Read more»
The 5th season of Ice Hockey Championship was played at Altit Fort, Hunza in -15 C temperature. SCO male team won the Championship against defending champions team of Serena Hotels. ... Read more»