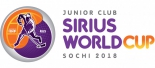 Junior Club World Cup
League status: Active
Youth league: yes, U20
Year of start: 2011
Did you find any incorrect or incomplete information? Please, let us know.
Set for JCWC final
Loko Yaroslavl of Russia and HV71 of Sweden will play tomorrow's final of the 2018 Junior Club World Cup.
HV71 knocked out Ottawa Capitals of Canada 4-2 in the first semi final. Loko Yaroslavl then eliminated Austrian Red Bull Salzburg with a comfortable 8-2 win.
(25 Aug 2018)
JCWC starts in Sochi
On the first day of the 2018 Junior Club World Cup Jokerit of Finland beat Chinese club KRS 5-1. Loko of Russia got a 4-2 win over the Canadian team Ottawa Capitals.
(18 Aug 2018)
Junior Club World Cup quarter finals
The group stage of the JCWC in Yekaterinburg ended today. The quarter finals will be played on Thursday: Avto Yekaterinburg - MODO Hockey, Red Army Moscow - Jokerit, HC Davos - HC Ocelari Trinec and Snow Leopards Astana - HK Riga.
(22 Aug 2017)
Cape Breton Screaming Eagles to Ufa
Cape Breton Screaming Eagles will represent Canada at the Junior Club World Cup in Ufa and not Quebec Remparts as earlier was announced.
(16 Jul 2014)
MHL teams open JCWC in style
All three teams of MHL won their opening game of the Junior Club World Cup yesterday. HK Riga beat Dubuque Fighting Saints 5-2, Dinamo-Shinnik Bobruisk beat Sudbury Wolves 5-1 and Omsk Hawks got a 5-1 win over Vitkovice.
In the fourth game Finnish HPK beat Swedish Frölunda 4-3.
(26 Aug 2013)
Dubuque Fighting Saints will play at Junior Club World Cup
The USHL Clark Cup champions Dubuque Fighting Saints announced they have accepted the invitation to play in the 2013 Junior Club World Cup tournament in Omsk, Russia that will take place August 24-31.
"We're honored to receive an invitation to the Junior Club World Cup in Omsk," said Dubuque Fighting Saints President Dan Lehv. "For our organization to be showcased on this international stage is incredibly exciting. We are proud to represent the United States Hockey League and the City of Dubuque in the third annual event. Our players, coaches and staff are looking forward to the experience of a lifetime."
Dubuque will be seeded in Group A along with the Omsk Hawks, Vitkovice and HK Riga
(27 May 2013)
Set for World Junior Club Cup final
Both the North American teams qualified for the finals of the World Junior Club Cup in Omsk. Waterloo Black Hawks (USHL) was down 4-3 win one second to go of the semi final against Linköping of Sweden but tied it and won the game 5-4 in shoot-out. Sudbury Wolves (OHL) won the other semi final 5-2 against Dinamo-Shinnik Bobruisk of Belarus.
(25 Aug 2012)
World Junior Club Cup semi finals
Dinamo-Shinnik Bobruisk won Group A of the World Junior Club Cup ahead of Waterloo Black Hawks. Group B was won by Linköpings HC with Sudbury Wolves as runner-up.
In Saturday's semi finals Dinamo-Shinnik will play Sudbury and Linköping will play Waterloo.
(24 Aug 2012)
World Junior Club Cup - Day 5
Joshua Leivo scored a hat-trick with only short-handed goals when Sudbury Wolves beat Denmark 7-2 in the World Junior Club Cup. In the other game in Group B HIFK beat HK Riga 3-2. Linköping and Sudbury have qualified for the semis.
Group A is still open. After today's games Waterloo Black Hawks - Norway 5-3 and Karlovy Vary - Dinamo-Shinnik 3-2 four teams are tied with 6 points.
(22 Aug 2012)
World Junior Club Cup - Day 4
Linköping were outshot 39-14 but beat HIFK 3-2 to become the first team to qualify for the semi finals of the World Junior Club Cup in Omsk. The home team Omsk Hawks beat Karlovy Vary 4-1.
(21 Aug 2012)
Past league results:
League standings:
Historic statistic:
Individuals records:
Home team opens the Continental Cup first round showing no mercy for opponent KHL Zagreb Read more»
The european debut for the Icelandic champion turned into a harsh lesson taught by the HC Panter in Continental Cup first match in Kaunas Read more»