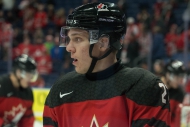 Cale Makar: Has Team Canada Underused Him?
Cale Makar has been one of Canada's best defencemen, but has he been underused?
Cale Makar has become one of Canada's best defencemen, but you wouldn't really know that if you checked Canada's ice-time leaders.
Through the preliminary round, Makar had an average ice time of 14:20 per game, beating out just Dante Fabbro, who was hurt prior to the tournament. It's a little funny that Canada's only two NCAA skaters have played the least on the blue line while Colton Point has just one game played at this point.
Sure, Canada has some of the top defencemen in the tournament, specifically Victor Mete and Kale Clague. It wouldn't be right for Canada to take ice time away from them, with both playing fantastic, while Connor Timmins has been Canada's best defender away from the puck.
But Canada seems to be a better team when Makar is on the ice. Heck, he's been a key quarterback on the power play, so his lack of ice time just doesn't make sense. You put him out there in key situations, but you don't use him much after that? He hasn't been a liability and he's been good when called upon.
Canada doesn't have a game-changing player like Sweden or the United States, but what they do have is depth. Up front, only Tyler Steenbergen failed to record a point in the round robin, while the other 12 forwards scored at least one goal.
In the pre-tournament, Canada used their back end often to generate offence, with Makar, Jake Bean and Josh Mahura catching the most attention. But in the round-robin, Makar was the only blueliner to score, grabbing two goals and four points. Canada did make life miserable for their opponents, but generating offence from the back end wasn't common.
And yes, the top priority for defencemen is to defend. But if you have a guy who has been as good with the puck as Makar, don't you think he deserves a bit more opportunities? He's always been a strong offensive contender, but he's smart with the puck creates many offensive rushes. He's not the strongest player, but international hockey typically removes a lot of the physical aspect of the game and when it becomes all about skill, few can match Makar's skating ability and awareness with the puck.
Makar has looked good with Jake Bean and has produced quite a bit of offence in this tournament. Seeing Makar play with Fabbro, while letting Fabbro stay back while Makar rushes the puck, could help generate extra offence, however. Makar may not be worthy of top pairing minutes, but offensively, he brings a lot to the back end.
There's always the argument that Canada could like him paired up with their bottom six, allowing some of the stronger, bigger guys crowd the crease while Makar unloads. That's what works on the power plays, albeit with their more talented forwards around the crease.
Makar had seven shots in four round robin games, placing him 15th among defenders in the tournament. While that isn't overly high, he's third on Canada and every one of the players ahead of him play a bigger role than Makar does. Makar has been a valuable puck-moving option when used.
It just makes you wonder: what could he do with more ice time?
When Canada beat Denmark 8-0, Makar saw his ice time in the third period nearly double what it was in the first. When he played against the United States, a game in which he scored on the power play first, he didn't even reach ten minutes played in Canada's biggest game of the preliminary round.
When he played against Finland, Canada's other important game, he only played 6:54. The idea I'm getting here is that the team doesn't like playing him in games against tougher competitions, which makes sense given the role he's assigned. But does this role really make sense for Makar, especially with the way he's played?
That's the gold medal question right now.
Follow me on Twitter, @StevenEllisNHL.
Photo from Anders Marshall/Euro Hockey
Current events
External links

Czech Rep.: Tipsport extraliga | 1.liga | 2.liga

Slovakia: Tipsport Extraliga | 1.liga

Sweden: SHL | HockeyAllsvenskan
Other: EBEL | Belarus | Croatia | Denmark | Estonia | France | Great Britain | Iceland | Italy | Latvia | Lithuania | MOL-liga | Norway | Poland | Romania | Serbia | Slovenia | Spain | NHL | AHL |
League standings
Game fixtures
League leaders
Full analysis of the last 10 seasons of the Ukrainian ice hockey championships Read more»
Full analysis of the last 10 seasons of the Ukrainian ice hockey championships Read more»