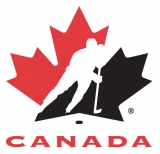 Canada
Year of foundation: 1920
Colours: red, white, black
Club status: active
Address: Hockey Canada
2424 University Drive N.W.
Calgary, Alberta T2N 3Y9
Canada
Phone: +1 403 777 36 33
Fax: +1 403 777 36 35
Email: jwasilew@hockeycanada.ca
Did you find any incorrect or incomplete information? Please, let us know.
Season 2022-2023
Current roster
season 2022-2023
* no longer in the club
from 1899 to present: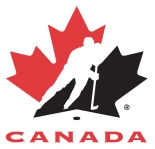 Canadian forward suspended at the World Juniors
The IIHF Disciplinary Panel has issued a one-game suspension to Canada's Justin Sourdif, for a violation of IIHF Playing Rule 48 - Illegal Check to the Head or Neck.
(29 Dec 2021)
Individual awards from the U18 Worlds
Media All Stars: Sergei Ivanov (G), Aleksi Heimosalmi (D), Brandt Clarke (D), Connor Bedard (F), Matvei Michkov (F), Samu Tuomala (F)
MVP: Matvei Michkov
Best Goalkeeper: Benjamin Gaudreau
Best Defenceman: Aleksi Heimosalmi
Best Forward: Matvei Michkov
(07 May 2021)
Braden Schneider suspended
Canada's Braden Schneider has been suspended for one game at the World Juniors in Edmonton. He checked the head of Gemany's Jan-Luca Schumacher in yesterday's game. Schneider will miss today's game against Slovakia.
(27 Dec 2020)
Canadian captain injured
The captain of the Canadian team for the upcoming World Juniors, Kirby Dach, was injured in the pre-tournament game against Russia. He will miss the entire tournament.
(24 Dec 2020)
U18 Hlinka Gretzky Cup, Day 4 - Russia and Canada to play the final
Alexander Pashin scored three goals when Russia beat Finland 4-1 in one of today's semi finals of the prestigeous U18 tournament in Czech Republic and Slovakia. In the other semi final Canada beat Sweden 3-2 in a shootout game. Cole Perfetti scored all Canadian goals.
Czech Republic beat USA 4-3 for place five while Slovakia beat Switzerland 7-5 in the 7th place game.
(09 Aug 2019)
U18 Hlinka Gretzky Cup, Day 3
Results of the third day from Breclav/Piestany: USA - Sweden 4-5 (SO), Switzerland - Finland 0-6, Czech Republic - Canada 1-7 and Slovakia - Russia 1-2 (OT).
Friday's semi finals: Canada - Sweden, Russia - Finland.
(08 Aug 2019)
U18 Hlinka Gretzky Cup, Day 2
On the second day of the U18 Hlinka Gretzky Cup Roni Hirvonen scored three goals when Finland beat Czech Republic 5-1. Other games today: Canada - Switzerland 8-0, Sweden - Russia 0-3 and Slovakia - USA 3-4 (OT).
(06 Aug 2019)
U18 Hlinka Gretzky Cup, Day 1
The U18 Hlinka Gretzky Cup started today in Breclav and Piestany. Results: Russia - USA 6-2, Finland - Canada 0-6, Czech Republic - Switzerland 4-3 (SO) and Slovakia - Sweden 2-3.
(05 Aug 2019)
Slovakia, USA and Canada wins pre-WHC games
With the World Championship three days away three tournament preparing games was played today. The World Championship host Slovakia beat Norway 3-2 in overtime. USA beat Germany 5-2 and Canada beat Austria 7-5 (7-6 after overtime).
(07 May 2019)
World Juniors Quarter finals
The quarter final match-ups of the World Junior Championship in Canada is decided after the end of the Preliminary Round:
Sweden - Switzerland
Canada - Finland
USA - Czech Republic
Russia - Slovakia
(01 Jan 2019)
Historic rosters:
Historic statistics:
Past results:
League standings:
Fast facts
season 2022-2023
A look back at a season that lived up to its promise. Read more»
The upcoming NHL draft in June 2023 is fast approaching. Find out here which European Ice Hockey players will likely be in the draft. Read more»