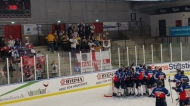 A brave victory
Continental Cup semifinals in Odense opened with a nail-biting victory for angers over Donbas
Odense and its small but functional arena are the venue of the Semifinals Group of Continental Cup that will promote two teams for the Superfinals in January.
In the opening match Donbas Donets'k faces the French vice-champion of Angers Ducs. The Ukranian team is back in an European competition after all the problems faced due the political situation of Ukraine, forcing the team to emigrate from Donets'k, still an unsafe area, to the city of Druzhkivka, while Angers tries to rach the second Superfinals, after the one played in Bremerhaven in 2015.
In the first period Donbas, as expected, showed a better puck possession, forcing Angers to various penalties, even if goalie Leo Bertein didn't made great saves in the first part of the period, as well as his colleague Tsaregorodtsev. Around minute 13 Angers has two power plays and a five-vs-three situation resulting in a couple of chances, all well defended by Tsaregorodtsev. At 17 Mathieu Briand has perhaps the best chance of the period but shoots on the goalie. While the crowd waiting for the finish of the period, Donbas opens the score with less than a minute remaining: Shamil Ramazanov stubbornly defends a puck behind the cage serving Igor Shamansky: his first shot is rebounded but Bertein has no chance on the successive try.
Angers is more aggressive in the second period leading the game for most of the time, missing the net for inches in a couple of chances, forcing the opponent to play mostly on counterattack and levelling the score at 30:27 with a bit of luck: the shot from the blue from Robin Gaborit slams on Maxime Lacroix for a deflection with no chance for Tsaregorodtsev. Three minutes after, a confuse mess in front of Ukrainian cage is solved by Matthieu Frecon with the decisive touch for a deserved advantage for French. The second goal finally wake up Donbas and Bertein had a difficult save on Taran. The last seconds are again fatal for Angers: at 30:44 Aleksandr Pobedonostsev finds the right path to beat Bertein from long distance
Angers earns a power play in the frst minutes of last period, producing two untapped changes with Gaborit, scoring seconds after Donbas returning at full strength: an Ukrainian defender messed up a simple exit from the defensive zone, ending up losing the puck for an easy finishing by Jonathan Lessard. The last part of period is dominated by Donbas, trying to equalize the score, with goalie Bertein and French defence under a great pressure, with some dangerous counterattacks to break the siege. The last two minutes are a suffering for Angers and its fans: Donbas pulled the goalie for the final assault but the French blockhouse doesn't give up, earning three key points
MVP: Igor Shamansky - Maxime Lacroix
Current events
External links

Czech Rep.: Tipsport extraliga | 1.liga | 2.liga

Slovakia: Tipsport Extraliga | 1.liga

Sweden: SHL | HockeyAllsvenskan
Other: EBEL | Belarus | Croatia | Denmark | Estonia | France | Great Britain | Iceland | Italy | Latvia | Lithuania | MOL-liga | Norway | Poland | Romania | Serbia | Slovenia | Spain | NHL | AHL |
League standings
Game fixtures
League leaders
Växjö Lakers won the Swedish SHL playoffs for the third time. Read more»
It is now known which 32 teams will participate in the club tournament Champions Hockey League 2021/22. Read more»