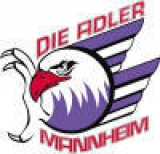 Adler Mannheim
Nickname: Adler
Year of foundation: 1938
Club status: active
Address: Die Adler Mannheim
Xaver-Fuhr-Straße 150
68163 Mannheim

Adler City Store:Friedrichsplatz 6

Phone: +49 0621 - 18190 - 0
Fax: +49 0621 - 18190 - 18333
Email: info@adler-mannheim.de, ticketing@saparena.de (Tickets)
Did you find any incorrect or incomplete information? Please, let us know.
Season 2023-2024
Current roster
season 2023-2024
* no longer in the club
Adress: Xaver-Fuhr-Strasse 150
68163 Mannheim
Phone: +49 (0) 6 21 - 1 81 90 - 204
Email: info@saparena.de
Capacity: 13600
Opened in: 2005
The first incarnation of the Adler Mannheim were the The Mannheimer ice and roller skating club (MERC: Mannheimer Eislauf und Rollschuhclub), founded on May 19, 1938. After the end of the Second World War, they again began operating in 1948. The team's name was Mannheimer ERC until 1994, when it was changed to Adler Mannheim.
The Adler Mannheim were champions of the German Bundesliga, the predecessor of the Deutsche Eishockey Liga in 1980. After the Deutsche Eishockey Liga was founded in 1994, the Mannheim Eagles won the championship five more time
from 1938 to 1948: MERC Mannheim
from 1948 to 1994: Mannheimer ERC
from 1994 to present: Adler Mannheim
German Champions:
1980, 1997, 1998,1999, 2001, 2007

German Cup Winners:
2003, 2007
League winners:
from 1938 to present: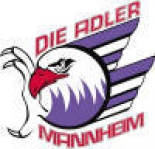 Adler Mannheim wins DEL finals
Adler Mannheim beat Red Bull München in overtime tonight to win the German DEL final series 4-1 after losing game one.
Thomas Larkin scored the title-winning goal at 73:37.
(26 Apr 2019)
HC Lugano fires coach staff
Last season vice-champion HC Lugano, currently 8th in NLA, 47 points behind leaders ZSC Lions and SC Bern, announces the club fired head coach Doug Shedden and assistant Pat Curcio. The 55-years-old Canadian, at Lugano from last season, will be replaced by compatriot Greg Ireland, 51, last season fired by Adler Mannheim in February. Ireland has a brief stint at Lugano during 201-2011 playoffs. Finnish Jussi Silander from farm-team Ticino Rockets staff, will be the assistant coach
(16 Jan 2017)
Mannheim climbing in DEL standings
Adler Mannheim are continuing their upwards trend in Germany's top professional hockey league. Following a 5-point weekend, the current DEL champions were able to beat vice champions ERC Ingolstadt in a rematch of last season's playoffs finals by a score of 3-1.
This was the 3rd consecutive win for Mannheim who are now 6th while Ingolstadt stays 14th - dead last - in the league after losing 5 league matches in a row, bringing the total of losses in official competitions to six combined with losing in CHL round of last 16.
(21 Oct 2015)
DEL injury report
Two DEL players suffered long-time injuries this weekend during wins against Straubing.
Mannheim defender Dennis Reul is expected to miss up to 4 months with a shoulder injury that requires surgery. The injury happened during the Eagles' 4-1 away win in Sraubing on Friday. It was Reul's first appearance after a four week absence due to injury.
Augsburg forward Mike Iggulden is out for 8 weeks with a knee injury after a check in the 4-3 win of the Panthers against Straubing on Sunday. Surgery is not required.
(21 Oct 2015)
Nuremberg Ice Tigers lead the DEL
With a 3-2 victory against reigning champions Adler Mannheim, the Ice Tigers are now the new leaders of the Deutsche Eishockey Liga. For the Franconians is the first win in Mannheim since 2010. The Eisbären Berlin and the Straubing Tigers follow in the leading table after having been both defeated today.
(04 Oct 2015)
Mannheim star signing Marcel Goc out 3-4 weeks
DEL top summer signing Marcel Goc who returned to Adler Mannheim for the third time in his career after playing for Pittsburgh and St. Louis in the NHL last season is out for 3 to 4 weeks. According to his club the forward suffered a lower body injury in the away loss to Red Bull Munich (2-4) on Sunday. His first DEL weekend wasn't yet impressive with 0 points in 2 games and a -1 rating.
(16 Sep 2015)
Marcel Goc returns to Germany
One of the few long-time NHL players from Germany, Marcel Goc (32), leaves North America after 12 years with 203 points in 699 NHL games for San Jose, Nashville, Florida, Pittsburgh and St. Louis. The national team center who was picked as 20th overall in the first round of the 2001 NHL Entry Draft by San Jose, signed a 5 year contract with current German champions Adler Mannheim. It's the third time he joins the club after playing for them from 2001-2003 and during the 2012-2013 lockout. In Mahheim he will join his brother Nikolai Goc with whom he played in the same team already during his last stay in DEL.
(02 Sep 2015)
Adler Mannheim without Metropolit next 4-6 weeks
DEL top team Adler Mannheim has to play without 41 year old veteran Glen Metropolit during the next 4-6 weeks. The forward suffered a rib fracture and is likely going to miss the group stage of the 2015-16 Champions Hockey League season which is played between 21 August and 5 September 2015.
(11 Aug 2015)
Steve Walker new assistant coach in Mannheim
Adler Mannheim of German DEL have filled the last open position in their coaching staff.
The newest addition to the team is Steve Walker who won 5 German championships with Eisbären Berlin during his time there between 2000 and 2011.
The 42 year old Canadian was last coaching a junior team in his native country during the last 3 years. For him it's his first coaching stint in professional ice hockey. He will support fellow assistant Craig Woodcroft and head coach Greg Ireland.
(06 Aug 2015)
Adler Mannheim third team to participate at Spengler Cup
According to the Spengler Cup media announcement, the Adler Mannheim of the German DEL will be the third team (HC Davos and Team Canada are the other two) to participate at this years Spengler Cup edition. It will be the 8th time the Germans participate at the New Years tournament. In 2012 they reached the final after beating an NHL-packed team Canada 5-2 but fell short to Swiss Hockey Club Fribourg-Gottéron in the final. Mannheim feel honoured to represent the DEL in the highly regarded Club tournament. Further participants will be announced.
(11 May 2015)
Historic rosters:
Historic statistics:
Past results:
League standings:
Fast facts
season 2023-2024
Kaunas City celebrate the qualification to the second round of Continental Cup with a ten-goals victory over Skautafelag Rejkyavik Read more»
Estonian champion wins KHL Zagreb ensuring first place for the home team Read more»