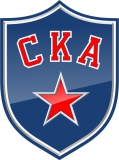 SKA St. Petersburg
Name in original language: СКА Санкт-Петербург
Year of foundation: 1946
Colours: red,blue
Club status: active
Address: 16, liter A, building 2, Dobrolyubova avenue, Saint Petersburg, Russia, 197198
Phone: +7(812) 960-15-80
Fax: +7(812) 960-15-82
Email: office@hc-ska.ru, pressa@hc-ska.ru (Press Office), pr@hc-ska.ru (Public Relations)
WWW: SKA St. Petersburg
Did you find any incorrect or incomplete information? Please, let us know.
Season 2023-2024
This club in 2023-2024: KHL
Current roster
season 2023-2024
* no longer in the club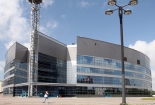 Adress: Prosp. Pyatiletok, dom. 1, Lit. A
193318 Saint Petersburg
Phone: +7 (812) 718-66-20
Email: e-mail@newarena.spb.ru
Capacity: 12300
Opened in: 2000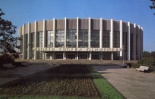 Adress: pr Dobrolyubova, 18, lit. А
197198 St.Petersburg
Phone: +7 (812) 702 36 05
Email: ubarena@mail.ru
Web: www.yubi.ru
Capacity: 7012
Opened in: 1967
from 1946 to 1948: DO Leningrad
from 1948 to 1953: LDO Leningrad
from 1953 to 1957: ODO Leningrad
from 1957 to 1959: SKVO Leningrad
from 1959 to 1991: SKA Leningrad
from 1991 to present: SKA St. Petersburg
Spengler Cup: 1970, 1971, 1977
League winners:
from 1946 to 2011: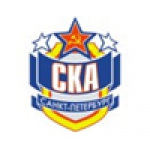 from 2011 to 2016: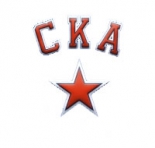 from 2016 to present: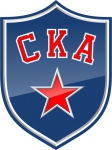 Ilya Vorobyev and Harijs Vitolins awarded
Ilya Vorobyev and Harijs Vitolins, head coach and assistant of Russia national team, were awared by President Vladimir Putin with the Order of Friendship and the Order of Alexander Nevsky respectively "for the successful preparation of athletes who have achieved high sporting achievements at the 2018 Olympic Winter Games in Pyeongchang"
Russian hockey team, competed in Korea under the status of the Olympic athletes from Russia, won gold medals.
The Order of Friendship rewards foreign nationals whose work, deeds and efforts have been aimed at the betterment of relations with the Russian Federation and its people.
The Order of Alexander Nevsky is awarded to citizens of the Russian Federation who have achieved special personal merit in nation-building and for strengthening the international prestige of Russia
(01 Aug 2018)
Two KHL players temporarily banned today
After an accurate review, the KHL board has temporarily banned two players from playing the next few games of the Kontinental Hockey League: Barys Astana forward Dustin Boyd and Evgeny Artyukhin (SKA St. Petersburg) were suspended because of misconduct for four and one games respectively, after the major penalties inflicted against their teams already during Saturday's matches. Alexei Pepelyayev, the Torpedo player hit by Boyd, even required medical treatment and therefore spent the rest of the match outside the ice rink, while Semyon Afonasyevsky, the Traktor forward who collided with Artyukhin, didn't receive serious injuries.
(05 Oct 2015)
Traktor Chelyabinsk defeats reigning champions
With a 2-1 victory in overtime, Traktor Chelyabinsk puts an end to a not-so-entertaining game against SKA St. Petersburg, last year's winners of the Gagarin Cup. It is the third loss in a row for the reigning champions, which remain seventh in the Western Conference standings.
(03 Oct 2015)
KHL schedule announced
The KHL schedule for 2015-16 can now be found in our games database.
(30 Jun 2015)
Donbas may sell its leaders
Andrei Nazarov, head coach of Donbas Donets'k and Team Ukraine said that Donbas is likely to sell some of team's best players because of club's uncertain future. Evgeny Dadonov, one of Donbas best forwards was already traded to SKA
(13 Jun 2014)
Vadim Shipachyov injured
Russian national team forward Vadim Shipachyov injured his hand during the first period of the Karjala Tournament opener against Finland.
He won't play more in the tournament.
(08 Nov 2013)
Aleksei Ponikarovsky received Russian citizenship
Ukranian SKA St. Petersburg forward Aleksei Ponikarovsky received Russian citizenship, announced SKA president Gennady Timchenko during the presentation ceremony of the team.
Ponikarovsky announced his intention to get a Russian passport immediately after the transition from New Jersey Devils to SKA.
(31 Aug 2013)
Jukka Jalonen new SKA head coach
Finnish national team coach Jukka Jalonen was confirmed by KHL club SKA St. Petersburg as their new head coach. His contract with the club has already been signed and is valid from 1 December 2012. He is the substitute for Czech coach Milos Riha who was fired on Sunday.
(29 Nov 2012)
Patrick Thoresen and Trine Martens won Gullpucken
SKA forward Patrick Thoresen won the Norwegian Gullpucken (The Golden Puck). This award is given to the best Norwegian hockey player following performances for his club and the national team. At the last World Champioship Thoresen finished second in the list of top scorers in the tournament and was named in Tournament All Team. Thoresen won Gullpucken also in the 2008-09 season. "It's great to receive such a prestigious award. In Norway there are many great players, so the choice wasn't simple" Thoresen commented. Vålerenga and Norway national team forward  Trine Martens won the award in women category
(06 Nov 2012)
KHL games in USA cancelled
KHL has cancelled the two Dynamo Moscow vs SKA St. Petersburg games in Brooklyn January 20-21. The games will be played in Russia.
(26 Oct 2012)
Historic rosters:
Historic statistics:
Past results:
League standings:
Fast facts
season 2023-2024
SKA St. Petersburg participates in season 2023-2024: KHL
Home team opens the Continental Cup first round showing no mercy for opponent KHL Zagreb Read more»
The european debut for the Icelandic champion turned into a harsh lesson taught by the HC Panter in Continental Cup first match in Kaunas Read more»