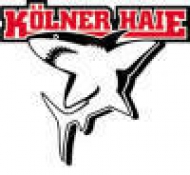 Sharks eliminate Berlin
The Kölner Haie are the last team to qualify for the DEL Semi-Finals. Game 7 was open till the last second, but Berlin could not break the Sharks wall.
Over the first 6 games of the series Berlin was the better team during 5-on-5 play, but Köln was way more efficient. And the same should go for the decisive game today.
The first period started well for Berlin applying lots of pressure, but with 5:52 minutes off the clock Patrick Hager had an ingenious moment when he finished a break by dragging the puck through his opponents legs and sending goalie Petri Vehanen to the wrong side with a deke to score the 1-0 for the Sharks. In their defensive end Köln continued to keep Berlin away from the goal. Even a 5-on-3 situation over 1:20 minutes did go to waste for the Bears and the Sharks kept being a threat on breakaways.
It was the same picture in the second period until Köln could benefit from a slashing penalty against Micki DuPont. Shawn Lalonde found Patrick Hager free in the slot, his shot bounced off Petri Vehanen right on the stick of Philipp Gogulla, who scored his 5th goal of the series in an open net. Two minutes later the Sharks caught Berlin on a break with lots of open space. The initial rush by Dragan Umicevic was stopped by Vehanen, but Mark Olver kicked the puck in his own net with his skate for the 3-0 for Köln.
The game seemed over at that point, but a powerplay got Berlin back in. DuPont's shot from the blue line went through and left Gustaf Wesslau no chance as their was too much traffic in front of him. With 90 seconds to go in the second period another shot was deflected by Mark Olver into the Sharks' goal. The video review could not show any high stick on the play and so the call on the ice stayed and the play was ruled as a goal. All of a sudden the Polar Bears were back in the game and Köln was quite happy that the break came soon after to retool.
In the last period both teams went back to known features of the series. Berlin powered towards Köln's end, while the Sharks relied on their defense. In the end Gustaf Wesslau managed to turn away everything that was fired at him and so the Kölner Haie march on to the Semi-Finals.
In the Semis we will now have the following match-ups starting on wednesday:
EHC München vs Kölner Haie
Grizzlys Wolfsburg vs Nürnberg Ice Tigers
Current events
External links

Czech Rep.: Tipsport extraliga | 1.liga | 2.liga

Slovakia: Tipsport Extraliga | 1.liga

Sweden: SHL | HockeyAllsvenskan
Other: EBEL | Belarus | Croatia | Denmark | Estonia | France | Great Britain | Iceland | Italy | Latvia | Lithuania | MOL-liga | Norway | Poland | Romania | Serbia | Slovenia | Spain | NHL | AHL |
League standings
Game fixtures
League leaders
After three-years-hiatus, the Asia League was back and Korean team add another title Read more»
In late Spring, 2023, the International Ice Hockey Federation will host the 86th Men's Ice Hockey World Championships. The competition is easily global ice hockey's biggest event, with hundreds of thousands of fans traveling for each world championship finals event. ... Read more»