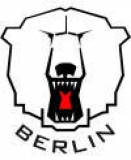 Eisbären Berlin
Short name: Eisbären Berlin
Nickname: Eisbären
Year of foundation: 1992
Colours: red,white,blue
Club status: active
Address: EHC Eisbären Management GmbH
Q207, Friedrichstrasse 76
10117 Berlin
Phone: +49 030 971 840 0
Fax: +49 030 971 84050
Email: info@eisbaeren.de
WWW: Eisbären Berlin
Did you find any incorrect or incomplete information? Please, let us know.
Season 2023-2024
This club in 2023-2024: DEL
Current roster
season 2023-2024
* no longer in the club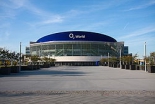 Adress: Mercedes-Benz Arena (Berlin)
Anschutz Entertainment Group Operations GmbH
O2 Platz 1
10243 Berlin-Friedrichshain
Phone: +49 (0)30-20 60 70 80
Email: info@o2world.de
Capacity: 14200
Opened in: 2008
Deutsche Eishockey Liga Champions: 2005, 2006, 2008, 2009
Deutsch Cup Winner: 2008
IIHF Continental-Cup Tournament in Berlin 1999/00: 2nd place
European Hockey League (EHL) 1998/99: 3rd place
IIHF Continental-Cup Tournament in Tampere 1997/98: 2nd place
East German Ice Hockey Champions: 1966, 1967, 1968, 1976, 1977, 1978, 1979, 1980, 1982, 1983 ,1984 ,1985 ,1986 ,1987 ,1988
League winners:
from 1900 to present: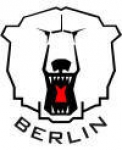 Nuremberg Ice Tigers lead the DEL
With a 3-2 victory against reigning champions Adler Mannheim, the Ice Tigers are now the new leaders of the Deutsche Eishockey Liga. For the Franconians is the first win in Mannheim since 2010. The Eisbären Berlin and the Straubing Tigers follow in the leading table after having been both defeated today.
(04 Oct 2015)
Berlin signs Japanese forward
DEL club Eisbären Berlin have signed Japanese winger Shuhei Kuji for the 2015-16 DEL season. The 28 year old could become the first ever Japanese player to make it to the DEL level. The 2012 Asia League champion - with his longtime team Oji Eagles - was the best goal scorer of Asia League in 2010-11 - together with Go Tanaka who himself played in Germany during the 2009-10 season for 2. Bundesliga side ESV Kaufbeuren.
Kuji already had played in all 4 CHL games of the Polar Bears as a test player and scored 1 goal.
(10 Sep 2015)
Sebastian Elwing honored with farewell game
On Saturday, goalie Sebastian Elwing ended his career after 15 years in professional ice hockey in the two top divisions in Germany with a farewell game.
About 2000 fans and many current German national team players came to Weißwasser, home of DEL2 team Lausitzer Füchse, who Elwing played for during 6 different seasons, to give Elwing a deserved farewell. Elwing won the DEL title with home town club Eisbären Berlin in 2012-13 but had to end his career this spring at age 35 after not being able to play after the 2013-14 season due to a knee injury.
(05 Aug 2015)
Transfer news from Germany
DEL side Kölner Haie signed 34 year old forward Jason Williams who played almost 500 NHL games and won the 2002 Stanley Cup with the Detroit Red Wings. Meanwhile goalie Mathias Niederberger returns to Düsseldorfer EG on a one-year loan from DEL record champions Eisbären Berlin.
(17 Jul 2015)
Don Jackson confirmed at Salzburg
The rumour it's now confirmed by Red Bulls: former Eisbaren Berlin coach Don Jackson is the new headcoach of Austrian team. The 56-year-old American has enjoyed a very successful six-year stint as head coach of the Eisbären Berlin, winning 5 DEL titles, the last three consecutive and an European Trophy. In Salzburg he replaces Pierre Pagé, who left the team after six seasons, three EBEL titles and a Continental Cup, to join Red Bull München.
Couriously Jackson come to Berlin in 2007 replacing Pierre Pagé as head coach and subsequently taking the Eisbären to five German championship titles (DEL).
(03 Jun 2013)
Cologne tie final series
In this year's DEL playoff final series Kölner Haie were able to tie the best-of-five series against Eisbären Berlin 1-1 with a 3-1 (2-1, 0-0, 1-0) win on the road. The series will continue with match #3 in Cologne on Friday.
(17 Apr 2013)
Nürnberg almost qualified for playoffs
Nürnberg Ice Tigers made a jump to the 7th spot in the DEL table with a surprising 5-2 away win against current champions Eisbären Berlin. They now have six points more than the non-playoff spots with two games left to play. In the other match of the day Krefeld Pinguine beat Hamburg Freezers 3-2 SO on the road to become 3rd.
(06 Mar 2013)
Nürnberg wins record-breaking DEL outdoor game
Home side Nürnberg Ice Tigers defeated DEL record champions Eisbären Berlin in front of 50,000 spectators in the sold-out football stadium of the city, which is otherwise used by Bundesliga club 1. FC Nürnberg, with the score of 4-3 (0-0, 1-1, 3-2). The number of spectators set several new records in European ice hockey. It was not only the outdoor game with most fans in Europe - until now it was the match between HIFK and Jokerit on 5 February 2011 with 36,444 spectators - but also a new DEL record - before it was the game between Cologne and Mannheim on 19 April 2002 with 18,700 - but also the league game in Europe with most spectators in a hockey game.
(06 Jan 2013)
First Winter Game already gets new DEL attendance record
DEL today announced that the first ever outdoor event in the league's history, which is going to be a match between home side Nürnberg Ice Tigers and Eisbären Berlin on 5 January 2013, already set a new attendance record. With 20,000 tickets sold in the first two weaks of advanced sales the old record of 18,700 spectators in the match Kölner Haie vs Adler Mannheim on 19 April 2002 has been surpassed with almost 4 months left till the match is scheduled.
(12 Sep 2012)
DEL Winter Game
DEL announces today that Eisbären Berlin v. Thomas Sabo Ice Tigers will be played outdoors in easyCredit-Stadion on 5.Janurary,2013. The 50,000 seat stadium is home to 1. FC Nürnberg in Bundesliga.
(26 Apr 2012)
Historic rosters:
Historic statistics:
Past results:
League standings:
Fast facts
season 2023-2024
Eisbären Berlin participates in season 2023-2024: DEL
Kaunas City celebrate the qualification to the second round of Continental Cup with a ten-goals victory over Skautafelag Rejkyavik Read more»
Estonian champion wins KHL Zagreb ensuring first place for the home team Read more»