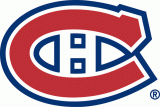 Montreal Canadiens
Name in original language: Les Canadiens
Nickname: Habs
Year of foundation: 1909
Colours: red, white, blue
Club status: active
Address: The Montreal Canadiens
1909, avenue des Canadiens-de-Montréal
Montreal, QC, CANADA
H3C 5L2
Did you find any incorrect or incomplete information? Please, let us know.
Season 2021-2022
This club in 2021-2022: NHL
Current roster
season 2021-2022
* no longer in the club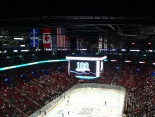 Adress: 1909 avenue des Canadiens-de-Montréal, Montreal, Quebec H3B 5E8
Capacity: 21273
Opened in: 1996
Longest continuously operating professional ice hockey team (founed in 1909), only current NHL club to exist before the founding of the NHL. One of Original Six teams, most succesful NHL team in history (24 Stanley Cups), last one in 1992-93 season.
Notable players:
24 Stanley Cups (22 solely in the NHL)
League winners:
from 1952 to present: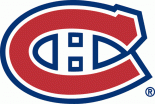 Swiss prospects popular with NHL teams
Switzerland is earning itself more and more the status of the 4th most important European market for NHL teams after Sweden, Finland and Russia due to great investments into youth hockey. First fruits were collected when Team Switzerland became vice champions at the 2013 World Championship. Now another prospect could make it to the NHL. 20 year old Sven Andrighetto - currently playing for QMJHL's Rouyn-Noranda Huskies - signed a three year entry level deal with the Montreal Canadiens who selected him in the 2013 NHL Entry Draft (3rd round - 86th position).   
(16 Jul 2013)
Geoffrion retires from hockey at age 25
A wave of serious head injuries in the hockey world in recent years led to many heated discussions how to prevent them but still players get injured on a regular basis. Now Blake Geoffrion of NHL's Montreal Canadiens was forced to retire with only 25 years from professional hockey as a consequence of a depressed skull fracture he received in a game for Canadiens affiliate Hamilton Bulldogs (AHL) last November.
(16 Jul 2013)
Jagr to Montreal?
Jaromir Jagr want to play in Montreal. His agent Petr Svoboda told journalists about negotiating with Canadiens.
"Jaromir always thinsk about Montreal and dream to play there. Now his dreams may come true" - he said.
(07 Jul 2013)
Montral Canadiens fire coaches
The day after announcing Michel Therrien as head coach, Montreal Canadiens fired assistant coaches Randy Cunneyworth and Randy Ladouceur.
Cunneyworth finished the season as Montreal's interim head coach, after the team fired Jacques Martin in December, missing the qualification to the post-season for the first time since 2007
(07 Jun 2012)
Michel Therrien named Montreal Canadiens new head coach
Montreal Canadiens announced the appointment of Michel Therrien as the club's new head coach. Michel Therrien spent seven seasons as head coach in the Montreal Canadiens organization from 1997 to 2003. He also coached Pittsburgh Penguins in the NHL, reaching Stanley Cup finals in 2007-08.
(05 Jun 2012)
Rafael Diaz misses World Champs
Long-time injured Montreal Canadiens Swiss defender Rafael Diaz confirms he won't be at Sweden/Finland IHWC. Diaz is sidelined from end of February due to a groin injury
(10 Apr 2012)
Pierre Gauthier fired by Canadiens
The Montreal Canadiens have fired general manager Pierre Gauthier
The club says in a release the search for a new general manager "is underway."
Gauthier started working at Canadiens in 2003 as director of professional scouting, becoming GM and executive vice president in February 2010
(29 Mar 2012)
Canadiens fire Martin
The Montreal Canadiens fired coach Jacques Martin on Saturday and put assistant Randy Cunneyworth, 50, in charge for the rest of the season. Assistant GM Larry Carriere was appointed as assistant coach.
Cunneyworth is the team's first unilingual English-speaking coach since 1971.
(18 Dec 2011)
Montreal fired assistant coach
After three years Montreal Canadiens fired asistant coach Perry Pearn before Wednesday night's game against the Philadelphia Flyers.
(27 Oct 2011)
Historic rosters:
Historic statistics:
Past results:
League standings:
Fast facts
season 2021-2022
Montreal Canadiens participates in season 2021-2022: NHL
IIHF President expressed a clear position on the situation in Ukrainian hockey during a meeting with the Federation Read more»
Ted Brithen scored three goals when Rögle beat another Swedish team, Frölunda, in the first of two games in the Champions Hockey League semi finals. Red Bull München and Tappare were supposed to play in Münich but that game was canceled ... Read more»